By

Ashleigh Page
Updated 12/05/2022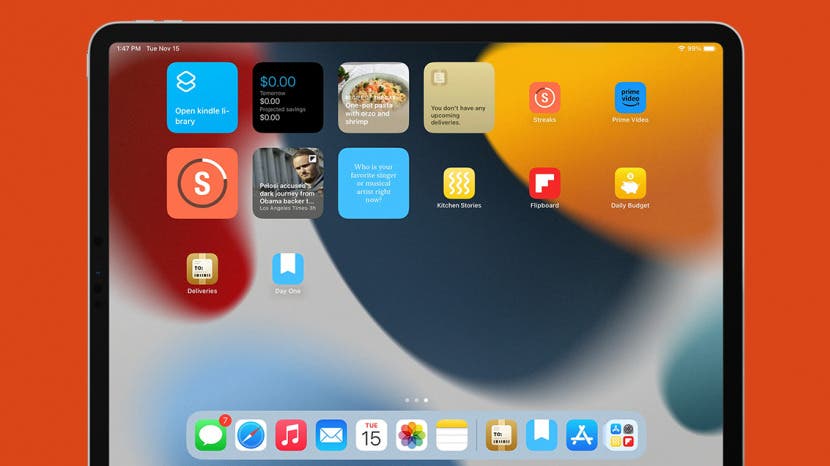 iPhone widgets are cool, but iPad widgets are even better. Why? The iPad's larger display means you can add more detailed widgets that show inspiration, updates, and needed information from your apps without ever leaving your Home Screen. We've tested the most popular options and created this roundup of some of the best widgets for iPad.
Rather than focusing on native Apple widgets and apps, we've also opted to focus mainly on third-party apps and widgets to help take your iPad Home Screen inspiration in new directions. If you're interested in learning more about how to get the most out of your iPad, I recommend checking out our free Tip of the Day.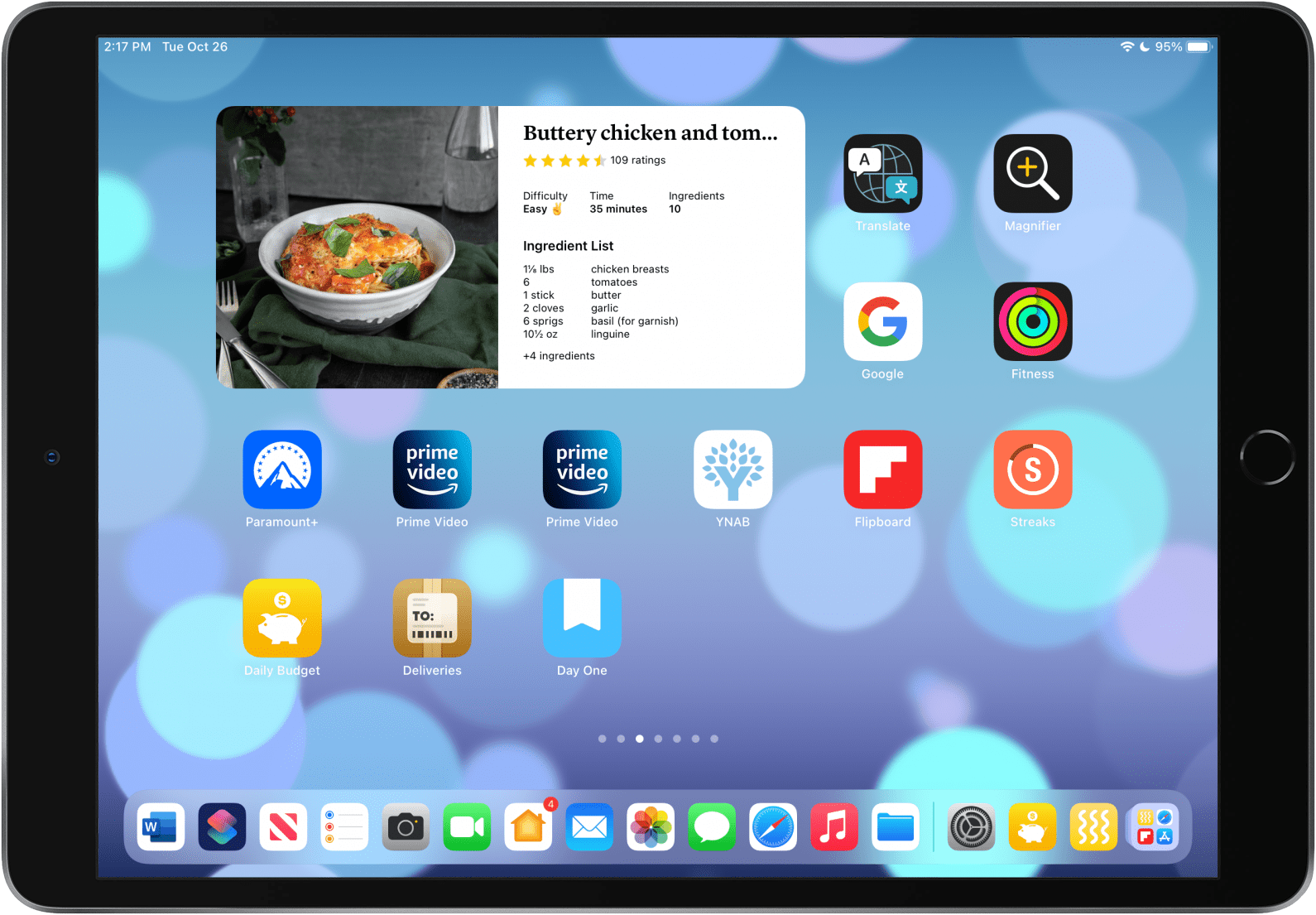 This well-designed cooking app has one of the best iPad widgets I've come across. Whether you're a seasoned foodie or just looking to spice up your cooking, this widget will take your chef-ly aspirations to a new level with simple, savory, and healthy meal ideas. This large widget option is ideal for your iPad screen and displays a daily recipe recommendation with estimated cook time, difficulty level, and ingredient list. What I love about this food widget is that it displays the ingredient list right on the iPad Home Screen, so before I even open the app, I know if this daily recommendation is a recipe I'm interested in. 
 

Discover your iPhone's hidden features
Get one daily tip each day (with screenshots and clear instructions) so you can master your iPhone in just one minute a day.

Flipboard is a popular news app that sets itself apart from the pack by helping you to scan the latest news in a readable format. While the Apple News app is also a great option, a few things make the Flipboard widget preferable. For one thing, the Flipboard app is incredibly easy to customize to your interests, and this, in turn, means the widget will only display topics you are interested in. Want to avoid political news on your iPad Home Screen and instead focus on food and travel? You can customize this in the Flipboard app with just a few taps on your screen. The Flipboard widget is one of the best widgets if you're a news junkie, as it more frequently updates the headlines displayed than the Apple News widget.

You don't even have to love to-do lists to appreciate this cool widget. Streaks acts as a visual habit tracker, making for a fun addition to your iPad Home Screen, reminding you to walk your dog, exercise, or drink that daily green smoothie. If you have tasks that need to be completed daily or a few times a week, and you don't want to receive pushy notifications reminding you about them, the Streaks widget is an easy way to add a visual reminder on your Home Screen. As you use the widget over time, it will also display your running "streak"—how long you've been meeting the daily or weekly goal without missing it. The large widget will display up to four tasks, and offers different color schemes and over 600 task symbols, so you can create a fun to-do list that will inspire you on your worst days. 

The Daily Budget Original widget proves that you don't have to take up a lot of space to add a lot of value. While lesser known than other budgeting apps, Daily Budget Original is one of the few budget apps that offers a Home Screen widget. The widget itself can display daily spending or track daily savings and display whether you're on track to meet your financial goals. If you're like me, and cringing a little at the thought of seeing your savings on your Home Screen, this widget might be just the thing to get your spending back on target. What makes this widget valuable is that it not only displays daily spending and savings, but also shows your progress toward set financial goals.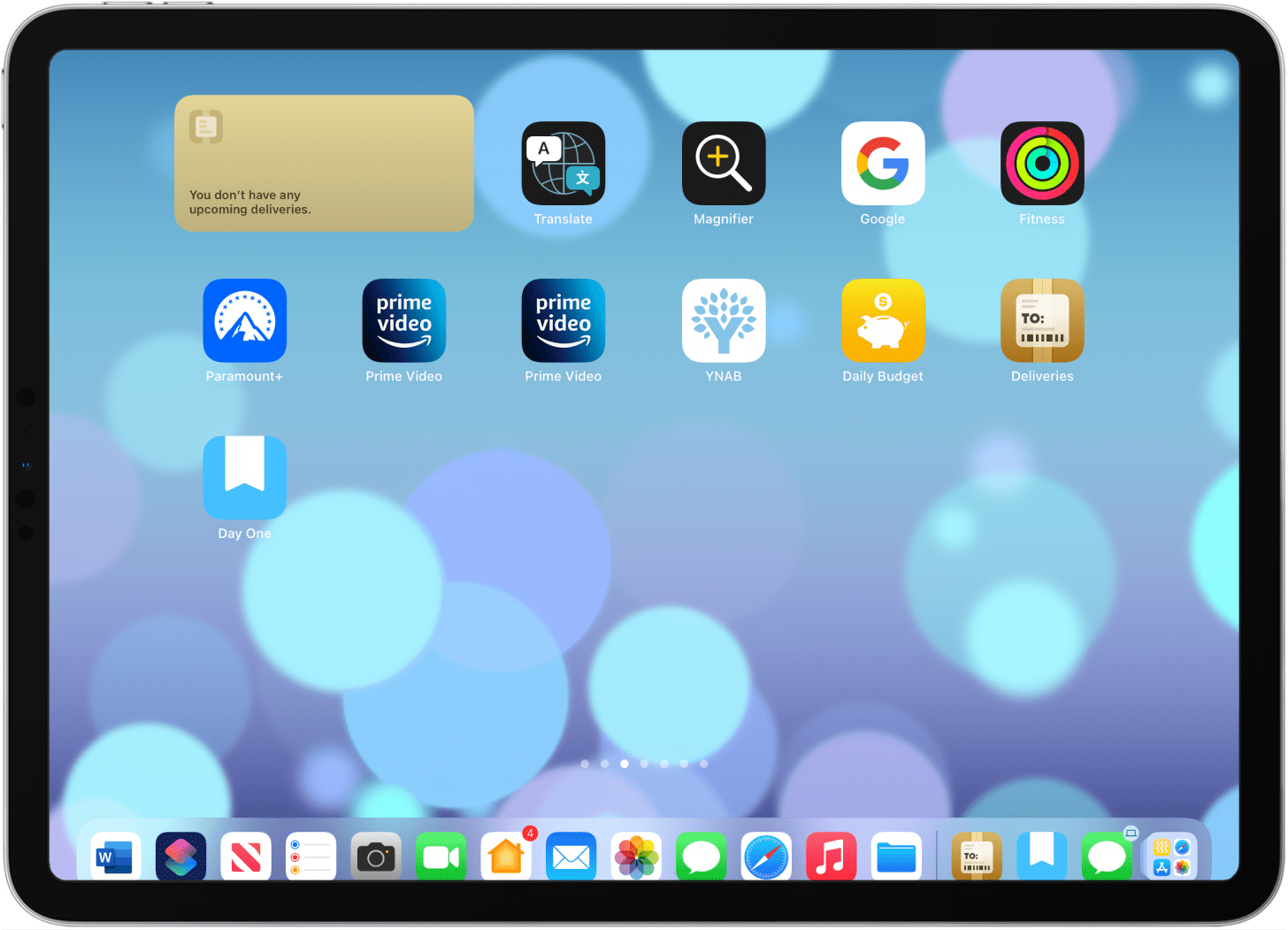 If you do very little online shopping, this iPad widget might not be useful for you. But if you tend to frequently order packages online, I highly recommend the Deliveries app and widget. Once set up on your iPad Home Screen, the widget will display your current order status, location, and estimated date and time of delivery. This is especially useful if you live on a busy street or in an area that often has inclement weather. With the ability to closely track your packages, you can be on hand for expensive or fragile packages or those that require a signature for delivery.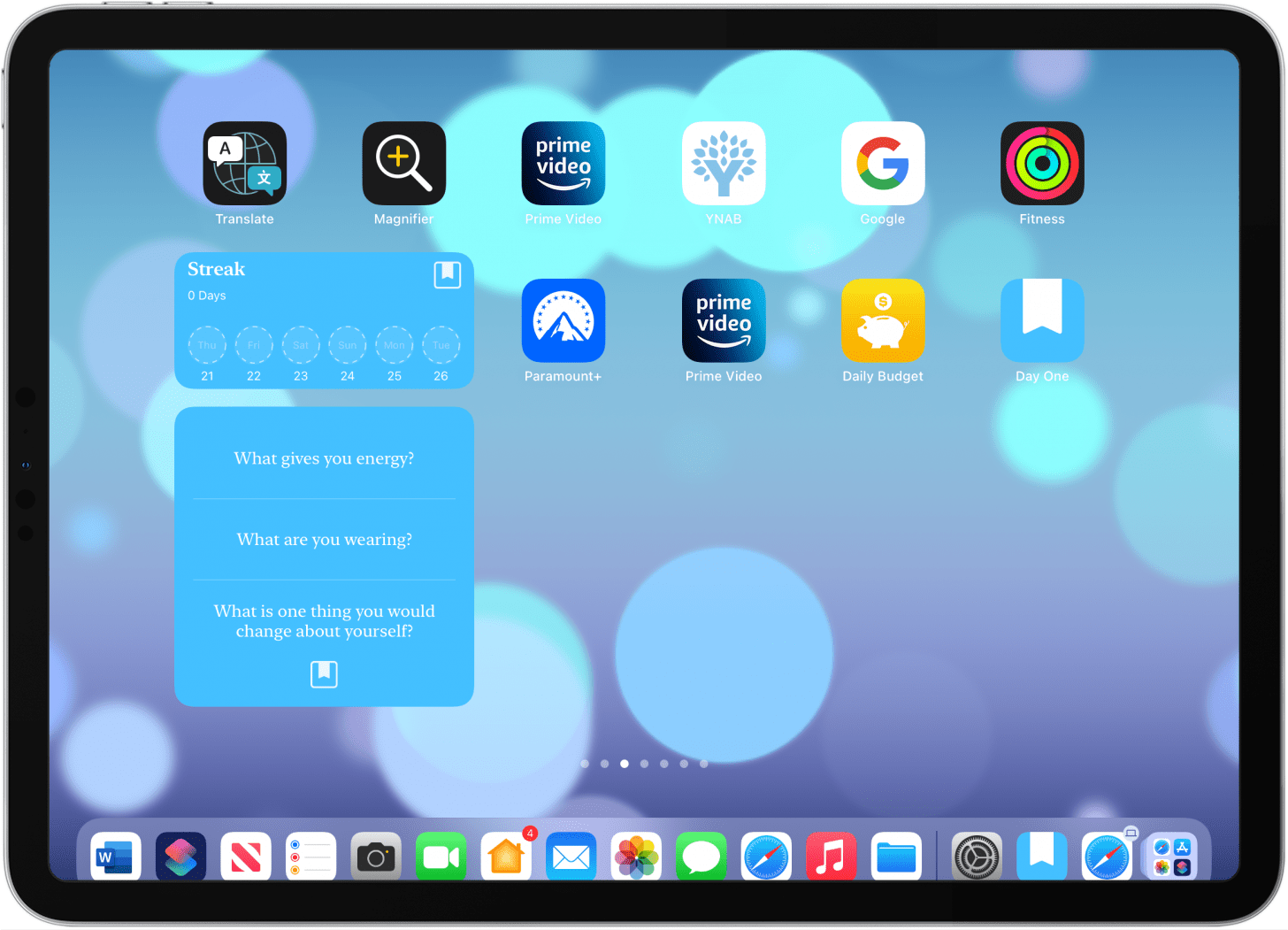 The Day One Journal has long reigned supreme in the world of digital journaling apps, and continues to be one of the most popular on the market. Unsurprisingly, the Day One Journal widget has also received high praise for its simple customization settings and the variety of Home Screen displays offered. For example, you can add a widget displaying your journaling streak and app usage, suggested writing prompts, or featured selections of your previous entries (complete with photos) for a fun trip down memory lane. If you're looking to create a more motivational Home Screen, adding this widget will likely take your journaling experience to the next level. 
Admittedly, I've saved the best for last. After all, who doesn't want an iPad Home Screen widget that helps them to more efficiently complete common tasks? While most of the widgets discussed in this article are third-party apps, Shortcuts is a native Apple widget and app. If you have an iPad, this simple and colorful app is likely already installed. The function of the Shortcuts app is in the name—it allows you to set up handy shortcuts for tasks such as settings you often adjust or information you often need to reference. Once you set up the large widget on your Home Screen, you can implement these shortcuts with a single tap. 
If you add one (or more) of these widgets to your iPad Home Screen, we'd love to hear about your experience!