Download third-party Apple Watch faces, wallpapers, and backgrounds, or create custom Apple Watch faces using apps for the ultimate personalization!
By

Olena Kagui
Updated 02/22/2022
Customizing your Apple Watch face has always been possible with a curated selection of faces within the Watch app and through complications. Now it is possible to use third-party watch wallpaper apps to get the best Apple Watch background, including retro, luxury, Star Wars, and Christmas Apple Watch faces.
What's in This Article

When it comes to third-party options, some of the most popular Apple Watch faces come from this app, which is why it has a 4.7 rating based on over 17,000 reviews. In order to make the most of it, you have to pay the premium of either $4.99 per month or $39.99 per year with a one-week free trial. However, there are completely free Apple Watch faces that you can use. Don't get overwhelmed scrolling down the main page; tap Top Charts and browse Free Faces or search for a specific theme.
There is a wide selection of Apple Watch face wallpapers, including some that incorporate useful complications. For example, there is a Christmas one that can accommodate up to six complications. You'll find absolutely any type of watch face here. Star Wars Apple Watch faces? Check. Nike Apple Watch faces? Yes. Just do it: download this app!
My personal favorite is the FAT2FIT option that includes complications and shows a person getting in better shape the more progress you make on your Activity rings. Oh, and if you are looking for a unique retro Apple Watch face, check out Watch Faces below because there are so many one-of-a-kind options, and most don't require you to pay the premium.
At $3.99 per week or $49.99 per year, this app is definitely the most expensive of its kind, but there's a reason for it. Before you dismiss it and pick a cheaper app, I strongly urge you to get the free three-day trial and spend some time exploring the hundreds of thousands of Apple Watch face options. 
The app even has templates for you to create and publish your own watch faces to share with others in the app. If your collection is popular, you can reach out to the developers to sell your watch faces on the app. While many cool Apple Watch faces are included in the membership fee, certain collections can be bought. This app truly has some of the top Apple Watch faces if you are willing to sift through the seemingly unlimited options.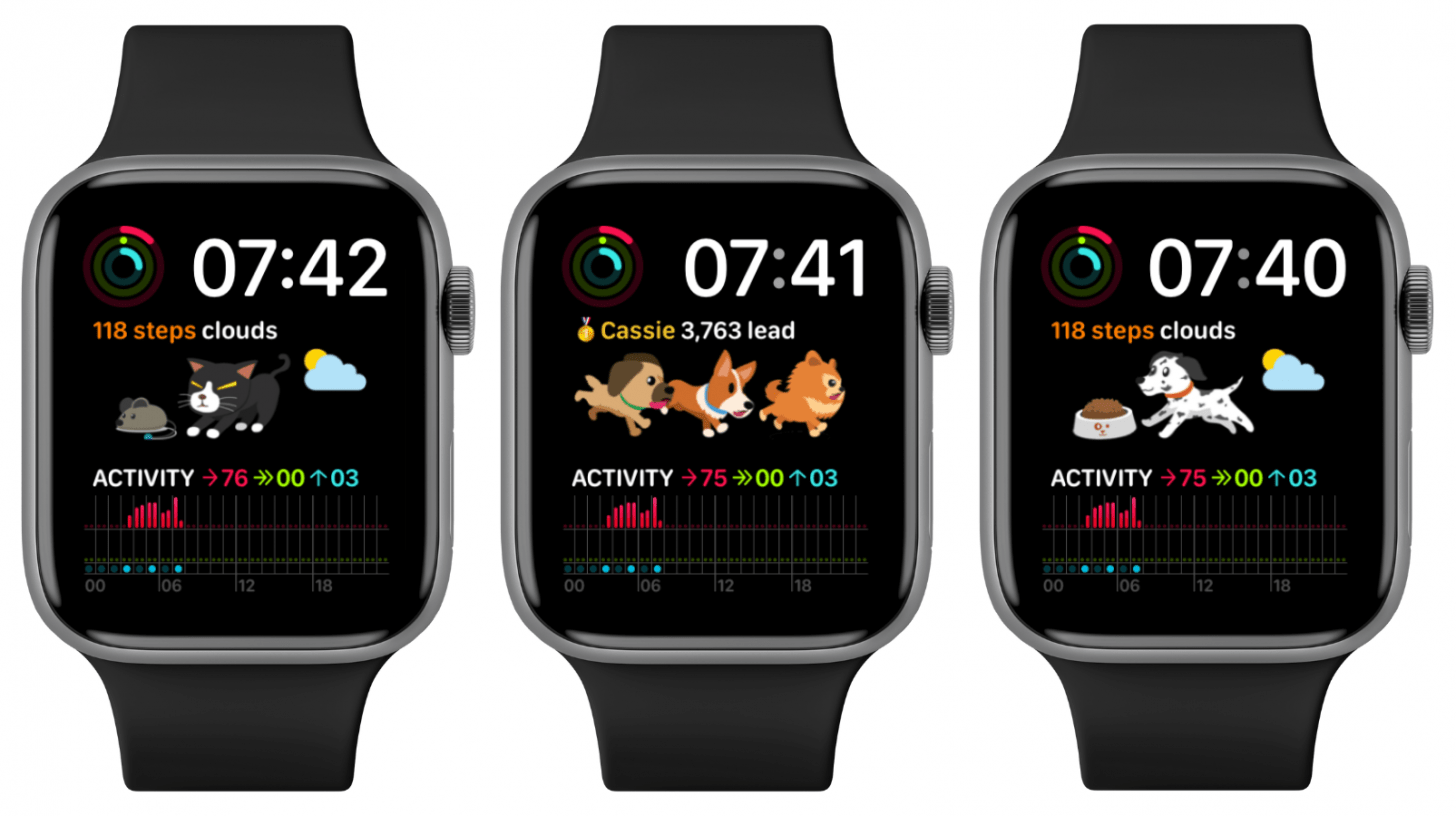 Apple Watch face meets Tamagotchi in this great app that lets you have a dog companion while you reach your step goal. The free version allows you to have a random dog companion as a complication on the Infographic Modular watch face on Series 4 or later. When you reach your step goal, your virtual pet will take a nap!
If you want to pick a specific breed of dog or change to a cat, you can pay a one-time fee of $1.99. If you want to add toys and weather, you need to subscribe and pay $0.99 per month. You can try it free for one month and unsubscribe anytime if you don't like it. Although there are limited ways to customize, this is a fun watch face for animal lovers.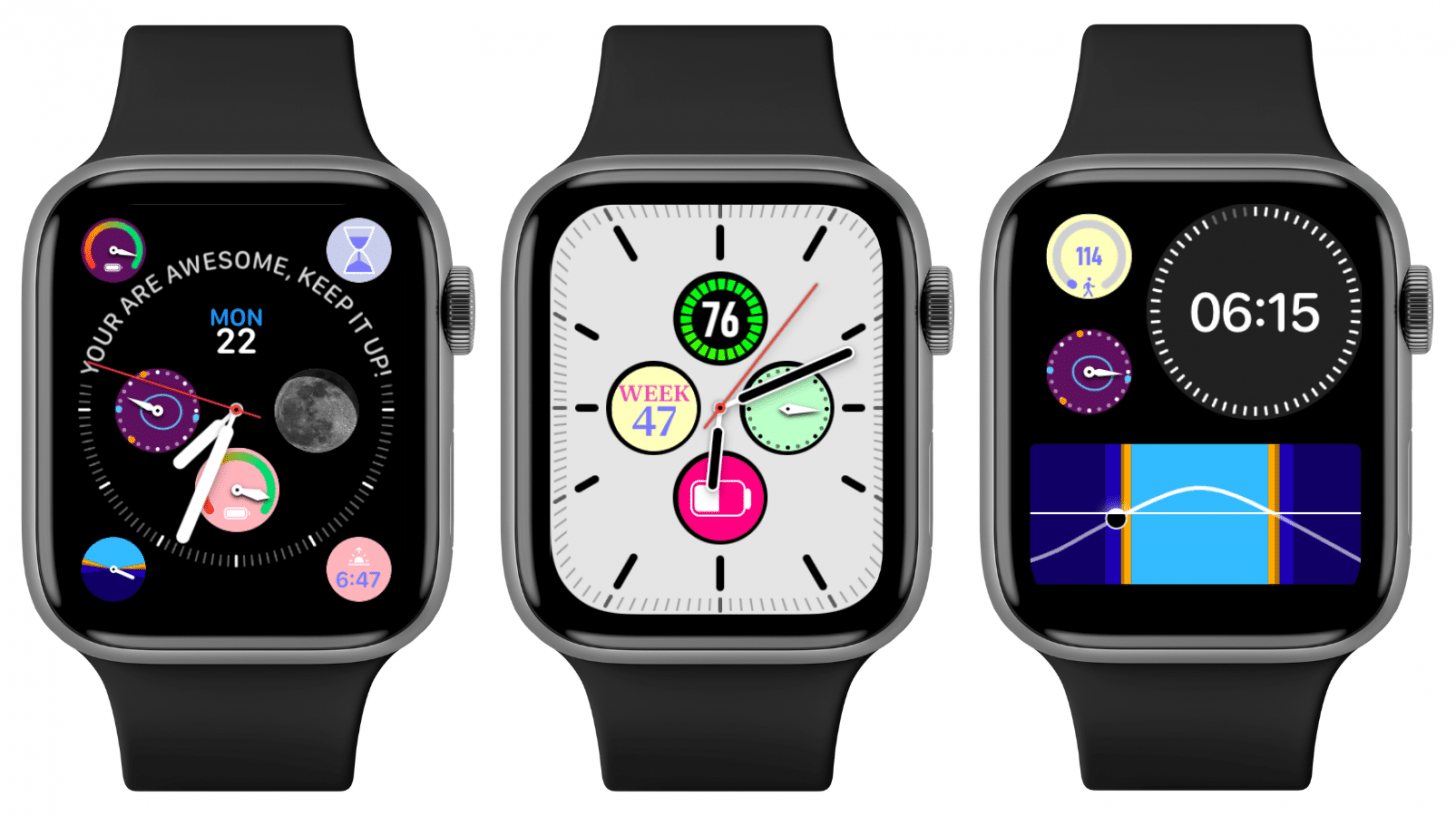 Many users want to know how to change Apple Watch from analog to digital. While that can be done using the good old-fashioned Watch app, Watchsmith can do that and then some. While it doesn't offer cute Apple Watch faces to download, it lets you customize complications for official faces available in the Watch app to the point of having them change throughout the day.
Let's take the example of time again. With Watchsmith, you can pick between analog, digital, minute dial, decimal time, decimal dial, 24hr dial, and even two hourglass options! You can also pick from a wide selection of colors and pick a time for when you wish for it to replace the complication. For example, you can have the time change to a minute dial during your daily swimming session. It takes a while to figure out and configure all the opinions, but the result is worth every minute!
Plus, Watchsmith offers unique complications such as tide height, step goal, golden hour, and so many others that aren't typically available on Apple Watch. Most options are entirely free to use, but there's a $1.99 monthly or $19.99 annual fee to have full access to all available complications and to use multiple complications of the same style simultaneously. There is a free one-week trial if you want to test them out before committing.
Clockology Watch Faces cannot be mentioned without including the Clockology app. The same developer creates both, and while Clockology Watch Faces lets you easily download beautiful faces with functional complications, Clockology lets you build them from scratch. Many fabulous faces that you can download from the app are completely free, but they do have exclusive watch face designs that you need to pay $2.99 per month or $24.99 per year.
This app offers truly unique designs that you can't find anywhere else. Users love to create and share designs via Reddit and Facebook that others can download. Despite offering complex-looking watch faces, it is really easy to save, customize, and use these on your Apple Watch. If you are looking for a Casio Apple Watch face, Clockology should be your go-to app. If you have the patience and artistic skills, this may just be the best watch face app for Apple Watch.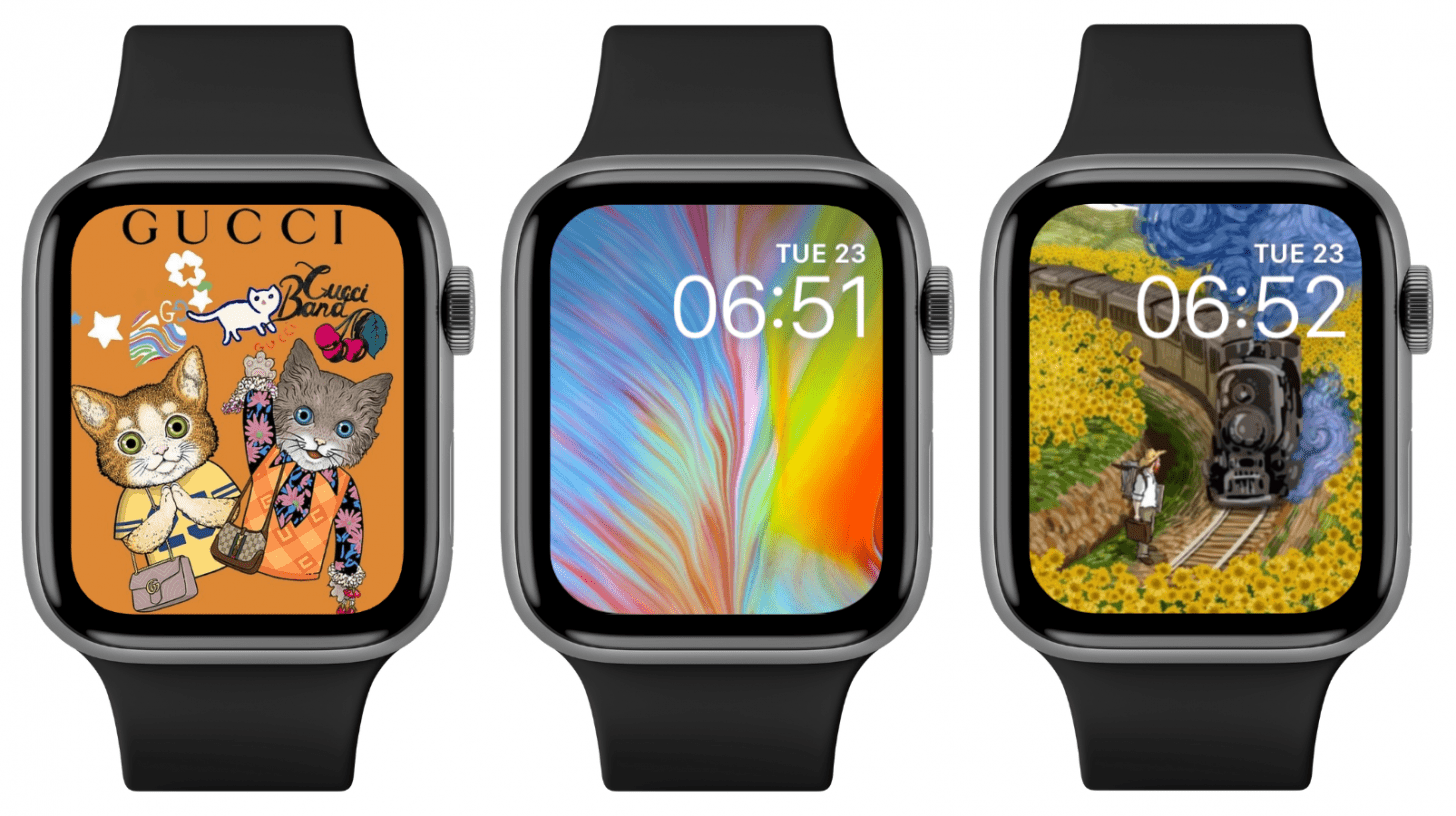 If you are looking for the best wallpapers for Apple Watch, Watch Face Albums may be the app for you. Although some watch faces have functional complications, this app focuses on artistic pictures that you can download and then set as Apple Watch images using the Photos or Kaleidoscope watch faces. There are limited amounts of free backgrounds with new free options available every 16 hours. 
To get access to all images, you can pay either $1.99 per month or $9.99 per year. However, once you download the image, you can use it without paying for the app. So if you aren't interested in having access to new images, you can pay for one month, download all the backgrounds you want, for example, all the ​​luxury Apple Watch faces, and then cancel your subscription.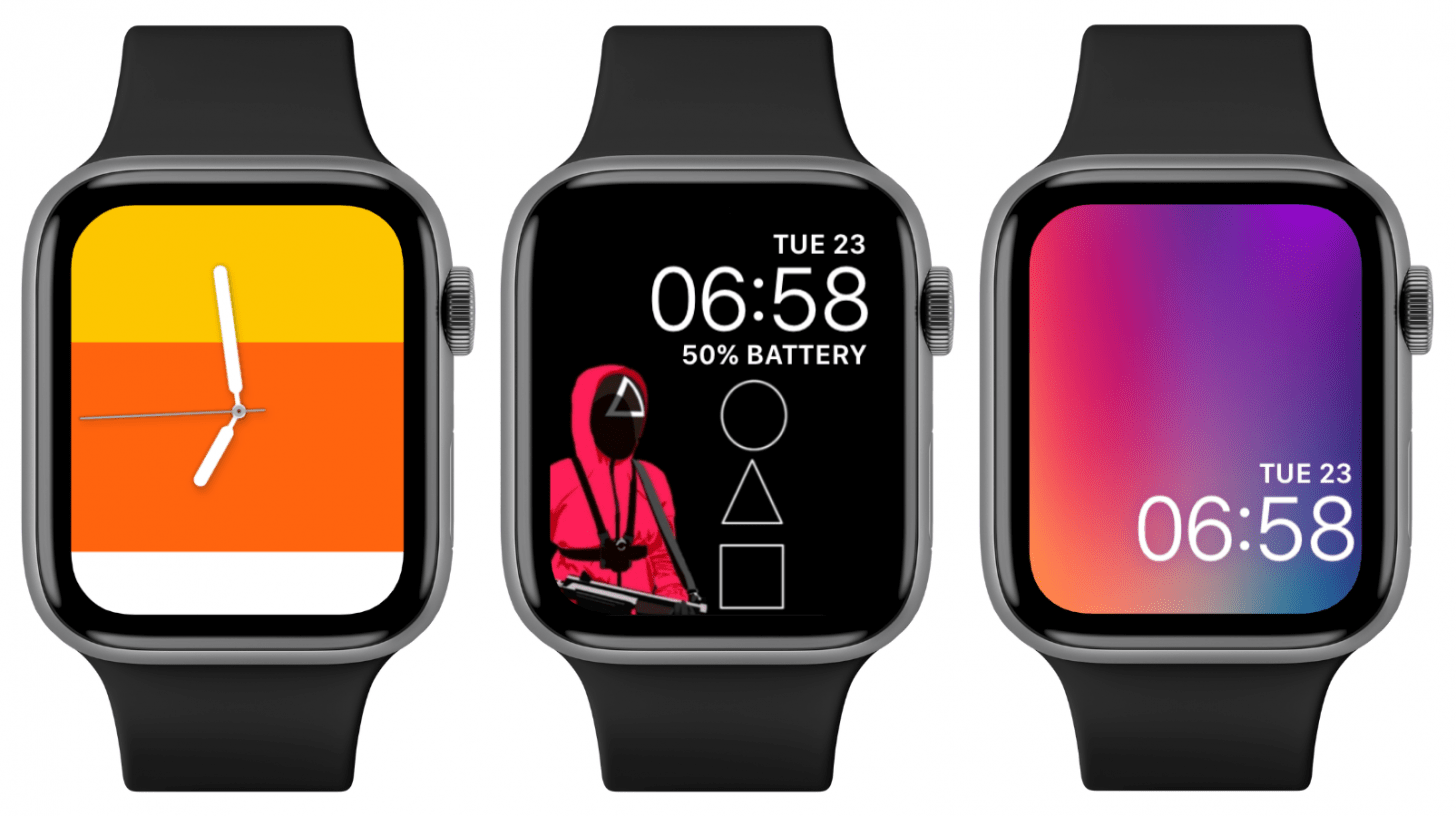 Buddywatch is another excellent app to find cute Apple Watch face wallpapers. It offers many free options in various colors and designs; some come pre-set with functional complications. Unlike other apps that can be complicated to use or force you to download photos and then set them as watch faces, Buddywatch makes it easy to change Apple Watch faces with just a click.
I like Buddywatch because the app's free version is sufficient to enjoy many new faces, and it is easy to use. A subscription for $3.49 a month is available to those who want to engage further with the app and unlock features such as app icons and VIP profile frames. Check out their selection of digital Apple Watch faces and browse movie themes such as Squid Game, fun holiday options, and even pride backgrounds!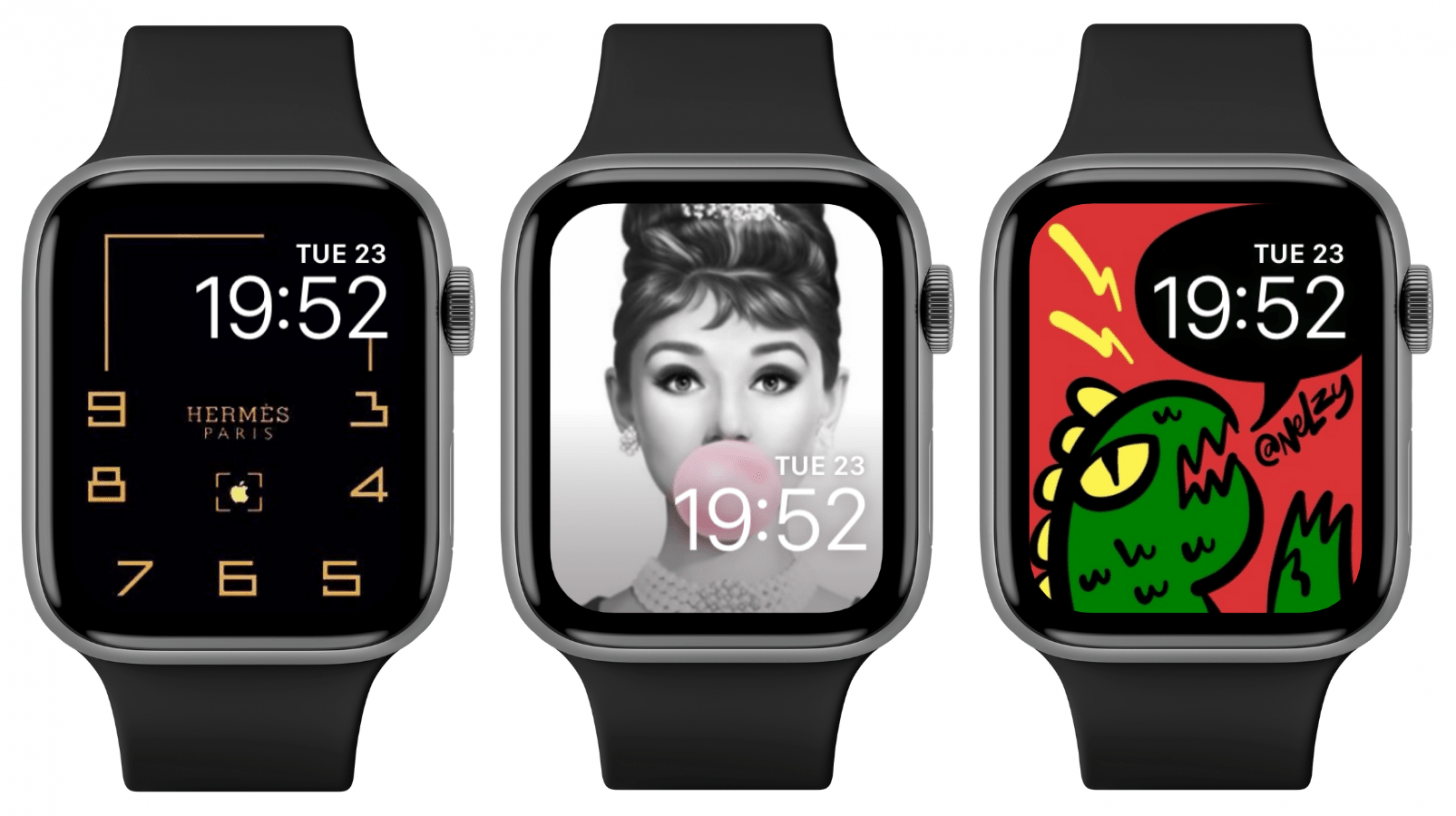 Watchfacely has a decent selection of free watch faces that you can download without a subscription, although you are limited to how many you can download. However, for $29.99 per year, you can get access to over 4,000 watch faces! The full selection includes Hermes Apple Watch faces, Nike, Coco Chanel, and many more.
You can browse popular cool Apple Watch faces easily and add them quickly. Most Watchfacely options are wallpaper style, but they also offer faces with complications. There is an impressive selection of brightly-colored styles that aren't available in other apps. However, these images can also be downloaded online and set as Apple Watch faces for free using the Photos watch face, so you don't need to download an app or subscribe to a service to find your own.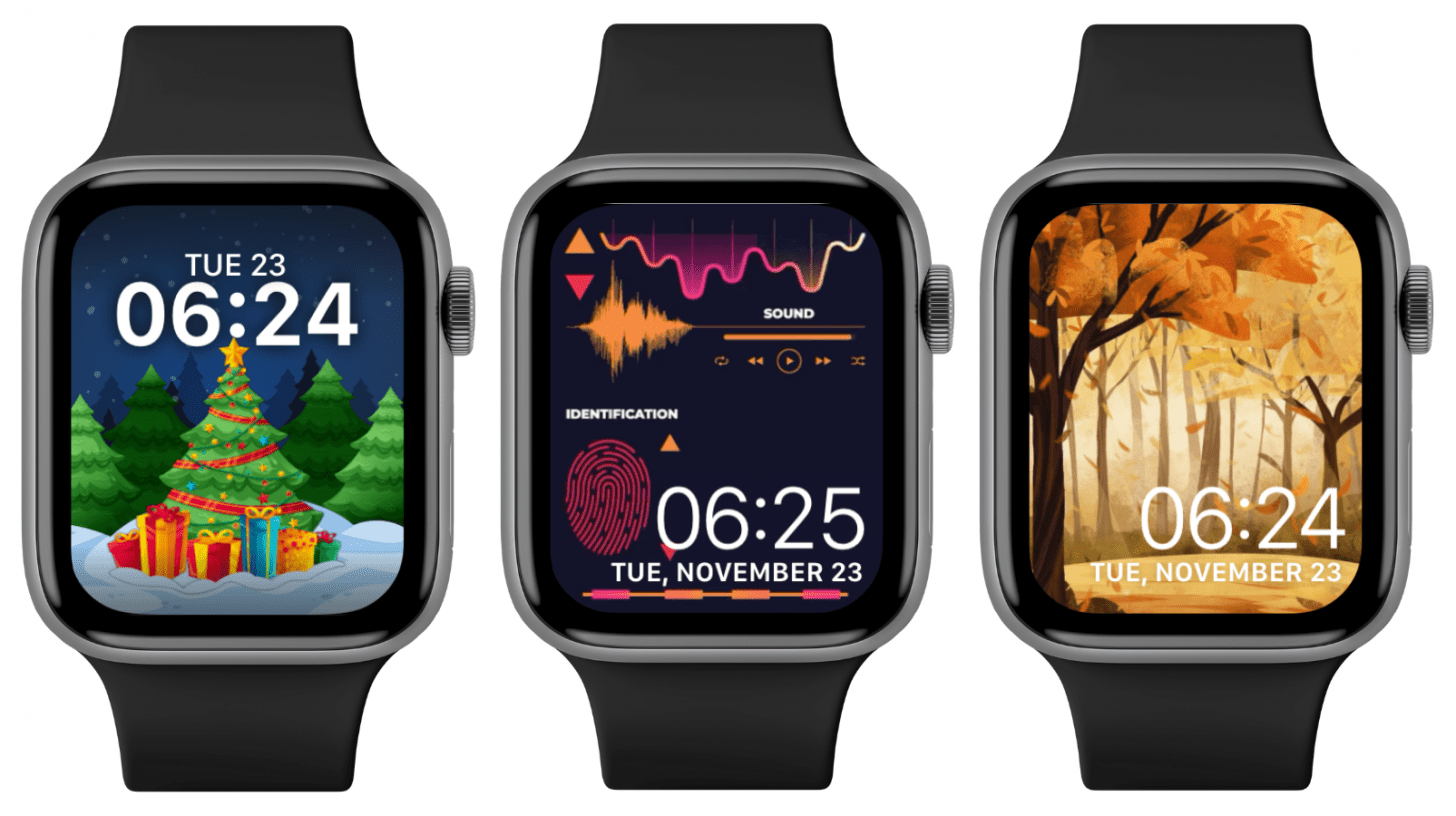 This app doesn't have the best selection, but it has a few unparalleled benefits. First of all, the developers are easy to contact directly via email, and they will help you figure the app out if you have any questions, although it is pretty intuitive and works perfectly on my Series 7. Secondly, most of these apps only work on newer watches, but this one has special collections for even the original Apple Watch and other older models.
Watch Faces Gallery & Widgets offers holiday-themed faces and fun dynamic and live watch faces. You can pay $2.99 to get a limited collection with new Apple Watch faces released weekly. Or you can pay $6.99 to see their lifetime collection. If you don't see anything you like, you can send them suggestions, and they will work on bringing them to life, which can't be said for most other apps.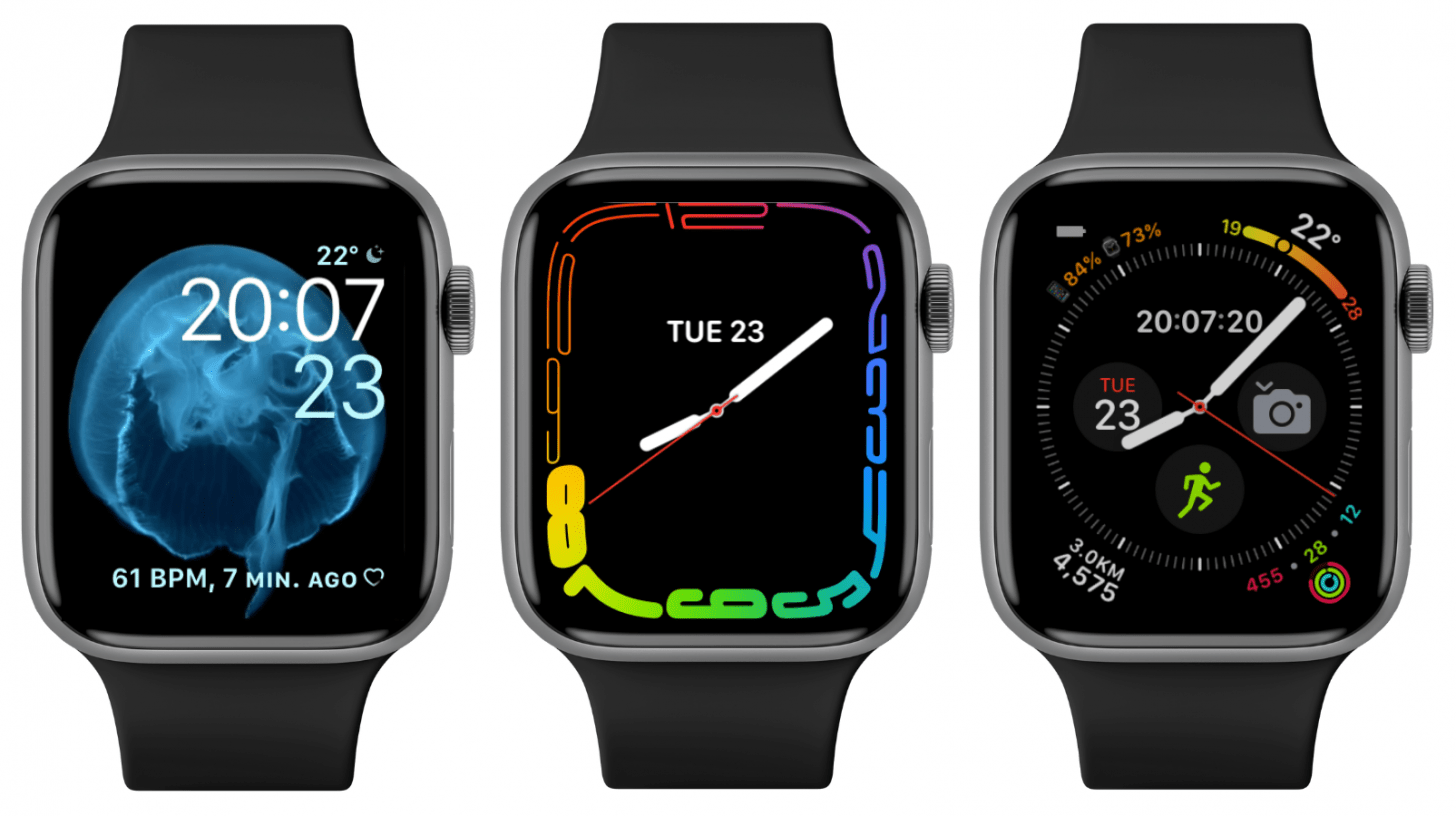 10. Watch App (Free & Pre-installed)
The native Watch app has a great selection created by Apple that you can browse in the Apple Watch Face Gallery. New options are often released with software updates; the newest are Contour and Portraits, released with watchOS 8. Contour is only available on the Series 7 because it takes advantage of the larger display. 
Portraits is available for most newer models and lets you set portrait mode images as backgrounds. The best Portraits photos for Apple Watch faces contain friends, family, or pets, but they can also be inanimate objects.
Another reason the Watch app made the cut is that once you add a third-party watch face to your Apple Watch, you will need to use the Watch app to delete or edit it. This is how to personalize Apple Watch faces from most third-party apps:
Open Watch app.


 
Tap on My Watch tab if you aren't already there.


 
Under My Faces, swipe to find the watch face you want to edit or delete.


 
Tap it to see the customization options such as content, color, style, and complications. Each watch face has unique possibilities.


 
To delete it, scroll to the bottom and tap Remove Watch Face.


Pro Tip: Do you know how to change Apple Watch faces by swiping? This easy trick can help you alternate between your favorites instantly directly on your watch!
Now you know how to get new Apple Watch faces to customize your watch! I have also covered how to switch between faces on Apple Watch. The hard part is to pick your favorite faces out of essentially unlimited choices. Do keep in mind that
some watch faces may drain your battery faster
than others, especially when they have many complications.
Read this next to discover the best complications to further customize your Apple Watch!