Portrait faces bring extra oomph and style to your Apple Watch.
By

Elisabeth Garry
Updated 12/15/2021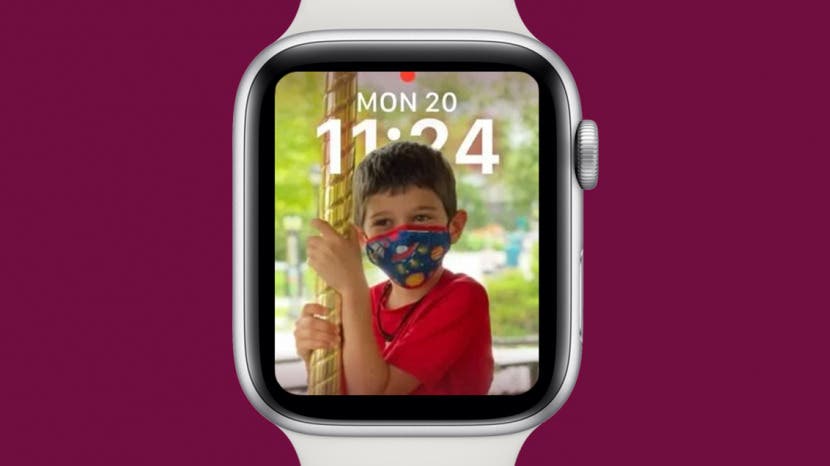 An exciting new addition to Apple Watch in watchOS 8 is the ability to add photos in Portrait mode to your Apple Watch face. These portraits look more three-dimensional than photos, and can even overlay the time numerals for a unique touch! We'll show you how to use a photo as an Apple Watch face in Portrait mode.
Related: 6 Easy Ways to Transfer Photos from iPhone to PC or Mac
Why You'll Love This Tip
See a new favorite Portrait every time you wake your Apple Watch.
Portrait-mode photos can even interact three-dimensionally with the date and time on your Apple Watch.
How to Change Apple Watch Face to Photo: Portrait Apple Watch Face
Portraits are different from other photos in your Camera roll in that they use different depths of field to blur the background while keeping the photo's subject in focus. With this Apple Watch face, you can create a more dynamic look by keeping the photo's subject front and center while allowing the date and time to display over the background. To learn more about what's new in watchOS 8, sign up for our Tip of the Day newsletter! Here's how to set a photo as Apple Watch face with protrait mode.
Open the Watch app on your iPhone.


 
Tap Face Gallery.


 

Tap Portraits.


 
Tap Choose Photos to select the portraits you want to see on your Apple Watch face.


 

Tap up to 24 Portraits you want to use as your Apple Watch face background.


 
Once you've selected your Portraits, tap Add.


 

Scroll down to Style and select either Classic, Modern, or Rounded. I chose Modern.


 
You can also choose to turn the date off or change the bottom complication to a variety of complications, like Activity, Alarm, Moon Phase, and more.


 

Once you're done, tap Add.


 
To set the portrait subject to appear over the time numerals on the Apple Watch face, tap the My Watch tab at the bottom of the screen.


 

Tap on the Portraits watch face in My Faces.


 
Tap on [#] Photos.


 

Tap the photo you want to edit.


 
Select one of the three options at the bottom, represented by circular icons. You can choose Top Behind, Top Front, or Bottom Front.


 

When you're finished, tap Done.


 
Tap Done again to save changes.
Next time your Apple Watch screen lights up, you should see the new Portrait face featuring your selected portraits! If you're not already on the Portraits face, you can easily switch Apple Watch faces. Plus, check out how apps have used this new feature to create unique third-party Apple Watch faces.