By

Olena Kagui
Updated 09/13/2023
What to Know
Apple's own watch faces are optimized to save you battery life.
Customizable widgets and complications can drain your battery quickly.
Some of the best Apple Watch faces that don't drain battery include Pride, Unity Mosiac, Artist, and Chronograph Pro.
With the number of different Apple Watch bands, covers, and complications, standing out is as simple as swiping over to a customized new watch face. The best Apple Watch faces are both practical and pretty. Some cool watch faces may put a strain on your battery life, so here's how to choose the best Apple Watch face that won't drain your battery.
Jump To:
A lot of factors affect the battery life of your Apple Watch. The more you use it to track workouts, send messages, and take photos, the quicker it will run out. Even your choice of Apple Watch face can impact Apple Watch battery life.
Many cool Apple Watch faces have beautiful designs but only show the time, saving your battery. Other faces have customizable widgets known as Apple Watch complications. Like regular widgets on your iPhone or iPad, these can negatively impact your Apple Watch battery. This is especially true when these widgets are always showing live updates.

Discover your iPhone's hidden features
Get one daily tip each day (with screenshots and clear instructions) so you can master your iPhone in just one minute a day.
It is possible to have several faces saved in My Faces in your iPhone's Apple Watch app and switch between them by swiping. You can swipe between them directly on your watch. This way, you can use a more simple design whenever you are worried about battery life. However, having fewer faces saved can also help protect your battery. To learn more about Apple Watches, sign up for our free Tip of the Day newsletter.
Apple has done a great job making sure that watchOS throttles background CPU for apps updating complications. This is done to prevent Apple Watch battery drain. However, some complications will still have a more significant impact on your battery.
For example, the Infograph Apple Watch face can cost you up to 12 percent more battery loss than Utility in just one day. This is because Infograph shows the weather, which requires the GPS to locate you and pull your weather information. 
One big reason why Apple doesn't allow third-party Apple Watch faces is to protect your watch's battery life. More recently, though, several apps have found ways around Apple's restrictions and created some pretty spectacular watch faces. We'll only be looking at native Apple Watch faces in this article to make sure your battery life stays protected.
Watch faces, sometimes referred to as Apple Watch backgrounds or Apple Watch face wallpaper, come in so many incredible designs. Let's take a look at some of the best.
1. Artist
As the name implies, this creative watch face puts an artsy spin on time. Apple commissioned Geoff McFetridge to create this design. The time is shown where the eyes should be, with the nose separating the hours from the minutes. Best of all, you can tap on it to change its look. The cool colors and designs may even inspire you to book an appointment with your hairdresser.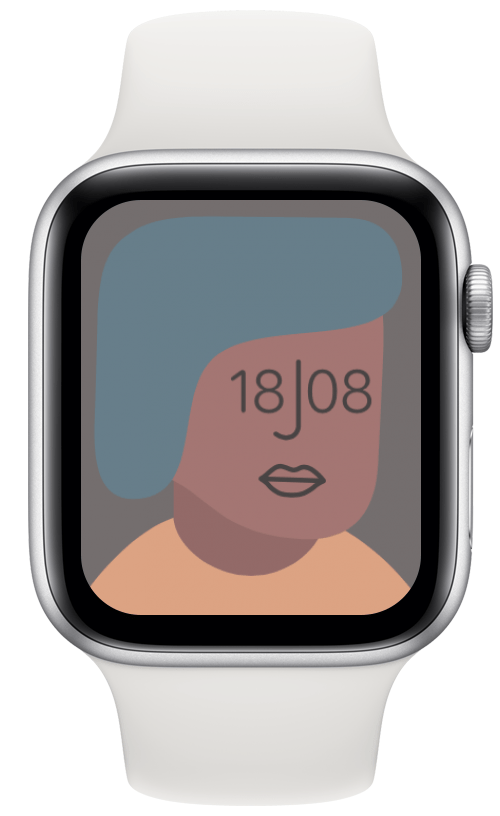 2. Unity Mosiac
Unity Mosiac was released with watchOS 9.3 to celebrate Black History Month. It features the Pan-African flag in a beautiful design. You can choose between a combination of shades to best match your vibe. You can also add the date and one complication if you want. It gets dimmer when idle, helping you save battery on your Apple Watch.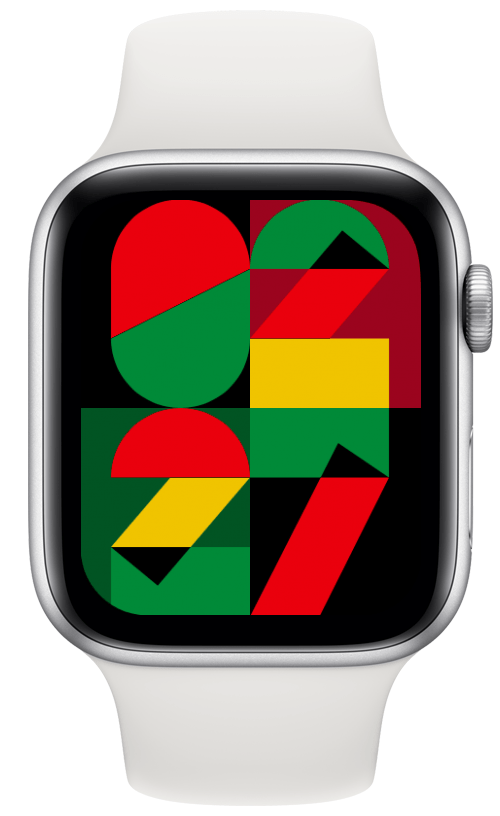 3. Memoji
Emojis have become a great, expressive way for people to communicate. Memoji takes it one step further and lets you have your favorite character on your watch. You can even set it to your own emojified face or select ALL ANIMOJI to get a different one every time you check the time. These faces are not static, so they will move around, yawn, and smile. Tap them to see them make a funny face. Be aware that doing this all day isn't great for your battery life.
4. Photos
Sometimes a cool design isn't personal enough. If you sync a photo album to your watch, you can turn it into a watch face. If you have multiple photos, they will cycle through to make you smile. Of course, it doesn't have to be a photo you've taken. This is a great way to turn any images into free watch faces. You can take a screenshot or download any image and add it to your synced album.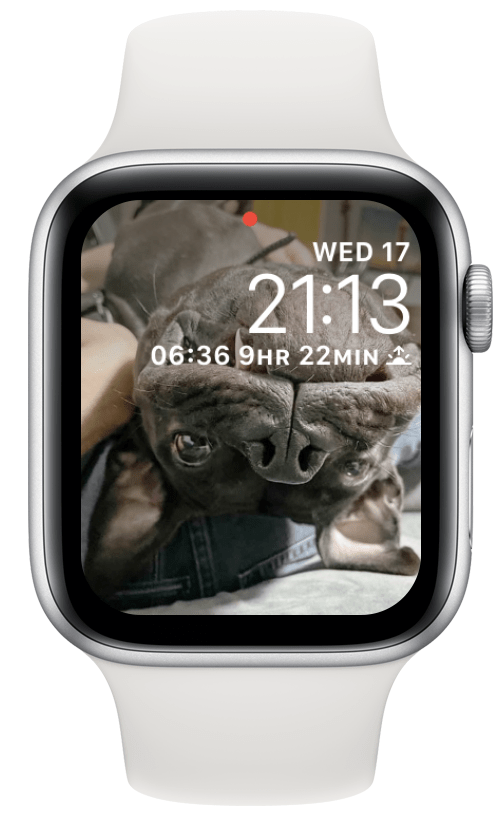 5. Chronograph Pro
While this isn't the sought-after Apple Watch Rolex face, the Chronograph Pro is one of the coolest Apple Watch faces because it gives the classic watch look a modern twist. While traditionally, tachymeters are used to measure speed, you can set these dials to function as timers. You can start these by tapping on the dial and then hitting the green button. Plus, you can add several complications in the corners.
6. Pride
Are you going to a Pride event? Hoping to support the LGBTQIA community? Or do you simply love rainbows? The Pride Apple Watch face is lovely and has five different designs. When you tap on the newest one, the rainbow lines will sway beautifully. If you have the woven nylon rainbow Apple Watch band, the lines from the watch face will line up almost perfectly!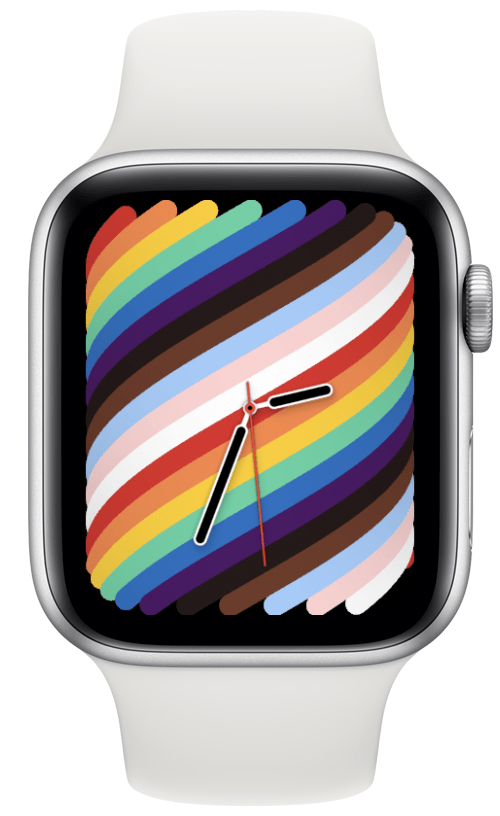 7. Kaleidoscope
I have always found kaleidoscopes fascinating, but I don't have a practical way to incorporate them into my daily life as an adult. Kaleidoscope Apple Watch faces bring whimsy to your routine. There are several designs to pick from, and your watch face will never look the same. Watch it change to relax or to get inspired.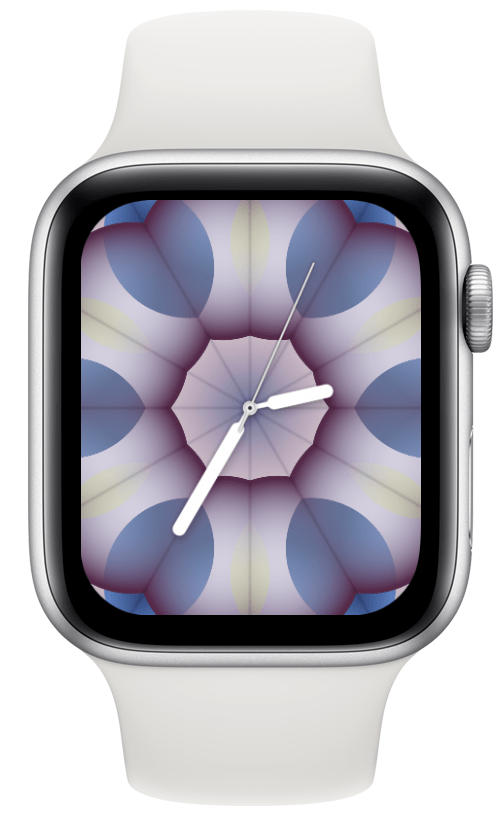 8. Mickey Mouse
Disney Apple Watch faces are a must on your trip to Disney World. The Mickey Mouse watch face has a classic depiction of Mickey or Minnie as a watch face. Enjoy watching them literally point out the time on an analog clock face. If you're a huge Disney fan, then check out the Toy Story watch face. It has a more modern design but brings as much joy as Mickey Mouse. When idle, the image dims to save battery, but the hands stay bright so you can see the time.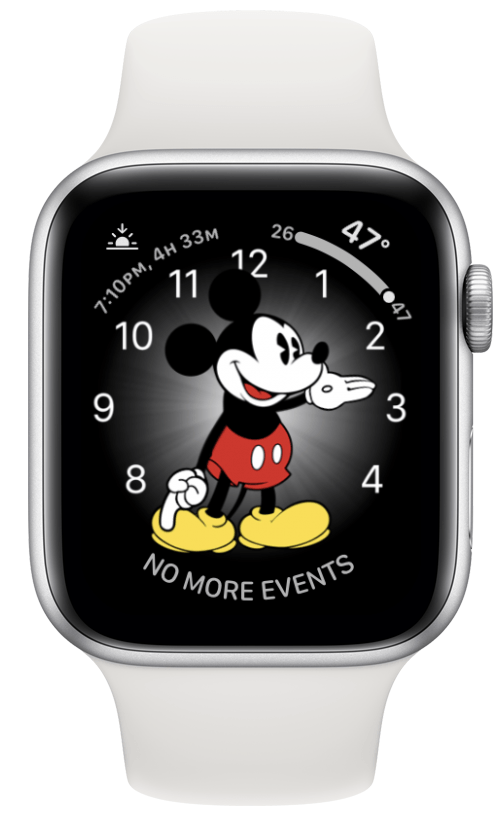 9. Gradient
Minimalism is trending, and this Gradient Watch Face is Marie Kondo-approved (I think.) Use Gradient to match your outfit, or enjoy them all at once with the rainbow option! This simple analog watch face is aesthetically pleasing and roughly tracks seconds. It can be super simple, or you can add your favorite complication. 
10. Activity
Last but not least, my go-to watch face has always been Activity. The design is simple and informative, and it reminds you to stay active and close all your circles. I love how it's easy to customize and allowed me to add multiple Apple Watch complications.
There are many cool Apple Watch features. However, the personalization that is offered with custom watch faces is perhaps the best one. Choosing to trade in your favorite timepiece for a smartwatch is not an easy decision. Luckily, Apple makes it possible to customize the watch to your heart's content! If these aren't exciting enough for you, check out these fun third-party Apple Watch face apps that might be worth the battery drain.