Forward phone calls on your iPhone so that incoming calls are automatically routed to another number.
By

Conner Carey
Updated 01/31/2022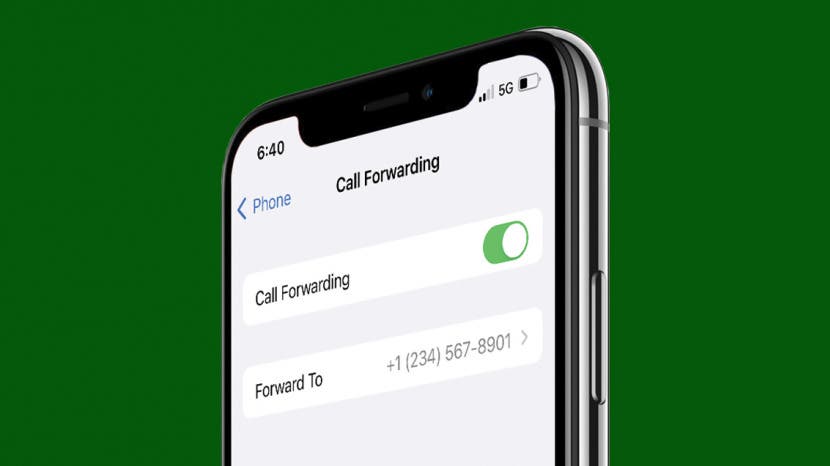 * This post is part of iPhone Life's Tip of the Day newsletter. Sign Up. *
It's very simple to forward calls from your iPhone. Call forwarding on iPhone automatically directs incoming calls to a different number. Let's walk through how to forward calls to another number on your iPhone.
Related: How to Know If Someone Blocked Your Number on iPhone
Why You'll Love This Tip 
Set up call forwarding on your phone to another number so that you don't receive them.
Forward calls from your work phone to your personal phone so that you can receive them while you're away.
How to Set Up Call Forwarding on iPhone
If you're interested in learning more iPhone productivity tips, consider signing up for our free Tip of the Day. It's important to note that enabling this option will forward all incoming calls to the new number. Note: Some cellular carriers may not have this feature enabled. If you don't see the options below in your Phone settings, you'll need to contact your carrier.
Now, here's how to forward calls from one phone to another. 
Open the Settings app.


 
Scroll down and tap Phone.


 
Tap Call Forwarding.


 
Tap the Call Forwarding toggle to enable this feature. 


 
Tap Forward To.


 
Enter the phone number you want to direct calls to. 


 
Tap Back. 


 
You'll now see the phone number you entered listed next to Forward To. 


Call forwarding is now enabled! If you're a Verizon user, you can also enable call forwarding on your iPhone by dialing *72 followed by the number you want to forward calls to. When you want to end call forwarding with Verizon, dial *73 followed by the number you forwarded calls to. This will disable call forwarding. Before you use this feature, make sure to review the details with Verizon.