Learn how to stream from phone to TV using a third-party app that allows for Chromecast iPhone film streaming!
By

Olena Kagui
Updated 01/25/2023
What to Know
Set up a Chromecast on the Google Home app.
Use a compatible app to play videos from your iPhone to your TV.
Compatible apps include: Netflix, HBO, YouTube, and many more!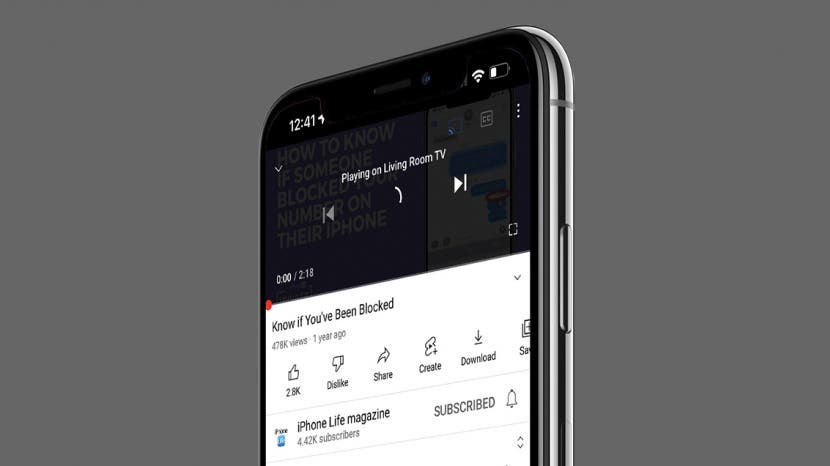 Chromecast is a dongle created by Google that lets you stream content from your phone to a TV. If you have a Chromecast built in or plugged into your television, you can use third-party apps to cast streaming apps or mirror your iPhone and watch free movies or other content on a bigger screen with better sound.
What's in This Article?
How Do I Connect to Chromecast with My iPhone
Both Android and iPhone users need to use the Google Home app (free) to set up a Chromecast. It is one of the easiest ways to achieve Chromecast iPhone mirroring. To do this:
Download Google Home from the App Store and open it.


 
Tap the plus icon.


 
Select Set up device.


 
Tap New devices.


 
Go with the default Home or tap Create another home. Then tap Next.


 
Make sure your Chromecast is on, within 20 feet of your iPhone, and plugged in.


 
You may need to select Chromecast / Google TV if it doesn't automatically detect it.


 
Follow the on-screen directions to finish the setup.


Google Home is an excellent alternative to a free Chromecast app. Although it doesn't cast directly, it enables you to cast using apps such as YouTube. However, there are third-party options that will cast directly. One of the most popular apps is Streamer for Chromecast.
Although the Streamer for Chromecast download is free, you need to pay for their services after the free one-week trial. Instead, I prefer to use the Google Home app and cast directly from streaming apps.
How to Stream from iPhone to TV Using Chromecast
Once you have set up your Chromecast via the Google Home app, any iPhone connected to the same network can cast content from compatible apps such as YouTube to your TV without downloading any app. Here's how to cast iPhone to TV:
Open YouTube or another app you wish to stream from.


 
Find the video you wish to cast.


 
Tap the cast icon. In most apps, if you don't see the icon, you can tap on the video to make it appear.


 
Select your Chromecast device.


 
The video will begin playing on your TV.


All compatible streaming apps have a similar process to cast in this "Chromecast AirPlay" manner. You can even cast Apple TV to Chromecast as long as you use the Google Chrome browser on your Mac. You can use the same steps to cast an iPad to your TV.
How to Play Netflix on Chromecast
To cast Netflix, simply play a video in the Netflix app and tap the cast icon to select your Chromecast. If you experience issues casting to Netflix from your iPhone, you are not alone. A common problem occurs when users have special characters in the name of their Chromecast device. If removing them doesn't work, you may need to try a third-party app such as Streamer for Chromecast. I haven't had success casting Netflix without a third-party app, but all other streaming services work without any issue after the initial Google Home Chromecast setup.
Chromecast Compatible Streaming Apps for iPhone
After learning how to play videos from your iPhone to your TV, it's time to discover some fun apps that can be cast! Most of these apps are free to download, but some may require paid subscriptions to stream:
Netflix (can be problematic)
YouTube and YouTube TV
HBO Now, HBO Go, and HBO Max
Google Play Movies & TV
AllCast
Spotify
Hulu
Twitch
Disney+
Discovery+
Prime Video
Paramount+
These are just some of the many compatible apps! Remember, most apps can cast to your TV directly once your initial Chromecast setup is complete. You can set it up via the Google Home app. However, specialized casting apps with paid services can give you even more options.
Now you know how to use Chromecast with iPhones! You also know how to mirror your iPhone to your TV using Chromecast to watch Netflix and how to troubleshoot. To learn other ways to project your iPhone to your TV, such as screen mirroring, make sure to sign up for our free Tip of the Day newsletter. Next, learn how to watch Apple TV on Roku.