By

Cullen Thomas
Updated 05/31/2022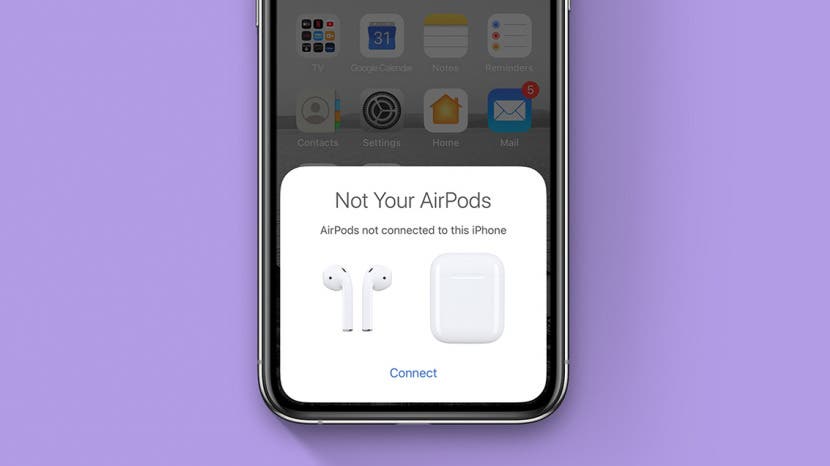 AirPods cutting out, not working, not connecting, or skipping? Here are some common AirPods problems and their easy solutions. Whether your issue is with Airpods, AirPods 2nd Generation, or AirPods pro, we've got you covered. Between sharing your AirPods with other people's devices and using two sets of AirPods with one iPhone, you can get a lot of mileage out of your set. But even though they're normally more reliable than other true wireless headphones, you'll still sometimes need to do some AirPod troubleshooting. We're here to help.
Related: Apple AirPods, AirPods 2 & AirPods Pro Guide: Charging, Pairing, Setting Up, Using, More
How to Fix Your AirPods When They're Not Working
What's In This Article:

Discover your iPhone's hidden features
Get one daily tip each day (with screenshots and clear instructions) so you can master your iPhone in just one minute a day.
AirPods Keep Cutting Out
If you're having AirPod connection issues where the audio stutters or skips, you're not alone. Even though the AirPods can sometimes operate up to 100 feet away from their paired iPhone, in practice, physical obstacles and interference often get in the way. Wireless systems are vulnerable to this kind of problem, and lots of people report it. Here are the steps to try:
Put your AirPods in their charging case, close the lid, wait a few seconds, and then take them out and try them again. This tells the AirPods to reset their wireless connection to each other and your iPhone.
Try moving the AirPods close to the iPhone. If this works, then the problem was probably radio interference or a low battery.

Make sure your AirPods are charged. A low battery level may make connecting difficult, especially with older AirPods.
Turn off Bluetooth and then turn it back on again. You can do this from the Control Center. (see How To Open the Control Center). Simply tap the Bluetooth icon to toggle it off, wait a few seconds, and then turn it back on again.


 

You might try turning off your iPhone's Wi-Fi while you're listening. This will reduce radio interference. Obviously it's not a long term solution, but if it works then you can be certain that radio interference is your problem. 


 
Look for other sources of radio interference in your environment, such as microwave ovens, cordless phones, walkie-talkies, or fluorescent lights. If you have one of these, then try moving further from it or turning it off.

Reduce radio interference in your home by switching your Wi-Fi router to one that uses the 5.0 GHz band instead of the 2.4 GHZ, and if you have a 5.0 GHZ Wi-Fi network, setting as many of your devices to use it as possible.
Explanation: Bluetooth and AirPlay (your AirPods use both) are radio technologies that transmit on the 2.4 GHz bandwidth, a band also used by 2.4 GHz Wi-Fi. Each time a Bluetooth or AirPlay device establishes a new connection, it scans the 2.4 GHz range for an unused 'quiet' portion of the band. With lots of computers and Bluetooth devices in the same area, the band can get noisy, like a room in which everyone is shouting information back and forth. When you turn Bluetooth off on your iPhone, everything connected to your iPhone disconnects and falls silent. When you turn it back on, they all scan the range for a quiet portion to use. What that doesn't work, it can help to switch devices out of the 2.4 GHz range and into the 5.0 GHz range.
If your problem persists even though you have visited multiple environments, then it probably isn't a wireless interference problem. Let's try some physical and software fixes.
Make Sure Your AirPods Are the Default Audio Device
To do this:
Put in your AirPods and start some music.
Open the AirPlay menu, which you can access by tapping the AirPlay icon here pictured in the control center, but also available in your audio player app.


 

Make sure your AirPods are checked.


 
Additional Steps to Stop Your AirPods from Cutting Out:
If it's still not working consistantly, try these extra tricks:
Clean your AirPods (below). This can solve a surprising number of problems.
You may want to check your Call Audio Routing settings. 

Reset your Airpods. It's quick and reasonably easy, and often solves a host of problems.
AirPods Not Connecting with iPhone
Not to worry. If your AirPods, AirPods 2nd Generation, or AirPods Pro won't connect with your iPhone or iPad, just work your way down this list of suggestions. You don't need to do them all. Stop when the problem seems resolved.
Update your device to the latest operating system. Your iOS devices need to have iOS 12.2 or later. Android, Windows, and other devices are usually more stable, and often have better connections when they're up to date.
Make sure that Bluetooth is on: open the control center and check to make sure the Bluetooth icon is highlighted (see above).

Put the AirPods back in their case and check that the indicator light is on. If it's off and will not come back on when you open the case again, then the battery of the charging case may be dead. Try charging the AirPods case.
If your case is dead, then make sure the cable (or wireless charger) you use to charge your AirPod case is working. Try it with your iPhone and make sure the iPhone starts charging. You might like to know how to check the status of your AirPods when they're connected, to prevent this in the future.
Close the case with the AirPods inside. Wait at least thirty seconds. Then unlock the iPhone and open the AirPods case nearby. If your iPhone doesn't pop up a connection dialogue, then hold the button on the back of the case until the status light flashes amber and then blinks white. Then close the case and open it again next to your iPhone. A popup window should appear to lead you through connecting. Hopefully, that solves your problem!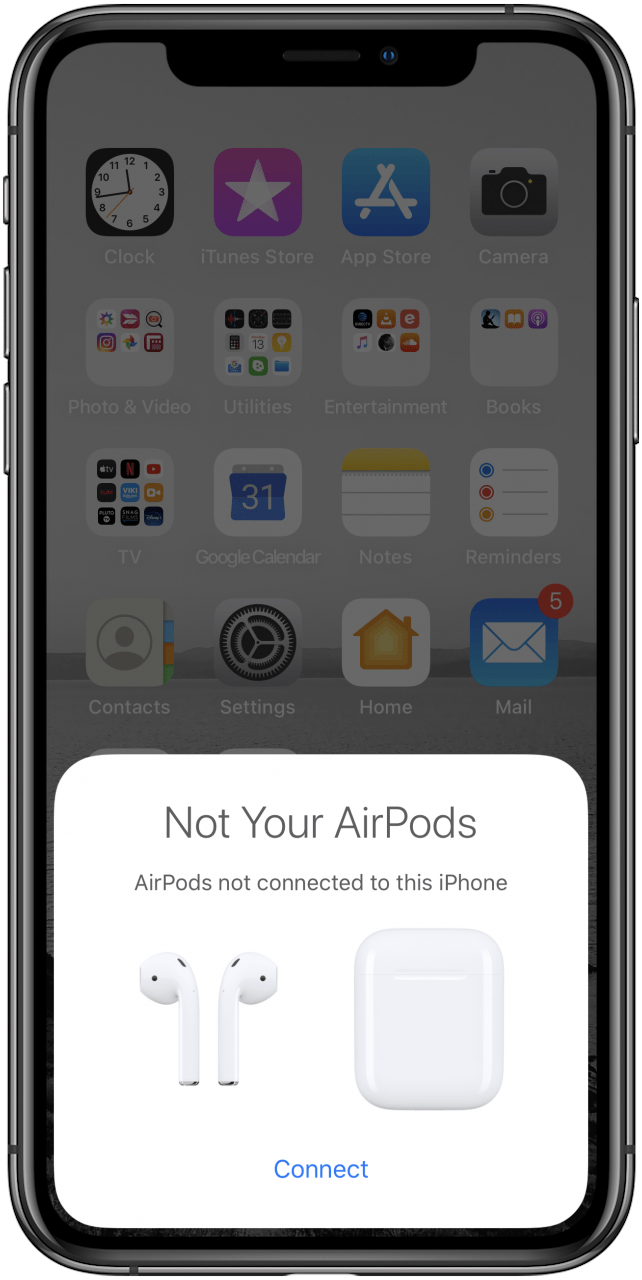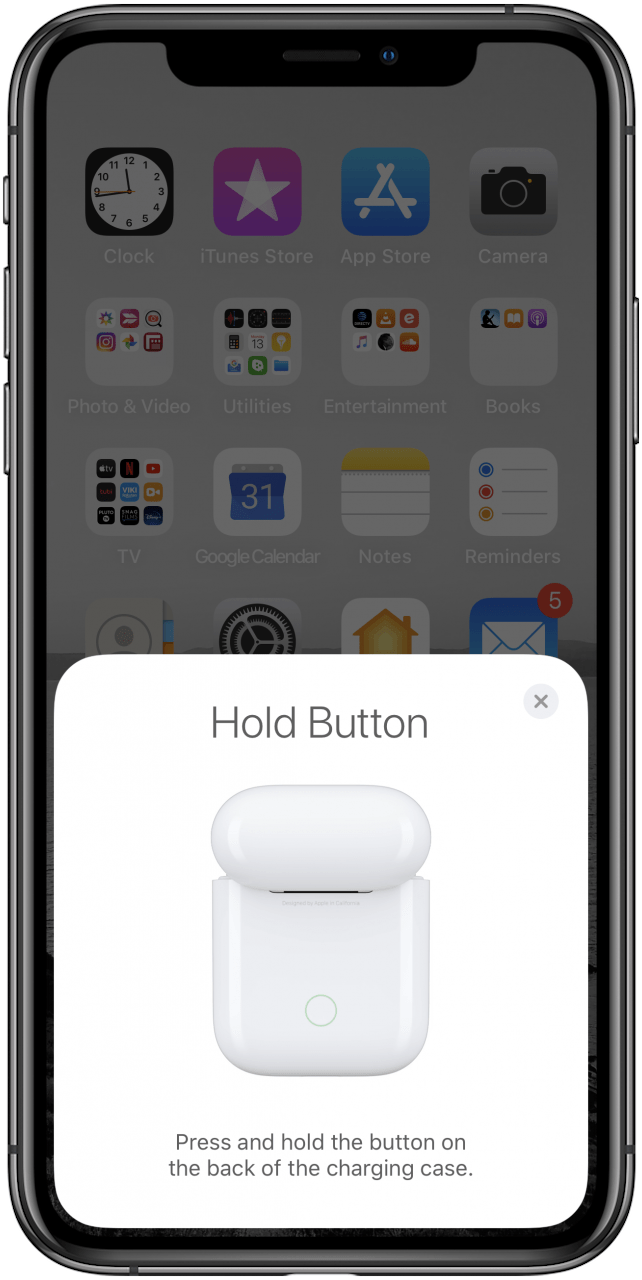 If that didn't do it, then Reset your AirPods. This returns them to factory settings. It's both easy and quick to do, but it is destructive of your settings, so you may then need to name your AirPods and change your AirPods settings.
AirPods Won't Connect? Tell your Devices to Forget them, then Reconnect
If all your Apple devices are logged in to iCloud with the same Apple ID, then you only need to do this on one device. All the other Apple devices using the same Apple ID will also forget the AirPods.
To forget your AirPods on your Apple Watch, open Settings > Bluetooth.

Tap the Info icon next to your AirPods (it looks like a circled i).
Then tap Forget this Device.

To forget your AirPods on your Mac, open System Preferences. 
Select Bluetooth. 

Then click the X next to the AirPods.
Now that all other devices have forgotten the AirPods, repair the AirPods with your iPhone using the instructions above.
AirPods Not Connecting with Computer
It can be tricky to get your AirPods to connect with your Mac. Sometimes when you open the case and bring it near the computer, the AirPods never appear in the Bluetooth menu, so you can't pair them. Here's a workaround: make sure your Mac and your iPhone (or iPad) use the same Apple ID and are connected to the internet, and then:
Pair your AirPods with your iPhone (or iPad) by bringing them close together, opening the AirPods charging case lid, and following the on screen prompts.
Close the AirPods case.

Wait until the AirPods disappear from your iPhone or iPad's AirPlay menu.
Check your Mac's Bluetooth device list. Your Apple ID and iCloud may synchronize your iPhone's knowledge of the AirPods to the Mac.

When this happens, you'll see your AirPods in the Mac's Bluetooth devices list (System Preferences > Bluetooth). 
You might have to reboot your Mac if it doesn't appear right away.
Find a Lost AirPod
Can't find an AirPod? No problem! Follow the simple steps in this article: How to Find a Lost AirPod.
One AirPod Not Working
It seems that a lot of people experience the left AirPod not working, but even if it's the right one for you, we've got the right advice for you. All of the reasons listed above under AirPods Cutting Out might be responsible for this. Still, if that silent AirPod isn't turning on at all, there are a few extra steps to try.
Open the Settings App.
Tap Bluetooth.


 

Tap the circled i next to your AirPods.
Tap Forget This Device. 


 

Return the AirPods to their charging case, close the lid and wait half a minute or so. Then open the top again. 
Press and hold the button on the back of the AirPods until the status light starts blinking white.

Reconnect your AirPods by bringing them near your iPhone and opening the lid.
If that doesn't work, then go to the same Bluetooth settings menu as above and toggle off Automatic Ear Detection. The AirPods only start playing audio once they detect that they've been placed in your year. If they aren't correctly identifying whether they're in an ear or not, then one might not turn on. Turning off Automatic Ear Detection will mean they stay on all the time they're not in their case. That will adversely affect the battery life since the AirPod won't go to sleep when you take it out of your ear. 


Still not working? Try these tips to fix one AirPod not working before you give up!
Got earwax in your AirPods? Don't worry, I won't show you gross pictures of my AirPods. You know what it looks like. Cleaning your AirPods can solve problems that don't on the surface seem related, like connectivity issues and faint audio. It's also hygienic! Let's get started.
Clean your AirPods by gently wiping them down with a lint-free cloth (like you would use on eyeglasses). 
Do not use water, and especially do not use soap! You could cause permanent damage. The AirPods Pro are water-resistant, unlike earlier models, but it's still better not to use water or solvents when cleaning them. The water resistance wears out over time, and will be seriously tested by any soap or similar agent. Instead, for bad stains you can lightly dampen your lint-free cloth, but if you do, then do not put your AirPods back into their charging case until they are definitely very thoroughly dry! Water in the charging case can case electrical shorts that will wipe out your AirPods.

If you need to get gunk out of the speaker gaps, try using mounting putty (such as this) to grab that gunk and lift it out. Mounting putty should be thick enough to not leave any of itself behind on your speaker surface, and the blue color will distinguish it from the gunk.
Pro Tip: If this doesn't get your AirPods clean enough, read this article next. We recommend a special AirPods cleaning tool that you must try!
Hopefully this troubleshooting guide has helped you solve your problem. If it hasn't you probably need to contact Apple support. You can also check out our article on what to do if your AirPods mic isn't working or how to keep your AirPods from falling out. Good luck! Next, learn several ways to check the battery level of your AirPods and how to pause on AirPods and AirPods Pro.