By

Elisabeth Garry
Updated 10/10/2023
What to Know
AirPods mic is not working? Make sure your AirPods are charged, clean, and connected.
Next, try restarting your devices, checking microphone settings, and resetting your AirPods.
If all else fails, you may need to contact Apple as your AirPods microphone not working could be a hardware issue.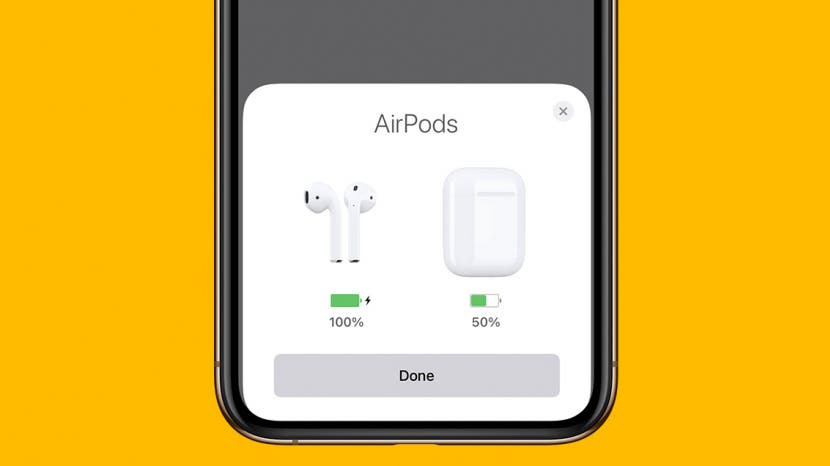 AirPods microphone not working? This can be very frustrating since so many of us use our AirPods to conduct business and talk with friends and family. However, there are many ways you can try to fix the problem before deciding the situation is hopeless. In this article, we'll go over how to fix your AirPods' microphone.
Jump To:
1. Charge Your AirPods
Why are your AirPods microphone not working? Sometimes the best solutions are the simplest: your AirPods mic not working may just be a consequence of the AirPods not being charged enough. Before you do anything else, place your AirPods in the case, open up the case while holding it close to your iPhone, and check the charge. If the battery level is low, it may interrupt the microphone's functioning. Try charging them to see if that solves your AirPods microphone not working. There are also some easy solutions if you're having trouble with your AirPods not charging.
2. Reconnect AirPods to Your Device
Another quick and easy fix for the AirPods microphone not working is to reconnect your AirPods to your device. To do this, simply pop your AirPods back in their case, close the lid, then take them back out and put them in your ears. This will disconnect and reconnect your AirPods to your device. Test your Airpods microphone again, and see if the issue has resolved itself. To learn about more ways to use your AirPods, consider signing up for our Tip of the Day newsletter.

Discover your iPhone's hidden features
Get a daily tip (with screenshots and clear instructions) so you can master your iPhone in just one minute a day.
3. Clean Your AirPods Microphone
Before moving on to more involved fixes, check to see if your AirPods microphone looks clogged or dirty. This can make the AirPods microphone muffled or make it not work altogether. Where is the mic on AirPods? You can find the AirPods or AirPods Pro microphones at the end of the AirPods stems. If they appear dirty, you can quickly clean them out by following these instructions on how to clean your AirPods safely. Once you've cleaned the microphone holes, you can wipe away any remaining grime. Again, be very careful when doing this and avoid pressing into the microphone holes with a sharp implement.
Once you've finished cleaning your AirPods, reconnect and do another AirPods mic test.
4. Restart Your Apple Device
Our old friend—turning it off and back on again—returns. Sometimes, simply restarting the device you're trying to connect your AirPods to can be the answer for how to fix the AirPods microphone.
5. AirPods Microphone Settings
If you are having trouble with the microphone on only one AirPod (for instance, your right AirPod works fine, but the left AirPod microphone is not working), the problem may be found in the AirPods' settings. Before you begin the steps below, put your AirPods in your ears and make sure they've connected to your iPhone.
Open Settings, and tap AirPods.


Tap Microphone.



Make sure Automatically Switch AirPods is selected.


Now try using your AirPod mic again and see if the issue is resolved.
6. Reset & Reconnect Your AirPods
One last thing to try before throwing the towel in is to reset your AirPods before reconnecting them to a device.
Put your AirPods in their charging case, close the lid, and leave them there for 30 seconds.
On your iPhone, go to Settings and tap your AirPods.



Scroll down and tap Forget This Device.


Confirm Forget Device.



Confirm Forget Device again.


With the lid of your AirPods' charging case open, press and hold the setup button on the back of the charging case until the status light flashes amber, then white.

With the lid open, hold your charging case near your iPhone.
A "Not Your AirPods" notification should pop up on your screen. Tap Connect.



Follow the instructions on-screen.
When your AirPods are reconnected to your iPhone, tap Continue.


Now you can try your microphone again.
Repair or Replace Your AirPods
Unfortunately, if none of these tips have worked and your AirPods microphone is still not working, you may need to consider repairing or replacing your AirPods. While AirPods can be pretty resilient, they're still delicate pieces of technology. Wear and tear, like dropping them, can eventually take a toll. Consider contacting Apple Support or bringing your AirPods in for service. For help troubleshooting other common iPhone issues, check our troubleshooting guide on iPhones not automatically connecting to Wi-Fi.