Turning on Bluetooth lets you wirelessly connect your iPhone to other devices, like speakers and headphones.
By

Rachel Needell
Updated 04/26/2023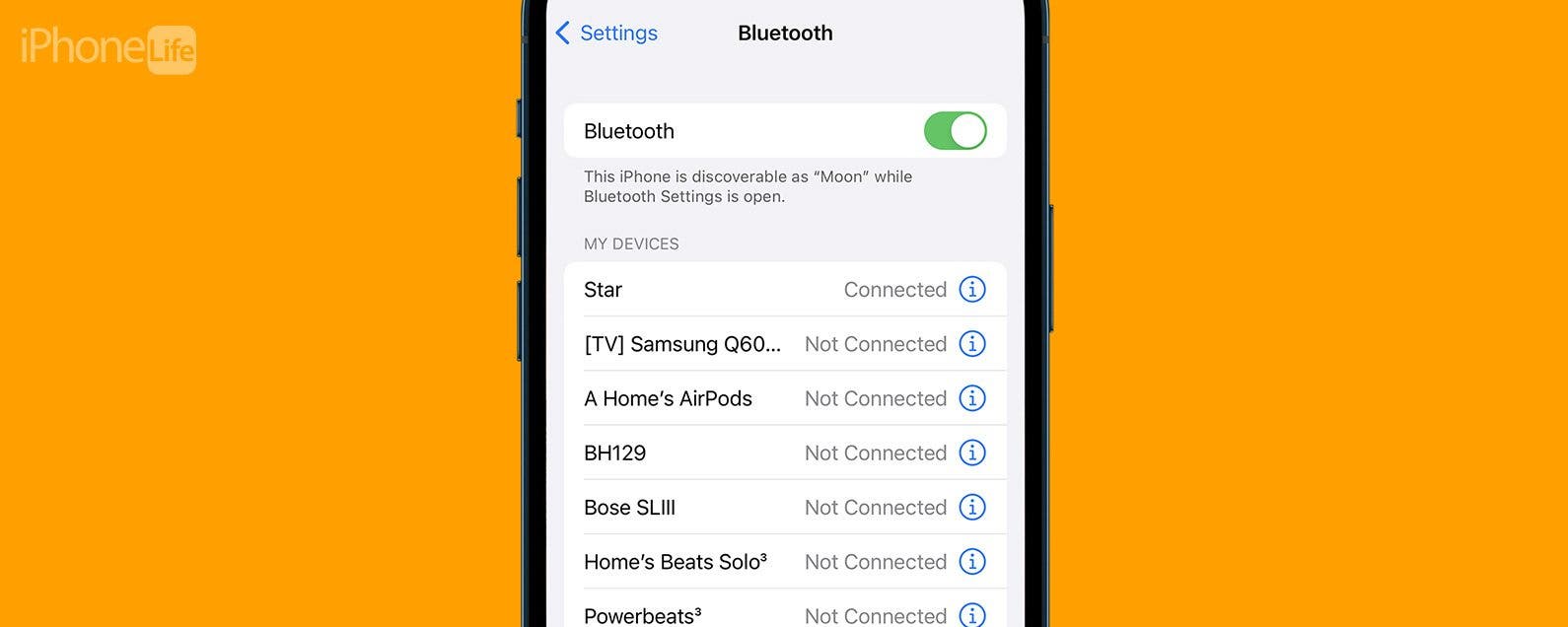 * This post is part of iPhone Life's Tip of the Day newsletter. Sign Up. *
Bluetooth is a feature on most smartphones that allows you to stream things wirelessly. It's become a staple in many people's daily lives but it can be tricky to turn on and off if you don't already know. Luckily, it's simple to turn Bluetooth off and on. Here's how!
Why You'll Love This Tip
Turning Bluetooth on and off is the first step in being able to stream your favorite music to a speaker or watch videos on a larger screen.
You can quickly connect and disconnect your iPhone from a device by turning Bluetooth on or off.
If you can't get audio to play directly from your device, turning Bluetooth off might solve your problem.
How to Turn Bluetooth On or Off
There's nothing better than connecting your phone to a nice speaker to play your favorite tunes completely wirelessly. If you like tips about using your iPhone, be sure to sign up for our free Tip of the Day! Here's how to turn Bluetooth on and off.
Turn On Bluetooth from Settings
The first way to enable or disable Bluetooth is in Settings.
On your iPhone, open Settings.


Tap Bluetooth.


Toggle Bluetooth on or off. It will be green and toggled to the right when enabled or gray and to the left when disabled.


Turn Off Bluetooth via Control Center
The second and quicker way to use Bluetooth on iPhone is by using the Control Center.
From your iPhone Home Screen, swipe down from the top right.


Tap the Bluetooth icon to turn Bluetooth on or off. It will be blue when enabled and white when disabled.


Pro Tip: To quickly access Bluetooth Settings via the Control Center, press and hold the Bluetooth icon to open a larger, more detailed menu. Then, press and hold the Bluetooth button again to access the full list of paired devices. This will make connecting to your device much faster!