By

Jim Karpen
Updated 10/11/2017
This is one iPhone Life journey I'm very much going on with you all. It's that time of year: new devices in means old devices got to go. But how? Should you sell your iPhone or trade-in your iPhone? How do you get the best deal? I'm facing these same questions. Sure, selling my iPhone would mean more money toward that shiny new iPhone X, but how much trouble do I want to go through? There are a lot of iPhone trade-in offers out there, including those from carriers like Verizon, third-party resellers like Gazelle, and even from Apple itself. We can't make the decision for you, but we can lay out all of your options and the money (or credit) you can expect to get from each. Here's how to sell or trade-in your iPhone so you can get that new one.
What To Do Before You Sell or Trade-In Your Device (Very Important!!)
If paired with watch, unpair Apple Watch
Backup iPhone
Sign out of iCloud
Erase iPhone to Factory Settings
We have a complete how-to article that walks you through each step: Top 6 Things You Need to Do Before Selling Your iPhone. Make sure you don't skip this step when it's time to send your iPhone off or sell it to someone else. If you forget when sending your iPhone in, often you won't receive any credit or money for the trade-in.
Selling Your Old iPhone VS. Trading In Your Old iPhone
Generally, selling your old iPhone is going to fetch you more money. But it's much more of hassle. The benefit of a trade-in is that you don't have to worry about finding a buyer — you just collect your money or credit, albeit less of it.
Here's a chart of each recent iPhones and the various prices you may be able to fetch for each. Keep in mind that we're talking averages here, so the value will vary based on storage capacity, carrier,  and condition of your device. In some cases, you may be able to get a bit more than what we've suggested — especially when looking at the carrier trade-in, as Sprint skewed the averages a little low.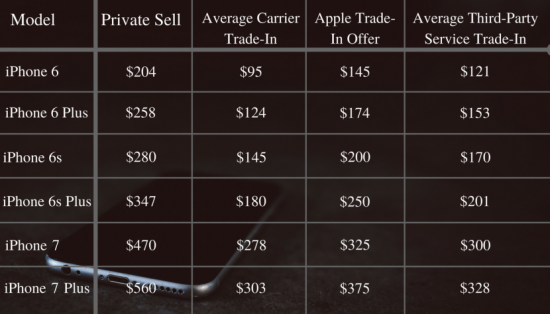 Again, the carrier averages are slightly skewed on the chart thanks to Sprint, but rounding to the nearest hundred is a good general indicator of carrier trade-in values. In general, AT&T, Verizon, and T-Mobile are offering slightly more generous offers, which I'll go into detail on below. However, despite that, my worth-it winner is Apple's Trade-In Program. Apple is offering highly competitive trade-in deals. I'll cover full details on all of your options below.
Option 1: Selling Your iPhone
The first and most lucrative option is to sell your iPhone to a private party. You could sell your phone word-of-mouth by telling your friends and asking them to spread the word. But more likely, you'd use a third-party service like Ebay or Craigslist to sell your device. Ebay is a good option and not nearly as sketchy as it used to be. If you'd prefer an in-person exchange, selling your iPhone locally on Craigslist is a viable option, just be smart and never send your device in the mail. You might also try selling your device in Facebook groups that are dedicated to sell and trade in your area. Lastly, you could use a selling service such as Glyde or Swappa.
Again, selling your iPhone is going to take more time and work than simply trading it in, but you will also make the most money this way. Depending on how quickly you want to get your new iPhone, it may even be worth trying to sell your device first, and trading it in if that doesn't work out.
Option 2: Trading In Your iPhone
Apple iPhone Trade-In
Unless your carrier happens to offer a better deal, I highly recommend trading your device in with the company you got it from: Apple. I've checked various different sites and looked at all of the carrier trade-in deals. But to my surprise, Apple is offering the best deals overall. The biggest drawback is that Apple only offers you store credit, whereas other third-party resell services give you cash. But if you're planning on using the trade-in money on a new iPhone anyway, it's the best deal I've found.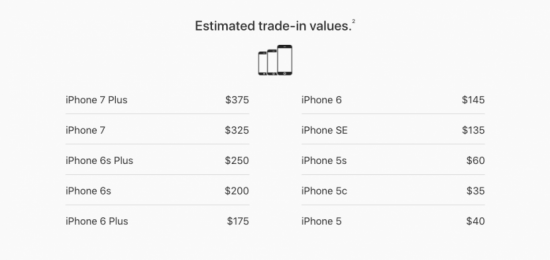 A huge benefit to trading your old device in with Apple is being able to get instant in-store credit when you trade your iPhone in directly at the store. Of course, you can also send it in and get a gift card by mail if you prefer.
Carrier iPhone Trade-In
Carriers are not making it as easy to get awesome trade-in deals as they used to. Just doing the research for each trade-in offer is making my head spin. Pretty much all of the carriers are offering trade-in deals with a lot of strings attached. We'll go over how much each carrier is offering for your iPhone trade-in and everything else you need to know about that offer. I'll be using USAToday and TheRewardBoss as sources for helping me decode this information.
Verizon iPhone Trade-In Offer
The Offer: $300
The Catch: Money is paid over 24 credits on your bill. iPhone must be iPhone 6s or newer, and you have to sign up for Verizon's Unlimited plan. *Older models can get $200 or $100 trade-in credit.
AT&T iPhone Trade-In Offer
The Offer: $300 for iPhone 7 Plus; up to $200 for older devices. Full credit (not over months or billing cycles).
The Catch: The catch is the offer itself — $300 for only the iPhone 7 Plus? That's outrageous. Users with the iPhone 7, iPhone 6s Plus, or iPhone 6s should definitely look elsewhere.
Sprint iPhone Trade-In Offer
The Offer: Lease the iPhone 8 or 8 Plus for $0/month for a year.
The Catch: You don't own the device (though you can pay off the difference at the end of the year or start leasing yet another new iPhone) even though you're trading-in a device you do own.
T-Mobile iPhone Trade-In Offer
The Offer: $300
The Catch: Similar to Verizon's offer, you can trade in an iPhone 6 or newer and get $300 toward the price of a new iPhone — though it will be paid in credit over the 24 months of your bill. If you have a newer device, like the iPhone 7, this offer probably won't be worth it since your device and an older device can fetch the same offer
Third-Party Trade-In Service
Lastly, you can choose to use a third-party reseller such as Gazelle, Ebay Quick Sale, USell, or even Amazon. Gazelle is well-known and therefore one of the more reputable places to trade-in your iPhone for cash. I don't recommend using Amazon, simply because Amazon merely provides credit to your Amazon account.
My Conclusion
What you decide to do will be a personal decision that no one else can make. If you simply don't have the time or energy to sell your iPhone to a private party, Apple and Gazelle have the two best offers, in my opinion. If you ask me, no one should use the carrier trade-in deal. They're simply designed to lock you into a choke-hold of a contract and keep you there for two years. Obviously, selling your iPhone is going to get you the most money. But as far as convenience, I think Apple is offering the best deal, especially since you can walk right into any store and get immediate credit.
Curious as to what I plan to do? Well, I (Conner, here) need to pre-order that iPhone X so I can start writing tips and how-tos for you all right away. Which means I'll be up at two in the morning (Central time) on October 27 to pre-order the iPhone X. Then I'll spend the next week attempting to sell my iPhone 7 Plus. And if that doesn't work, I'll head to the Apple store after getting my new iPhone to trade it in for $375 in store credit. 
How about you?