By

Erin MacPherson
Updated 04/18/2022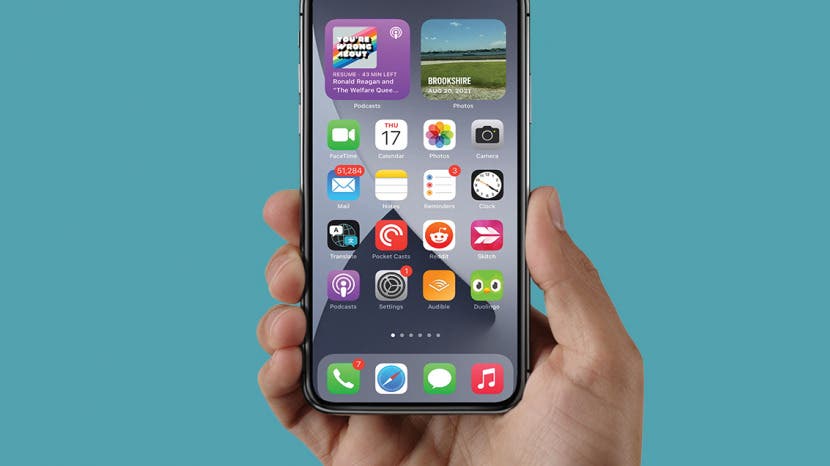 * This post is part of iPhone Life's Tip of the Day newsletter. Sign Up. *
The iPhone Dock lets you access your most frequently used apps from any of your Home screens. The default iPhone Dock apps are the Phone, Safari, Messages, and Music apps. I'll teach you how to change, rearrange, and organize apps into folders. 
What's in This Article?
What Is the Dock on iPhone?
The iPhone Dock is located at the bottom of the iPhone. It is sometimes referred to as the menu bar, iPhone home Dock, or the Home screen bottom bar. It is important not to confuse the Dock with the iPhone Home bar at the bottom of the screen. This bar can be used to navigate between Home screens. People often ask how to remove the iPhone bottom bar from their phone. Unfortunately, this isn't possible.

Discover your iPhone's hidden features
Get one daily tip each day (with screenshots and clear instructions) so you can master your iPhone in just one minute a day.
How to Move Apps In & Out of the iPhone Dock
If you already have four apps on your iPhone Dock, you'll have to remove an app before you can add a new app icon to the Dock. If you'd like more apps in your Dock, there's a workaround we'll go over below. I will use Safari as my example because people often ask, "how do I add Safari to my dock?"
Tap and hold any app icon in the iPhone Dock. When the Action Menu opens, select Edit Home Screen.


Now, your Dock and Home screen will enter jiggle mode.



If you already have four items in your Dock, drag and drop one of the app icons from the Dock to the Home screen.


Next, drag the app icon you want to move into the Dock from the Home screen and position it wherever you want it on the Dock.



Repeat this with any other app icons you wish to move. Tap Done in the upper-right corner of your screen to exit jiggle mode and save your changes.


Now you know how to add and remove apps! To add even more apps, you can create folders within your Dock.
How to Use Folders to Add Apps to the iPhone Dock
Unfortunately, there's not a great way to add more than four apps to the iPhone Dock without using a workaround. You can, however, add apps to the Dock using folders. This will allow you to add an entire folder of apps to your Dock.
How to Remove Dock on iPhone
A lot of people wonder if it's possible to remove their iPhone Dock. Apparently, there are ways to do it that involve jailbreaking your iPhone, but this is complicated and risky. Even those who succeed at it may not be able to use the Dock space for other apps, so there really isn't much reason to try it. If you only put your most-used apps here, the iOS Dock is a valuable tool that can save you time.
If you like this article, check out how to use the App Library to help you organize and find the apps you need. If you have other Apple devices, you might be interested in learning how to customize the Dock on a Mac. To get tips like these directly in your inbox, don't forget to sign up for our free Tip of the Day newsletter.