By

Amy Spitzfaden Both
Updated 03/30/2022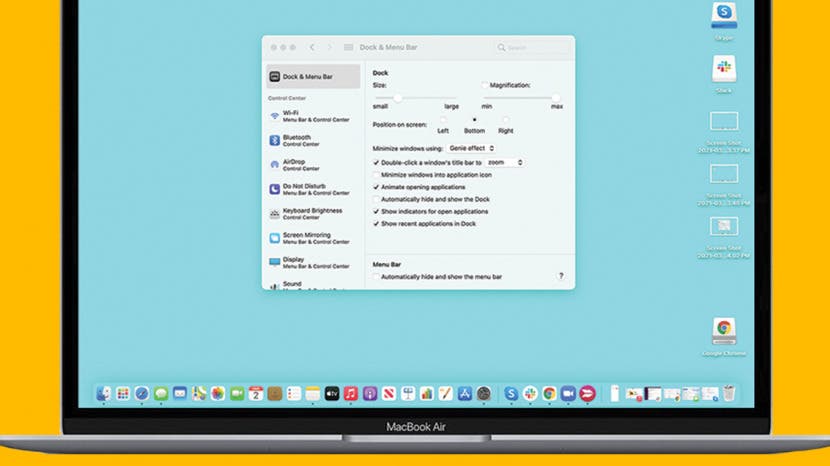 Your Dock is the bar at the bottom (usually, we'll get to that later) of your Mac screen that allows for quick access to apps. Let's take a look at how to add and remove apps from your Dock, which apps show up by default and why, and how to move and change the size of your Dock on your Home screen.
Jump To:
What Is the MacBook Dock?
The Dock on your Mac is the bar that sits by default on the bottom of your screen. From here, you can access certain apps (which are set by default but can be customized as you will see below), your downloads from the web, your Launchpad, and your Trash. It also can show up to three recently opened apps, even if they're not pinned to the Dock. For more ways to customize your MacBook, check out our Tip of the Day.
How to Customize Your Dock
You'll want to first open the Settings for your Mac Dock. Customize its appearance by following these steps:

Discover your iPhone's hidden features
Get one daily tip each day (with screenshots and clear instructions) so you can master your iPhone in just one minute a day.
Click on the Apple menu.


Click System Preferences.



Click Dock & Menu Bar Preferences.


Explore the menu of available options.


Here are some of the options of what you can do from the Dock & Menu Bar Preferences menu:
Use the slider on the top left to select your Dock size. Once it fills up the bottom space on your screen, it won't get any bigger even if you move the slider even more toward large. Since mine was defaulted to full size, I wasn't able to increase the side at all, but I could make it smaller.
Choose your Dock's position on your screen. You can choose for your Dock to be on the left side of your screen, the right side, or the bottom (default).
Choose your minimization effect. Select whether you want the Genie effect, the default effect that has the window emerge from one point à la the genie from Aladdin, or the scale effect, where it stays square.
Show indicators for open applications. This allows the icons of open applications to appear in your Dock. You can also Show recent applications in Dock which keeps the icons of recently closed apps in your Dock.
Related: How to Organize Your iPhone Dock in iOS 14
Add an Item to the Dock
To add an item to your Dock:
Open the app you wish to add to your Dock.


In your Dock, drag the icon from the section of current and recently opened apps to the left, past the bar that marks the two sections.


How to Remove Icons From Your Mac Dock
If you want to know how to remove apps from your Mac Dock:
Click and hold the app you wish to remove from your Dock.


Drag it up out of your Dock until you see the word "Remove" over it. Release and it will be deleted.


Rearrange Dock Icons
Click and hold the icon you want to move.


Drag it to its new location and release.


Next, learn how to add Universal Control to your Mac Menu Bar and customize it!