Here's how to screen record with sound on an iPhone. You can screen record audio from internal sources, or external sounds like your voice as well!
By

Conner Carey
Updated 02/01/2023
What to Know
When screen recording, you have the option to capture your voice and external sounds.
You can also set the recording to capture in-app sounds.
For a fully silent screen recording, silence your Microphone and your ringer.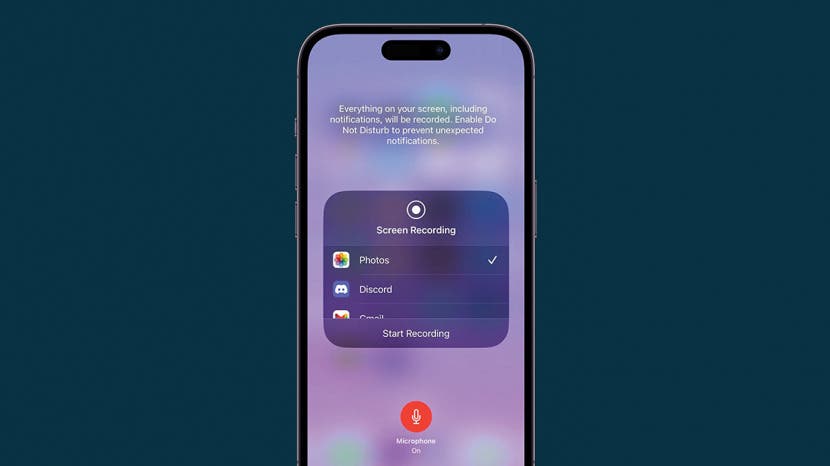 * This post is part of iPhone Life's Tip of the Day newsletter. Sign Up. *
Screen Recording is a useful tool for any time you need to capture something on your iPhone, either to share with others or to review later. iOS has a simple tool for screen recording built right in, and we'll show you how to use it to make sure you're capturing the sounds you want and nothing else.
How to Screen Record with Sound on Your iPhone
Any iPhone that can run at least iOS 11 (an iPhone 5S or later) can use the built-in Screen Recording feature, but depending on your usual iPhone settings, you might discover that it isn't recording any sounds. We'll show you how to easily capture the audio you want, whether internal sounds from the iPhone program you're recording or external sounds from your microphone like your own voice. The first step to getting started with screen recording is to make sure the tool has been added to your Control Center, so we'll start there. For more help with capturing things on your phone, check out our guide on taking screenshots, and be sure to sign up for our free Tip of the Day newsletter for other easy-to-follow guides on your iPhone's features.
How to Add Screen Record iPhone Control Center
This article focuses on how to screen record with sound on an iPhone, but let's quickly recap how to record your iPhone screen. To record your iPhone screen, you need to add Screen Recording to the Control Center. To add Screen Recording to the Control Center:
Open the Settings app.


Tap Control Center.


Tap the green plus sign next to Screen Recording.


Now you can record your screen; however, by default, your iPhone will record the screen without any external sounds. If you want your iPhone to also record sound during the screen capture, use the how-to below to capture both your iPhone's screen and audio.
How to Screen Record with Audio on Your iPhone & Turn Voice Recording & App Sounds Recording On & Off
Let's answer the question, "How do I record my iPhone screen with sound?" In this section, we'll summarize how to record (or not) your voice along with your iPhone's native sounds. This is a very important part of recording your screen with sound, because we need to clarify what you mean by sound.
If you want to record your voice while screen recording on your iPhone, you want the Microphone turned on (*Note* this will also record in-app sounds).
If you only want to record the sounds of an app, you want the Microphone turned off, but your iPhone's ringer turned on.
If you turn the Microphone off and have your ringer off (silent), the screen recording will be silent.
To turn your microphone off and on for the app you want to record, open your Settings app, tap Privacy, tap Microphone, and toggle on any app you'd like voiceover capability for while screen recording. Toggle off the app if you don't want voiceover or ambient noise recorded along with your screen recording. You can change your microphone settings from screen recording to screen recording as desired. 
How to Screen Record with Audio on Your iPhone
Now let's get into the nitty-gritty. To record ambient sound, like your own voice, during a screen recording, follow these steps:
Open the app you'd like to record in and begin the activity or media you'd like to record.

Open the 

Control Center by

swiping down from the upper-right corner of your screen.

Long press the Screen Record icon.


Select the app you want to send the recording to (leave on the default selection of Photo if you just want to save it for later use), and then tap the Microphone icon where it says Microphone Off at the bottom of the screen.


The icon will turn red and change to say Microphone On. Tap Start Recording.


Your iPhone will record the screen as well as the internal audio,  your voice, and any other ambient audio. You'll have to close the Control Center to reveal the app that's being recorded, or the only recording you'll get will be of the screen recording controls.
The clock in your app will have a red background, indicating sound is being recorded, and you'll see an orange dot in the upper-right corner, indicating the app is using the microphone.


When ready to stop recording, tap the clock at the upper left of the screen.
Tap Stop to end the screen recording; the recording will be saved to the location you selected earlier.


At this point, the video will be saved or the broadcast will end. If you selected Photos at the beginning of the process, you can find the new video in your Photos app, just like a new video recorded from the iPhone camera.
How to Screen Record with Sound from Apple Music, Spotify, Amazon Music, or YouTube
How do you screen record in Apple Music? Well, you can't use the screen record feature with this service. When you begin Screen Recording, if Apple Music is playing, then the sound will stop until you cancel the recording. There used to be a workaround for this, but Apple has since fixed that bug. Basically, to keep a song forever, you'll have to pay the licensing fees and buy it.
It's worth noting that some third-party apps, such as Spotify and YouTube do not allow you to screen record in the free version, but in the premium version, you can screen record. You can also screen record content from Amazon Prime Video. While you can technically record songs and video content this way, the legality of doing so is a bit gray. Most likely, other third-party apps will eventually build the same protections as Apple Music to prevent screen recordings of licensed content. Even so, it's fun to play around to see what you can record on your iPhone as long as you know that some licensed materials might push the mute button as soon as you hit record. You might also be interested in learning different methods to screen share between your Mac, iPad and iPhone.