By

Conner Carey
Updated 09/28/2023
What to Know
If your ringer is on when screen recording, you will capture audio from your iPhone.
Long press on the screen record icon in the Control Center and tap the Microphone icon to record external audio, like your voice.
For a fully silent screen recording, silence your Microphone and your ringer.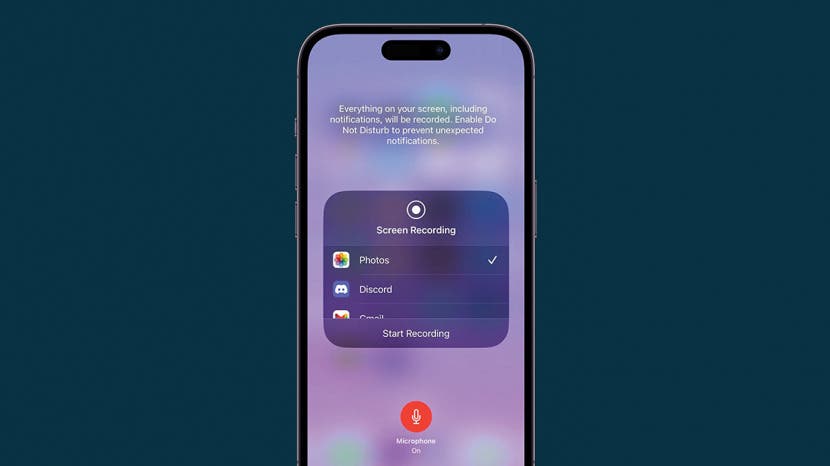 * This post is part of iPhone Life's Tip of the Day newsletter. Sign Up. *
Screen Recording is a useful tool for any time you need to capture something on your iPhone, either to share with others or to review later. Luckily, iOS has a simple tool for screen recording built right in, and we'll show you how to use it to make sure you're capturing the images and sounds you want, and nothing else.
Jump To:
How to Record Screen on iPhone
Screen recording has been around since iOS 11, so any modern iPhone can use the built-in Screen Recording feature. However, if you're having trouble getting the screen recording to capture audio, we'll show you how to easily get internal sounds from the app you're recording or external sounds from your microphone like your own voice. For more help with capturing things on your phone, check out our guide on taking screenshots, and be sure to sign up for our free Tip of the Day newsletter for other easy-to-follow guides on your iPhone's features.

Discover your iPhone's hidden features
Get a daily tip (with screenshots and clear instructions) so you can master your iPhone in just one minute a day.
How to Add Screen Record to iPhone Control Center
The first step to getting started with screen recording is to make sure the tool has been added to your Control Center. To record your iPhone screen, you need to add Screen Recording to the Control Center. To add Screen Recording to the Control Center:
Open the Settings app, and tap Control Center.


Tap the green plus sign next to Screen Recording.


Now you can record your screen; however, by default, your iPhone will record the screen without any external sounds. If you want your iPhone to also record sound during the screen capture, use the how-to below to capture both your iPhone's screen and audio.
How to Screen Record with Sound on Your iPhone
Does screen recording record audio? Yes, if you have your ringer and/or microphone on. In this section, we'll summarize how to record (or not) your voice along with your iPhone's native sounds. This is a very important part of recording your screen with sound, because we need to clarify what you mean by sound.
If you want to record your voice while screen recording on your iPhone, you want the Microphone turned on (Note: this will also record in-app sounds).
If you only want to record the sounds of an app, you want the Microphone turned off, but your iPhone's ringer turned on.
If you turn the Microphone off and have your ringer off (silent), the screen recording will be silent.
Now let's get into the nitty-gritty. To record ambient sound, like your own voice, you'll first need to make sure whatever app you are trying to record has permission to use your microphone. Then, to record your iPhone screen with audio:
Note: Some media apps, like Apple Music, will not allow you to screen record while listening to music or watching videos, either by muting the audio or displaying a still image in the recording.
At this point, the video will be saved. If you selected Photos at the beginning of the process, you can find the new video in your Photos app, just like a new video recorded from the iPhone camera. Next, find out the different methods to screen share between your Mac, iPad and iPhone.
FAQ:
Does screen recording in iPhone record sound? In order to make sure that your screen recording has sound, make sure that your volume is turned up and your ringer is not silenced.
Does screen recording record audio FaceTime? When screen recording a FaceTime call, it will not usually record audio. However, try long-pressing on the screen record button in the Control Center. From there, tap Microphone Off to turn audio on while screen recording a FaceTime call. Check out our article on how to screen record while on a FaceTime call!
Where does a screen recording go on iPhone? Usually, a screen recording will go to the Photos app. However, you can edit this by long-pressing on the screen record button in the Control Center and then choosing an app for it to save to.