Misplaced your iPhone? Here's how to find iPhone with Apple Watch; just ping it!
By

Sarah Kingsbury
Updated 03/22/2023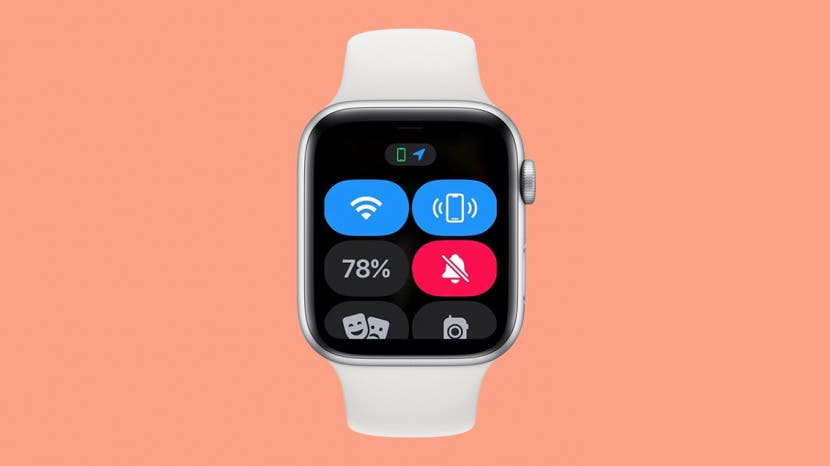 * This post is part of iPhone Life's Tip of the Day newsletter. Sign Up. *
We've all misplaced our iPhones at one point or another. The good news is that with a few quick taps, you can quickly ping your lost iPhone so that it emits a beeping sound! This is one of the fastest ways to locate an iPhone. Here's how to find your iPhone using an Apple Watch.
Related: 15 Apple Watch Tips That'll Make You A Pro
Why You'll Love This Tip
Learn how to ping an iPhone using an Apple Watch so that your lost iPhone emits a sound.
Make your lost iPhone beep to find your phone in the dark.
How to Ping Phone from Apple Watch
If you're trying to find your iPhone lost in the house or an iPhone that's on, has Airplane mode off, and is in Bluetooth range of your Apple Watch, you can use the ping my phone feature. For more Apple Watch tips, sign up for our free Tip of the Day Newsletter. Now, here's how to ping your lost iPhone using your Apple Watch:
Swipe up to open the Control Center.



The green iPhone icon at the top of the screen indicates your iPhone is connected and in range. Tap the gray iPhone icon. Your phone will emit a beeping sound. 



If you press and hold the iPhone icon, your lost iPhone will beep and flash (which is helpful if you're searching in the dark). 



After you tap or press and hold the iPhone icon, it will briefly turn blue and ping your iPhone. So if it takes longer than one beep to find your iPhone, press the button again to continue pinging your phone.


As a final note, if the iPhone icon is grayed out and you are unable to press it, this indicates that your iPhone is off or out of Bluetooth range. So if you've left your iPhone further away, you'll want to use iCloud to find your lost iPhone. Hopefully, you'll find your iPhone in no time!