By

Olena Kagui
Updated 05/17/2023
What to Know:
Horizontal and/or vertical lines on monitors can be a sign of hardware or software issues on your MacBook.
You can rule out software causes for pink, purple, blue, green, or black lines on your monitor in just a few simple steps.
MacBook screen repair costs can be steep; learn how to estimate the cost and schedule a local MacBook display repair.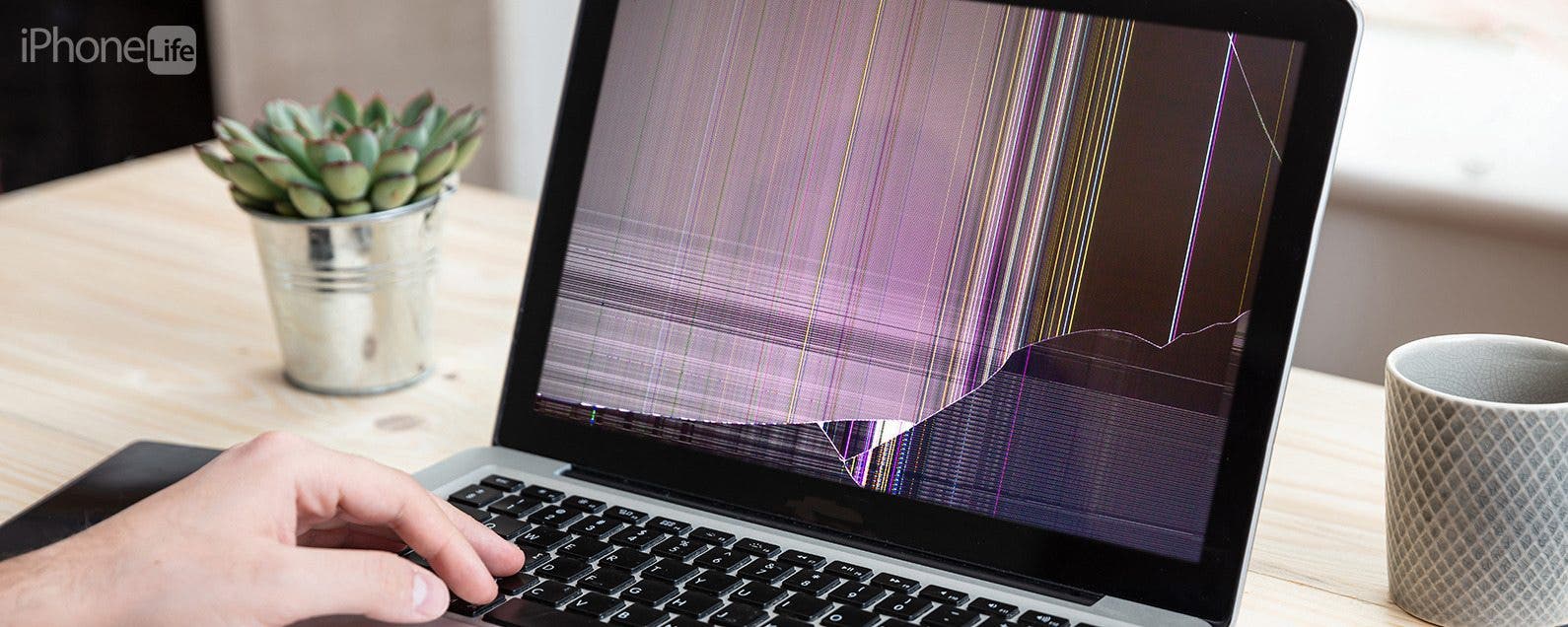 Seeing lines on MacBook screens is always a cause for concern, especially when they come in a myriad of bright colors. Learn how to determine if the lines on your monitor were caused by a software or hardware problem, why they happened, and how to fix them. I'll cover vertical and horizontal lines, MacBook Pro and MacBook Air solutions, and give you tips on how to prevent lines on monitor problems in the future!
Jump To:
Common Causes for a Color or Black Line on Computer Screen
Why is there a line on my MacBook screen? If you have a MacBook Pro, black lines on the bottom screen are not an uncommon problem. The lines can be thin or thick, vertical or horizontal, black or an entire array of colors. They can be caused by software problems, design flaws, or hardware damage caused by both regular wear and tear but also accidents like dropping your device. 
Before you take your Mac to an Apple Authorized Service Provider or Apple Store for repair, there are a few things you can try at home to diagnose or fix the problem. If you already know that your Mac has lines due to a hardware problem that requires official repair, skip to How to Schedule MacBook Screen Repair & Cost Estimate. Common causes for lines on monitors are:

Discover your iPhone's hidden features
Get a daily tip (with screenshots and clear instructions) so you can master your iPhone in just one minute a day.
Overheating due to fan failure, blocked vents, or design flaw
Motherboard and/or graphics card problems
Damaged T-con board
Physical damage due to dropping or hitting the device
Screen cable issues (when using an external display)
While you can troubleshoot some of the above issues easily, like trying a different screen cable, screen mirroring to a different monitor to rule out software issues, or getting a CPU temperature measuring app, others will require professional diagnosis and repair. For more MacBook tips, don't forget to sign up for our free Tip of the Day newsletter!
Black Line on Monitor Due to Overheating: Diagnosis & Prevention
Any device is prone to overheating, but there are factors that can make it more likely to happen. If you live in a warmer climate or use your MacBook on a surface that prevents good ventilation, like your bed, your device is more likely to overheat. Plus, your MacBook's fan can fail or you may get dirt in the vents and prevent proper ventilation. It is best to keep your MacBook in a temperature-controlled room, on a desk or a stand that allows for it to ventilate, plus you should regularly check your vents for any debris. 
Horizontal Lines on Monitor at the Bottom of the Screen
If the very bottom of your monitor has horizontal lines, your MacBook Pro is likely overheating. Unfortunately, this is not uncommon, and some consider it to be a design flaw by Apple. Many 2016 and later MacBook Pro models with Intel chips have experienced flickering black horizontal lines at the bottom of the display after long periods of use. If you continue using your MacBook Pro, they get worse over time. Taking a break to cool down your Mac can help temporarily, and it can help you identify that this is the problem.
Some users believe that this specific problem is caused by damage to the T-CON board due to overheating. This has become so common that there are petitions urging Apple to look into this and potentially issue a recall. So far, it hasn't happened, but you can find the petition, signed by over 2,000 people, here, and you can keep an eye out on Apple's Service Programs here. If you happen to see your issue and Mac model on the Apple's Service Programs list, you may be eligible for free servicing that will fix your device.
Physical Damage Due to Dropping or Hitting Your MacBook
I had the misfortune of waking up to discover vertical and horizontal lines on my 14-inch 2021 MacBook Pro, and my first question was, "Why are there lines on my computer screen?" My laptop was sitting on my desk as always, and although I had dropped it over a month prior, there seemed to be no damage. A few weeks later, I woke up to colorful lines, pictured below.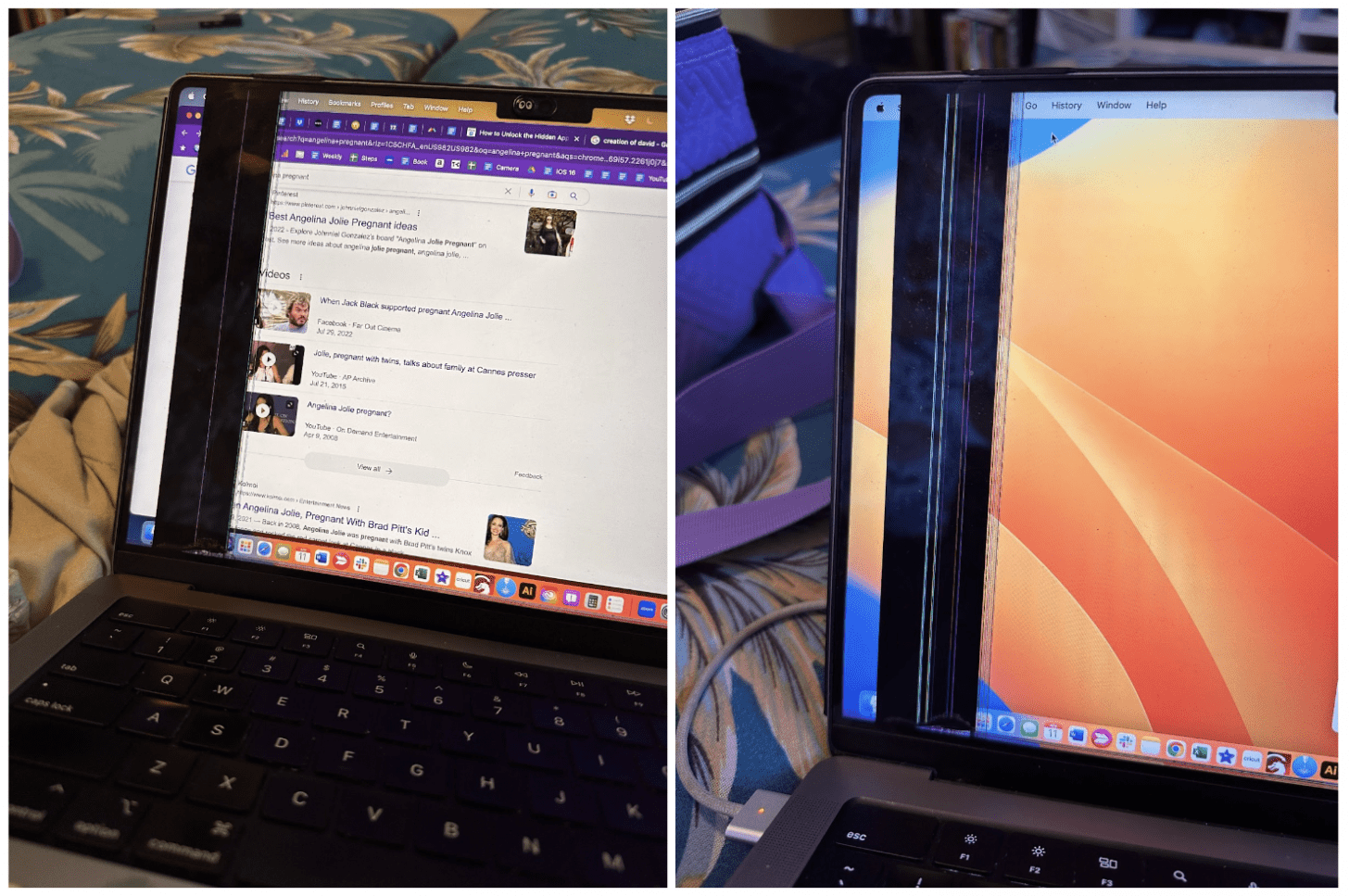 I am still not certain that the drop caused this issue, but my MacBook Pro was not experiencing overheating. Before taking it to the pros, I did try to rule out software issues first, but it became clear that it was a hardware problem after all. Ultimately, I needed to get my display and lid angle sensor replaced, which cost me a whopping $1,036 at a local Apple Authorized Service Provider. Apple was able to overnight the specific replacement MacBook Pro display, and everything was done within three working days. According to the Apple Support cost estimation, replacing a cracked display on a 14-inch 2021 MacBook Pro with an M1 Max chip is only $99 as long as you have AppleCare Plus.
Rule Out Software Issues Causing Black or Color Line on Monitor
Sometimes it is obvious that your issue is not software-related, but other times, it isn't. First, try restarting or force quitting your Mac, updating your Mac to the latest software version, deleting any recently-downloaded apps that may be causing problems, and try screen mirroring to a compatible monitor, device, or TV to confirm that the problem is on our physical display. If the lines appear on the other monitor as well, then the lines are caused by a software issue. You may still need professional help to get it fixed, but it might be cheaper than getting your display replaced.
How to Schedule MacBook Screen Repair & Cost Estimate
You can schedule your MacBook screen repair easily on your iPhone or any advice with a browser. I'll show you how to do it on your iPhone, but the steps are similar on any device:
Once you've ruled out easily-fixable reasons for colored or black lines on your MacBook, you can contact Apple Support.


Scroll down and tap Get Service.



You may need to sign in using your Apple ID and password if you're not already signed in.


A quick way to see if you have AppleCare or AppleCare Plus, see if there's a little Apple logo next to your device.



Select the device you wish to schedule a repair for.


Tap More if you don't see your issue.



Tap Display.


Tap Continue.



You will see some articles that could help. If you scroll down you can tap Message or Call and get help via the phone. They can help you locate your nearest Apple Authorized Service Provider or Apple Store.


Now you know how to get official help from Apple and schedule a MacBook screen repair! Make sure to check out our FAQ below if you have any other (color) or black line on monitor questions that we haven't answered yet. Next, read about the essential differences between MacBook Air and MacBook Pro.
FAQ:
How much does MacBook screen repair cost? A lot! But only if you don't have AppleCare Plus. Without AppleCare, replacing a MacBook Pro display can cost $700 just for the replacement display plus costs. I was charged $1,036 for this Tier 4 repair, which is the highest tier repair, but some display issues could be considered a lower tier. According to the Apple Support Cost estimation, it would only cost $99 with AppleCare Plus. Open this official Apple Support link, log into your account, and scroll down to Get an estimate. This will give you a good idea of repair costs based on your exact situation. Keep in mind that even AppleCare Plus has limitations, like what caused the damage and how many times a year you have already gotten a low-cost repair for that device.
How to fix horizontal or vertical lines on Mac's screen? Sometimes, updating software, monitoring CPU temperature, giving your MacBook time to cool down, and deleting glitchy apps can help fix lines on your monitor. However, you may need to get professional help from Apple Support to get them fixed.
Top image credit: rawf8 / Shutterstock.com