By

Jim Karpen
Updated 01/09/2023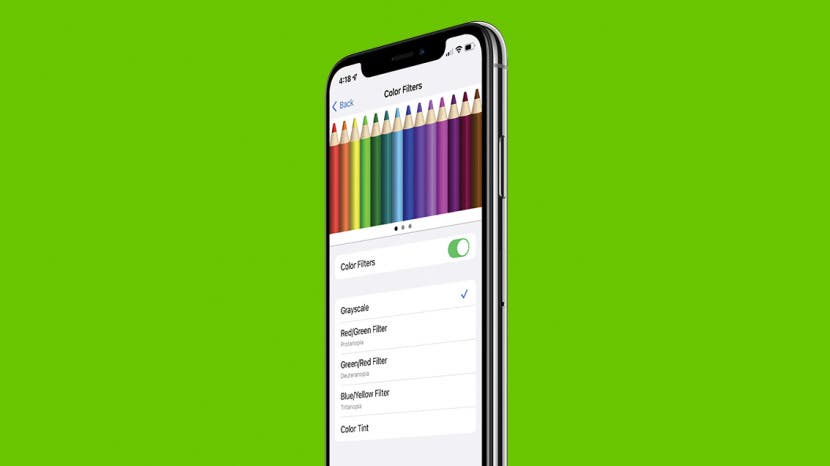 * This post is part of iPhone Life's Tip of the Day newsletter. Sign Up. *
Did you know Apple's iOS has an option to set your phone screen to grayscale (greyscale for our UK and Canadian friends)? Your first thought may be, "Why would I want my display in black and white rather than in color?" There are a few reasons you might want to see your mobile screen in black and white mode. iPhone grayscale can make the display more readable for those who are color blind. Second, if your battery is running low and you know that it will be a while before you have the opportunity to charge it, grayscale can extend battery life. Third, some experts say that using grayscale on your iPhone might help reduce or break phone addiction. Here's how to turn on grayscale mode on your iPhone or iPad.
Related: How to Choose Always Allowed Apps in Screen Time Settings on iPhone & iPad
How to Change from a Color to Black & White Display on Your iPhone 
Open the Settings app.


Tap Accessibility.



Select Display & Text Size.


Tap on Color Filters.



Toggle on Color Filters.


Tap Grayscale.


Everything on your iPhone will now appear in only black and white coloring, but screenshots and photos will still appear in color when viewed elsewhere. This is why the screenshot above still appears in color. If you're color blind, you can select the filter or tint that works best for your vision and adjust the levels accordingly. 
Interestingly, when you do a screen capture of grayscale, the resulting image is still colored. And the picture immediately above is misleading because it shows grayscale turned on, but the screen is still colored. In actuality, it will appear gray as soon as you turn on the setting.