Sometimes you want to silence just one contact without putting your whole iPhone on Do Not Disturb. We'll show you how to do it!
By

Conner Carey
Updated 02/14/2021
* This post is part of iPhone Life's Tip of the Day newsletter. Sign Up. *
Do you have a person in your Contacts whom you'd like to silence for a while? If you don't want to block a number, you can turn on Do Not Disturb mode on your iPhone for individual contacts. Whether you're on a date and don't want to hear from that one friend who texts constantly, or you're in a meeting and don't want to be disturbed by texts, you need Do Not Disturb. Do Not Disturb mode is indicated by the crescent moon symbol or icon to the left of your selected contact, and allows you to mute texts from the person you don't want interrupting you. Here's how to turn on Do Not Disturb for one contact on your iPhone.
Related: How to Let Favorite Contacts Call You When Do Not Disturb Is On
What's in This Article:
How to Turn Do Not Disturb On for an Individual Contact
What does Do Not Disturb do on your iPhone? The short answer is it's an easy way to silence calls, notifications, and other sounds while your iPhone is locked. Sometimes turning on Do Not Disturb for everything is too much, so you need to know how to turn on Do Not Disturb for just a specific contact or contacts. Here are the steps:
Open the Messages app and select the conversation for which you want to turn on Do Not Disturb.
Tap the arrow next to the contact's name you'd like to put on Do Not Disturb.


 
Tap on info.
Do Not Disturb: Crescent Moon Symbol Indicates It's On
Now you won't receive notifications from the contact you hid alerts from should they try to text or call you. You'll see a crescent moon symbol to the left of the contact's icon in Messages.
How to Turn Off Do Not Disturb for an Individual Contact:
Swipe left on the conversation in Messages.

Tap the purple alarm bell icon to turn on alerts again.
​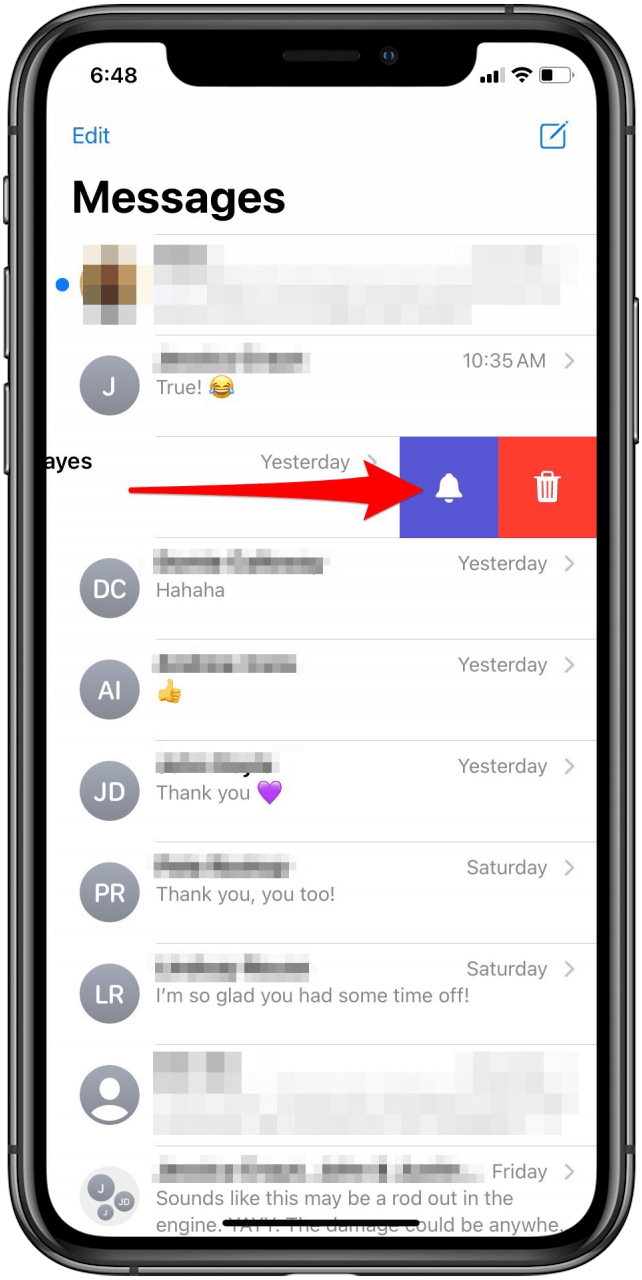 Now you'll receive notifications from your contact again!​