By Conner Carey updated on 05/23/2018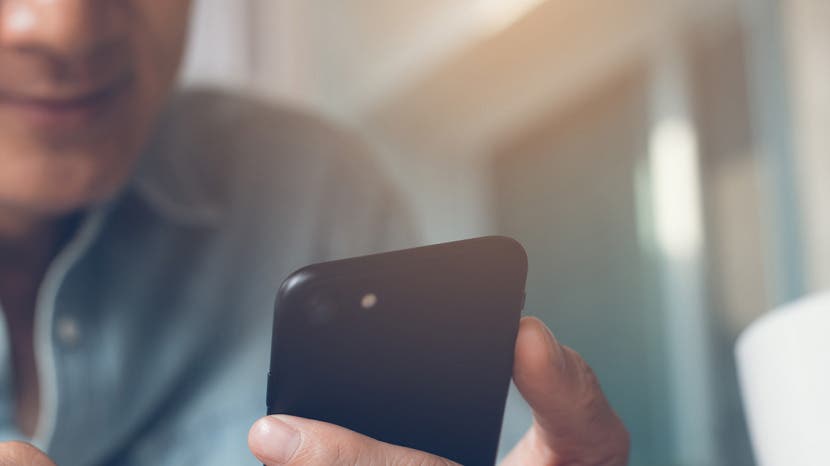 iPhone users have a lot of questions about FaceTime in regards to its data usage, including, does FaceTime use data or call minutes? And if it uses data, how much data does FaceTime use? In fact, FaceTime does use data and not cellular call minutes. So if you have limited data, you may want to turn cellular off for FaceTime, which will make FaceTime Wi-Fi-only in terms of data usage. Don't worry if that seems like a lot of information; we'll break it down step-by-step and also tell you how much data FaceTime uses and how to disable FaceTime's data usage.
Related: How to Set Your FaceTime Caller ID
Master your iPhone in one minute a day:
Sign up to iPhone Life's Tip of the Day Newsletter and we'll send you a tip each day to save time and get the most out of your iPhone or iPad.
Does FaceTime Use Data or Wi-FI? What about My Minutes?
Does FaceTime use data? Yes, it does. But you can turn FaceTime's access to your cellular data off. We'll cover how to do that later. Apart from your cellular data plan and what you pay for Wi-Fi, FaceTime is a free service for making iPhone-to-iPhone video calls. You can also make FaceTime Audio calls, which will allows you to save minutes if you don't have a plan with unlimited calling. Here are the most important points:
FaceTime will default to Wi-Fi if you have an internet connection but will supplement with data usage unless you disable cellular data.
FaceTime does use data (when Wi-Fi is not available) but it does not use call minutes.
You can turn off cellular data usage for FaceTime.
On the flipside, if you have cellular data on for FaceTime, you can FaceTime without Wi-Fi.
FaceTime doesn't use an excessive amount of data, especially if you make mostly shorter FaceTime calls.
How Much Data Does FaceTime Use?
As stated above, FaceTime uses data but not an extreme amount. If you're making a five-minute FaceTime call, it's probably not going to break your data plan. The time you spend using games and social media will use far more. However, if you use FaceTime to catch up with distant friends and family, make sure you're connected to Wi-Fi. Longer FaceTime calls will equate to higher data usage; but you can learn how to track FaceTime's data usage below, as well as how to disable FaceTime from using data.
How to See FaceTime Data Usage for Individual Calls
Open either the Phone or FaceTime app.
In the phone app, tap Recents. In the Facetime app, you should automatically be viewing your FaceTime Video history.
Tap the 'i' next to the contact you spoke with via FaceTime.
If the call used data, you'll see how much next to the call's timestamp.
This will make it easy to quickly check whether or not your average FaceTime call with a particular person uses too much data or not. But if you want the full picture, use the next step.
How to See Overall FaceTime Data Usage
It's important to note that for this to work, FaceTime must be downloaded on your device. With iOS 11, you can delete the FaceTime app and still be able to make FaceTime calls via the Phone app. But if you don't have the FaceTime app downloaded, you won't be able to track your overall FaceTime data usage in the Settings app. To check Facetime data usage:
Open the Settings app.
Tap Cellular.
Scroll down until you see FaceTime.
Below the name, you'll see the app's data usage.
Your iPhone doesn't automatically reset your data usage, which means each time your plan resets for the month, you need to manually reset your data usage if you want to accurately track it in your phone's cellular settings. If you have never reset your data usage, the amounts you see are for the life of your device. If you reset it a few months ago, you're seeing the data usage for the time period since you last reset it. Luckily, below the option to Reset Statistics, it will show you the date and time you last reset it. To rest your data usage so you can track it:
Open Settings and select Cellular, just like above.
Scroll all the way down and tap Reset Statistics.
Doing so will reset all of your data usage, allowing you to track it for a period of time.
How to Make Sure FaceTime Uses NO Data
*Note that the FaceTime app must be downloaded on your device for this to work; if it isn't, visit the App Store.
Have you tried the suggestions above and conluded that FaceTime uses too much data for you? The good news is that you don't have to stop using FaceTime. Like for any Apple app, you can turn off its ability to use cellular data. Once you do so, you will need a Wi-Fi connection to make or receive FaceTime calls. But FaceTime won't use any more of your data.
Open Settings.
Tap Cellular.
Scroll down until you find FaceTime.
Top image credit: TippaPatt / Shutterstock.com