By

Hallei Halter
Updated 01/19/2023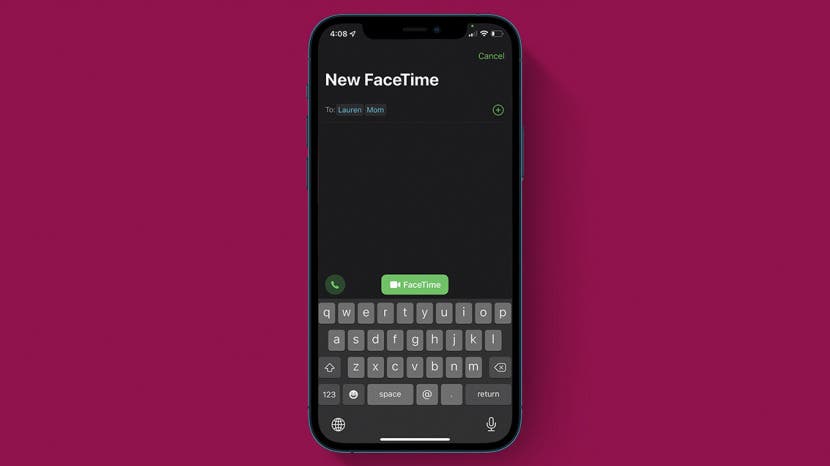 * This post is part of iPhone Life's Tip of the Day newsletter. Sign Up. *
Have you been wondering how to call on FaceTime, or is it your first and you've found yourself asking, "how do you FaceTime for the first time?" If you're trying to find a more personal way to keep in touch, FaceTime is a great option. Below, I show the first thing you need to know about FaceTime: how to make a FaceTime audio or video call. And now, you can even place FaceTime audio and video calls to Android users as well!
Related: FaceTime Guide for iPhone & iPad: Calling Android Users, Apple SharePlay & More
How to Make a FaceTime Call on iPhone
Making a FaceTime call on your iPhone is a communication keystone, and every iPhone user will want to know how to make one. For more great Apple device tutorials, check out our free Tip of the Day.
Open the FaceTime app.


Tap the New FaceTime in the upper right corner to select someone to call.



Type in a number or contact name.


Or, you can tap the Plus icon on the right of the To: field and open your Contacts list.



Tap the name of the person you wish to call.


Tap FaceTime, or your can tap their number to add to the To: field.



Once you have all parties selected, to place a video call, tap the green FaceTime button.


To place an audio only call, tap the small green phone to the left.


Now you can make and enjoy FaceTime calls! If you have any issues such as FaceTime not working, learn how to troubleshoot. Did you know that you can also use FaceTime to watch movies and listen to music with your friends using SharePlay and share your screen to help friends and family troubleshoot tech problems?
Pro tip: You can even use your Apple Watch to make FaceTime calls, as long as you don't mind them being audio-only.