By

Olena Kagui
Updated 03/30/2022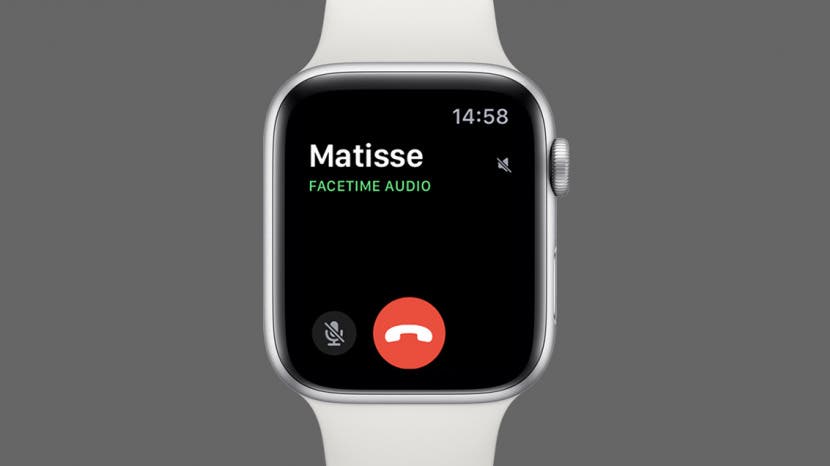 Have you ever wondered, "Can you FaceTime on an Apple Watch?" The surprising answer is yes! FaceTime audio calls are perfect for Apple devices that don't have a camera. Unfortunately, there is no Apple Watch camera in the works just yet, at least as far as we know. But the good news is, you can make free FaceTime audio calls with your Apple Watch.
Related: How to Group FaceTime on an iPhone – iOS 13 & Later
Jump To:
FaceTime audio is a free Apple service that allows you to make voice calls over the internet between Apple devices. You can make these with iPhone, iPad, Apple Watch, iPod Touch, and even your Mac computer. This is an excellent option for international calls or if you have no cell phone signal. It also lets you speak to someone even if you only have their email address. You can only use FaceTime audio to call someone with an Apple device. To learn more about FaceTime on Apple devices, sign up for our free Tip of the Day newsletter. To see an example of a tip we would send you, check out how to transfer a call from Apple Watch to iPhone.

Discover your iPhone's hidden features
Get a daily tip (with screenshots and clear instructions) so you can master your iPhone in just one minute a day.
There are several ways to start a FaceTime audio call on your Apple Watch. The easiest is to ask Siri to "call (contact) FaceTime Audio." Another way is through Contacts. You need to add the person you want to call as a contact to FaceTime them. However, you do not need their phone number; an email address associated with their Apple device is enough.
Press the Digital Crown on the side of your Apple Watch.


 
Tap the Call app.


 

Tap Contacts. You can scroll by swiping or use the Digital Crown.


 
Select the contact that you want to call.


 

Tap the phone button.


 
Select FaceTime Audio.


 

During the FaceTime Audio call, you can use the Digital Crown on your Apple Watch to control the volume.


Pro Tip: When calling from your Apple Watch, your regular phone number will be used even if you have a cellular watch. Your Apple Watch will have its own phone number for billing purposes; you can learn how to find your Apple Watch phone number here.
Using FaceTime audio on your Apple Watch is a great way to reach someone who has Apple products without using any cellphone minutes. You will need either a Wi-Fi or cellular connection to make the call. It is perfect for making a free phone call to or from a device that doesn't have a camera. For FaceTime troubleshooting tips, read this next! Otherwise, check out these different ways to make phone calls on your Apple Watch.