By

Erin MacPherson
Updated 09/06/2021
​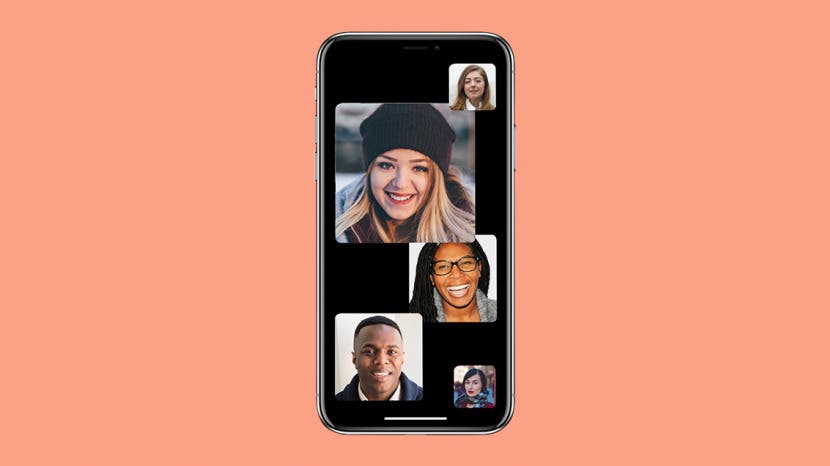 Sometimes you want to see everyone you're speaking to on your iPhone group calls. Whether you're using FaceTime with your friends, your family, or your co-workers, Apple makes group FaceTime calls easy to start and easy to add people to your call. Here are your updated instructions for how to group FaceTime in iOS 13 and iOS 14.
Related: FaceTime Guide for iPhone & iPad: Making Group Calls, Using Audio or Video & More
How to Group FaceTime
We've already gone over how to make a FaceTime call, how to use call waiting in FaceTime, and how to mute audio and pause the video in a FaceTime call. For more great Apple device tutorials, check out our free Tip of the Day. Now, let's learn how to make a group FaceTime call. You can make a call from FaceTime and add contacts, you can make a FaceTime call from the message app, you can add a person to an existing group call, and you can join a FaceTime group call.
What's in this article:
How to Initiate a FaceTime Group Call
If you want to begin a group FaceTime call, follow these instructions:
Open the FaceTime app.
If this is your first time using FaceTime, you will see a screen with a video camera icon.
Under that, the text reads "You can start FaceTime Video or Audio calls by entering a name, email address, or phone number."


 
Tap the + icon at the top right corner of the screen.
Type your contacts' phone numbers, names, or email addresses.
How to Group FaceTime on an iPhone from a Group Messages Session
Say you have a family reunion coming up, or an outing with a few friends. You may have been talking to each other using group messaging, but now you have a need to get everyone on a FaceTime call. It's a breeze to accomplish by following these steps:
Start with a new group Messages conversation, or an existing group Message conversation.
Tap the contact icons at the top of the screen.


 
How to Join a FaceTime Group Call
You have three simple ways to join a FaceTime call that someone else has started: You can join from a group message, from a FaceTime notification, or from the FaceTime app itself. Here's how:
From a group message, you can tap Join from your messages screen, or tap the notification at the top of your screen.
From your Notification screen, simply tap on the notification, and then tap on the FaceTime icon on your Home screen.


​
How to Add Someone to a FaceTime Group Call
Forget to add someone to your call? No worries, it's easy to include them after the call is initiated.
Simply tap on the + icon in the circle where your contacts are.
Next, tap on the Add Person to FaceTime box at the bottom of the screen.


 
There you have it—armed with this information, you can now use FaceTime to video conference anyone you like. You can even watch movies with your friends on FaceTime using SharePlay! The Jetsons creators were way ahead of their time! If you have any issues with FaceTime, or it keeps failing, read these tips.