By

Erin MacPherson
Updated 01/19/2023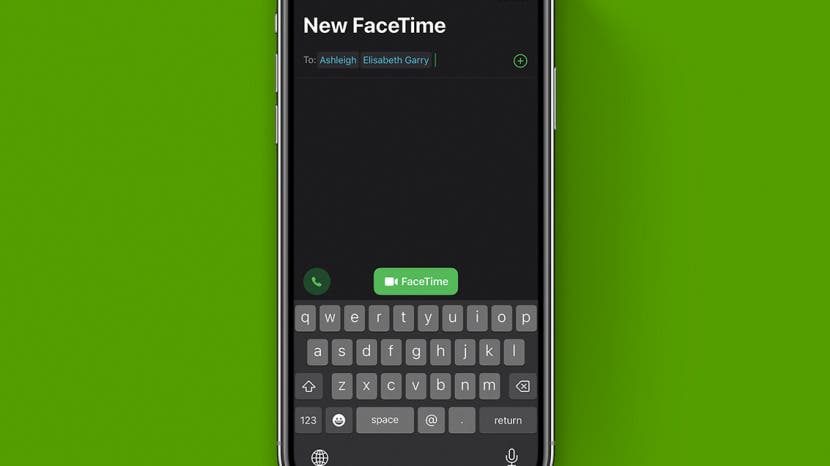 Sometimes you want to see everyone you're speaking to on your iPhone group calls. Whether you're using FaceTime with your friends, family, or co-workers, Apple makes group FaceTime calls easy to start and easy to add up to 32 people to your call. Here are your instructions for how to group FaceTime.
Related: FaceTime Guide for iPhone & iPad: Making Group Calls, Using Audio or Video & More
How to Group FaceTime
Let's learn how to make a group FaceTime call. You can make a call from FaceTime and add contacts, you can make a FaceTime call from the Messages app, you can add a person to an existing group call, and you can join a FaceTime group call. For more great FaceTime tutorials, check out our free Tip of the Day.

Discover your iPhone's hidden features
Get a daily tip (with screenshots and clear instructions) so you can master your iPhone in just one minute a day.
What's in this article:
It's easy to begin a group video call in FaceTime, and there are a couple of ways to do so. Here's how to start a video call with multiple people directly from the FaceTime app itself.
Open the FaceTime app.


Tap the green New FaceTime button.



On the New FaceTime screen tap into the To field and begin entering the names, phone numbers, or email addresses of the people you want to call.  As you type, a drop-down list should automatically populate. Just tap the correct person when they appear on the list.


Once you've added everyone to the list that you want to call, tap the green FaceTime button with the video camera icon above the keyboard.



You'll see the below screen, as you wait for them to accept the call.


​When they answer, you'll see the feeds from their iPhone's cameras, as well as your own, just like in a one-on-one FaceTime call.


How to Start a Group FaceTime from a Group Text in the Messages App
One of the easiest ways to start a FaceTime call with multiple people is to start it from a group text message in the Messages app. All you need to do is tap the FaceTime icon at the top of your chat. This is especially convenient if you're already using a group text to organize the video call. If you'd like further information on this, take a look at
our guide on how to start a group FaceTime call from a group text
.
You have three simple ways to join a FaceTime call that someone else has started: You can join from a group message, from a FaceTime notification, or from the FaceTime app itself. Here's how:
From a group message, you can tap Join from your messages screen, or tap the notification at the top of your screen.


From your Notification screen, simply tap on the notification and then tap on the FaceTime icon on your Home screen.



From the FaceTime app, find the active call, and tap the FaceTime icon.


Forget to add someone to your call? No worries; it's easy to include them after the call is initiated.
Open the menu for the call by tapping the names at the top of the screen. Then tap Add People.


Next, tap into the To field and enter any contact you want to add to the call. Then tap the green Add People button.


There you have it! Armed with this information, you can now use FaceTime to video conference anyone you like. You can even watch movies with your friends on FaceTime using SharePlay! The Jetsons creators were way ahead of their time. If you have any issues with FaceTime, or it keeps failing, read these tips.