By

Leanne Hays
Updated 03/27/2023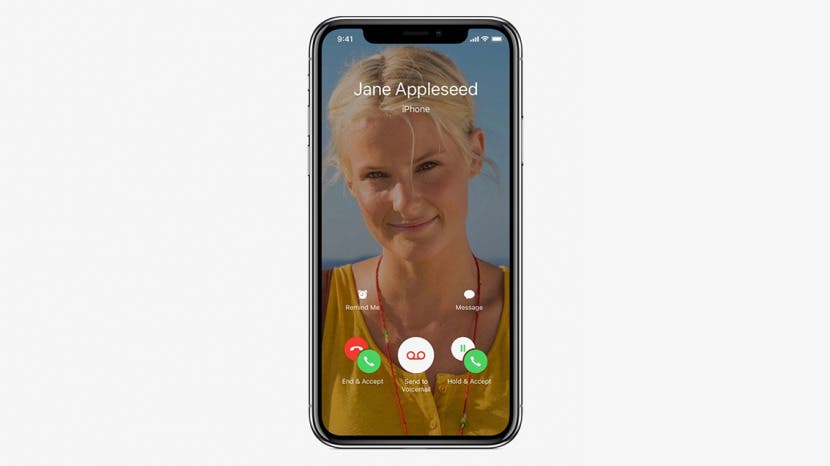 Through the years, FaceTime has evolved and improved to include more devices and capabilities. With Apple's iOS 15, we can finally place a FaceTime call to Android users via a link, not to mention all the cool features now available with SharePlay. In this guide, we'll cover how to make a call using the FaceTime app, how to FaceTime with Android users, how to share your screen, and more!  
Related: Does FaceTime Use Data? Yep. Here's How Much & How to Turn FaceTime Data Off
Jump To:
The ability to see your friends, loved ones, and colleagues while you talk to them is amazing in and of itself, but there are even more reasons to love FaceTime.

Discover your iPhone's hidden features
Get one daily tip each day (with screenshots and clear instructions) so you can master your iPhone in just one minute a day.
FaceTime Privacy
FaceTime offers privacy through a secure, end-to-end encryption of your audio and visual communication for one-on-one calls and the Group FaceTime feature. 
FaceTime Is Free, Even for International Calls
If you turn off cellular data use for FaceTime and use the Wi-Fi option only, you'll be able to use FaceTime at no extra cost other than your Wi-Fi bill. If you're using free Wi-Fi, all the better! This makes FaceTime a great way to talk to those far-flung friends and family members without breaking the bank on an international calling plan. Just remember, you should make sure you're using Wi-Fi and not your cellular connection. This is also true for FaceTime calls made using your Apple Watch!
FaceTime Is Fun
FaceTime has all kinds of features that allow you to flip your camera view, use stickers and filters, using a Memoji or Animoji mask during your call, and all the new fun features from Apple SharePlay. SharePlay allows you to share what you're seeing on your iPhone screen, play movies, and listen to music on your FaceTime calls. We'll get into all these options below, so you can get the most out of your FaceTime call. 
Device & Coverage Requirements
Let's start with the basics:
Your device needs a Wi-Fi connection or a cellular data plan.
To use FaceTime on Wi-Fi, you'll need an iPhone 4 or later, any iPad Pro, an iPad 2 or later, or any iPad mini. 
Your device will need to be updated to at least iOS 8, and if you'd like to use the Group FaceTime feature, you'll need to update to iOS 12.1.
If you want to use FaceTime with the new Memoji and Animoji features, you'll need an iPhone X or later, or an iPad Pro 11-inch or iPad Pro 12.9-inch that's updated to iOS 12.
In order to use many of the newer FaceTime features like SharePlay or Grid View, make sure your device is updated to iOS 15 or later. 
Once you've made sure these necessities are in place, read on to learn how to set up FaceTime.
How to Turn FaceTime On & Off, Set Reachability & Caller ID
Open the Settings app on your iPhone or iPad.


Tap on FaceTime.



Toggle on FaceTime if it isn't already. 


You'll also be able to choose how you can be reached via FaceTime. If you only want to include some of your contact channels, just tap the check mark next to the phone number or email address you'd like to remove. When the check mark is gone, it means the address or phone number is no longer reachable through FaceTime.



Under the Caller ID section, tap the number or address that you like to use and make sure it's checked; uncheck any information that you don't want to use for Caller ID. 


If you'd like to turn off FaceTime, just follow the steps again and toggle FaceTime off. If you want to read what the other person is saying, learn how to use Live Captions in iOS 16.
How to Allow FaceTime over Wi-Fi Only
As mentioned before, FaceTime can work over a WiFi or cellular connection. If you want to make sure that you aren't eating up data with FaceTime calls:
Open the Settings app.


Scroll down and tap on Cellular.



Look under the Cellular Data section; you'll see all the apps and features your device uses data for.
Scroll down and toggle off FaceTime.


Now, you'll only be able to use this feature over a Wi-Fi connection. Of course, you can turn cellular back on any time you like using these same steps and toggling back on.
How to Block People in the FaceTime App
You might not want just anyone to contact you via FaceTime, and fortunately, you do have the ability to block those you'd rather not chat with. To block someone in FaceTime:
Open the FaceTime app.


Click the green Info button next to the number.



At the bottom, select Block this Caller.


This will block this person from FaceTime, phone calls, and text messaging. FaceTime does not notify you when you have blocked someone and you can unblock someone at any time by following the same steps.
Make a FaceTime Call from the FaceTime App
Now you can get started using your iPhone or iPad to make FaceTime calls; let's begin by learning how to use the FaceTime app. 
To start, you'll open the FaceTime app.
Tap the green button that says New FaceTime.



Choose a contact, then tap the FaceTime button Audio or Video.


Make a FaceTime Call from the Phone & Messages App
If you want to switch from a regular phone call to a FaceTime call, you can do that too.
While you're on a phone call, just tap the FaceTime button on your screen and you will begin a FaceTime call instead.


Alternatively, you can place a FaceTime call from the Messages app.
Go to a message thread, tap the Video button by the contact's info.


Select either FaceTime Audio or FaceTime Video.


Make a FaceTime Call Using Siri
Additionally, you can use Siri to place a FaceTime call. To do this, you'll first need to make sure you have Siri enabled.
Scroll down to Siri & Search in Settings.


Then toggle on Listen for "Hey Siri".



Now you can simply say "Hey Siri, make a FaceTime call".


You can say the name of your contact and Siri will start a FaceTime call with them.



Alternatively, you can activate Siri by pressing and holding the side button or the home button, depending on your iPhone model.


The Siri icon will appear and you can say "Make a FaceTime call to Mom" and Siri will begin to place a FaceTime call.



If you would like to be able to place a FaceTime call with Siri when your phone is locked, be sure to toggle Allow Siri When Locked to on.


Making a FaceTime Call to Android or Non-iPhone Users
FaceTiming with Android users and Windows smartphone users is as simple as texting a link. For families and friend groups composed of both Apple and non-Apple users, this option is truly a game changer. 
First, open the FaceTime app. 


Tap on New FaceTime.



Enter the name for the contact you want to invite. 
When you add a non-Apple contact, tap the green Invite with Messages button that appears just above the keyboard.



Compose a text message or leave the default text, and tap the Send icon to send your invitation.


Create a Link to Start a FaceTime Call
In the FaceTime app, you now can create a link to a FaceTime call. You can send the link to a friend or a group using Mail or Messages, or through another app. Recipients can use this link to join or start a call. This link functions just like a Zoom link, making it a convenient way to connect via FaceTime.
First, open FaceTime and select Create Link.


From there, you can choose where or who to send it too, as well as the option to copy and paste the link anywhere you like.


There are several changes that can be made during your FaceTime call; let's go over your options.
Mute & Pause Audio or Video
If you don't want to use FaceTime video and just want to chat audio-style, you have the option of placing a FaceTime audio call before you start the call. This is particularly useful for calling internationally using Wi-Fi.
Select the green phone icon to left of the FaceTime button.


If you want to mute your audio, just tap the screen, and tap the microphone icon that appears in the menu at the top of the screen.


If you've already started a video call and want to switch over to audio or turn your camera off:
Tap the screen, and tap the video camera icon that appears in the menu at the top of the screen.

 
What Is Portrait Mode? Turning It On & Off
Portrait Mode blurs out your background while keeping your face and body clear. The iOS 15 updates to FaceTime are all about enhancing your calls for professionalism, clarity, and enjoyment. Portrait Mode won't add a filter to your whole screen, but it will blur your background so the camera is focused on you (and so others don't see a messy or distracting scene behind you). To turn this feature on:
Open FaceTime and either join a call or begin a call.
Before you actually join the call you can tap the Portrait Mode icon at the bottom of the screen to enable the filter.


Alternatively, you can enable Portrait Mode during a FaceTime call by tapping on your picture, and then tap on the Portrait Mode icon in the upper-left corner of your picture.


When Portrait Mode is enabled, the icon will be white and your background will be blurred.


To enable portrait mode from the Control Center, start a FaceTime call and swipe down from the top-left of the screen. If you have a device with a Home Button, swipe up from the bottom center of the screen.
From the Control Center, tap Video Effects.


Then, tap Portrait Mode.


The button will appear blue when Portrait Mode is enabled.


Portrait Mode can be activated or deactivated at any time during a FaceTime call, so if you change your mind, just tap the icon to reverse the effect.
Improve Your Audio Quality with Voice Isolation & Wide Spectrum
Two audio setting options give you extra control over the audio quality of your call on FaceTime. Especially during these days when going to restaurants, concerts, or plays in person may not be possible, these features are amazing for maintaining that feeling of togetherness.
The first feature is called Voice Isolation. If you've ever tried to make a FaceTime call in a noisy location, you know that FaceTime's audio clarity can leave a lot to be desired. With iOS 15, Apple aims to fix that by offering a Voice Isolation Mic Mode for FaceTime so your voice will stand out above the background noise.
The second new feature is called Wide Spectrum Audio. This feature brings in and enhances all the background noise around you so your friends or family can hear things in your area, like a concert or a movie, with better quality. You access both of these features with the same steps.
First Open FaceTime. Then, swipe down from the upper right hand corner of your screen to open the Control Center. If your phone has a home button, swipe up from the bottom center of your screen.
Tap the Mic Mode button.


From there, you can choose either Standard Mic Mode, or one of two new features. Choose Voice Isolation.


Or choose Wide Spectrum Audio.


*Important: Both Voice Isolation and Wide Spectrum Audio only work on iPhone XR, XS or XS Max and newer, running iOS 15 or later.
You may be wondering, what is SharePlay? This feature allows you to share what you're seeing on your iPhone screen, play movies, and listen to music on your FaceTime calls. 
Screen Sharing 
Sharing your iPhone screen during a FaceTime call can be extremely convenient.
To share your screen while on a FaceTime call is tap the screen to reveal a hidden menu that will appear at the top of the phone.
Select the button on the far right that looks like a square with a little person to the side of it. This is the Screen Share button.


Select Share My Screen.


There will be a three-second countdown until your screen starts being shared.
When you go back to the home screen, others on the FaceTime call will now be able to see what you're doing on your phone. Now you can do whatever you need to do on your iPhone while showing others on the call. Your notifications will be turned off during screen sharing, so don't worry about a personal message coming through for all to see! To stop sharing, tap the tile with your friend's face to return to the call. Then, tap the Screen Share icon again to stop sharing your screen. 
Play Music on FaceTime with Your iPhone or iPad 
Ever wanted to start a virtual listening party or date night over FaceTime? With Apple SharePlay, you can! To use Apple SharePlay, all people on your FaceTime call will need to have an iPhone or iPad and have updated their software to iOS 15.1 or iPadOS 15.1. They will also need to be subscribed to a supported music streaming service, such as Apple Music. At this time, Spotify and YouTube are not supported for SharePlay.
First, you'll need to start a FaceTime call and return to the home screen.
From here select a supported streaming service like Apple Music and choose a song or album.

  
A pop-up message will appear. Tap SharePlay.


The other people on the call will also receive a pop-up message asking them to Join SharePlay.


The song or album you've selected will begin playing for all people on the call who accept your invitation. If more than one person is interested in adding songs, you can also create a shared playlist together.
Watch a Movie on FaceTime with SharePlay
With SharePlay, you can also watch TikToks and even movies together while on FaceTime! Multiple streaming services have joined the SharePlay lineup. According to Apple, SharePlay will work with Apple TV Plus, Disney Plus, Hulu, HBO Max, ESPN Plus, the NBA app, Twitch, TikTok, MasterClass, Paramount Plus, and Pluto TV. If you're going to be watching something on a paid streaming service, all parties on the FaceTime call must be subscribed to that streaming service and logged in on their device in order for this to work.
First, start a FaceTime call with your movie buddy (or buddies).
Once you've started the call, swipe up to return to the home screen and open the streaming service of your choice.
Select the show or movie you want to watch and tap play.


You will get a notification that the video has started playing for those on FaceTime and see a green SharePlay icon in the top-left corner. Anyone on FaceTime can play, pause, rewind, fast forward, or stop the video.


When you close out of the video, you can choose whether to end playback for everyone or only for you.


Unfortunately, Apple's copyright laws prevent us from screenshotting the actual movie or show for you. We apologize for that, but these steps will guide you nonetheless. Happy watching! 
There are a lot of quirky hidden features in FaceTime that can spice up your calls. You can add filters, text, animated shapes, and Animoji stickers.
To access these features you'll can either tap the screen from within a FaceTime call, or tap your own image in the corner, then tap the Effects button.


You'll see some options pop up, and an especially beloved feature is Memoji Face Animation. 
Memoji Face Animation
With the Memoji filter, you have the ability to turn your face into an animated character, like a mouse or an octopus, or even a t-rex!
To do this, tap the Memoji icon which is the first icon on the menu at the far left.


You can either scroll through the options horizontally, or swipe up to see the full menu.


Select which sticker you want and bring your face into view of the camera, inside the yellow box outlined on the screen.


The face you choose will animate based on your facial movements. It's cute and fun, but also kind of creepy.


Now that you're a FaceTime expert, invite all your friends to FaceTime with you using the Calendar app. Like any software, FaceTime may not always work as expected. Check out these FaceTime troubleshooting tips. If you're running iOS 15 and have an iPhone X or later, you can also upgrade your FaceTime experience with Wide Spectrum Audio.