By

Olena Kagui
Updated 05/10/2023
What to Know
Smart treadmills work best with a heart rate monitor, and if you have an Apple Watch, you already have one on your wrist!
You can use the third-party ECHO Watch Heart Rate Monitor app to pair your equipment even if you don't have an Apple Watch-compatible treadmill.
When using treadmills with iFIT, heart rate monitors can customize your workout and connecting your Apple Watch makes your workout stats more accurate.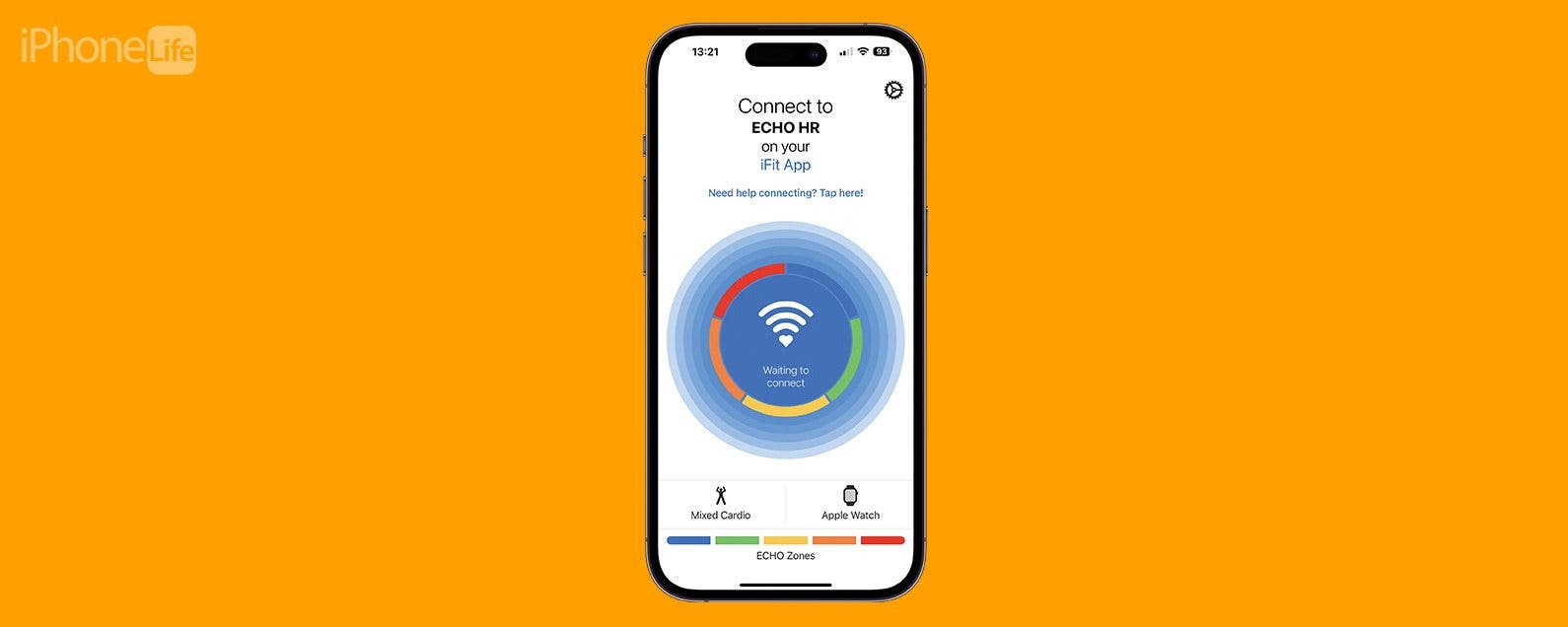 The Apple Watch is a fantastic fitness tool and your personal wearable heart rate monitor! Unfortunately for fans of Apple Fitness, treadmills generally can't pair directly to your Apple Watch. The workaround to connect your Apple Watch to a treadmill like the NordicTrack Elite 1000 is a third-party heart rate monitor app. I'll teach you how to connect your Apple Watch to your treadmill and explain why this is a fitness game-changer!
Jump To:
Treadmill Apple Watch Pairing Requirements
In order to use your Apple Watch as a Bluetooth heart rate monitor on your NordicTrack Elite 1000 treadmill or compatible smart gear, there are a few requirements. You must:
Have an Apple Watch 3 or newer and an iPhone running iOS 15 or newer.
Have a treadmill that connects to Apple Watch, such as one made by Peloton, iFit, Zwift, Precor, Life Fitness, Nautilus, Echelon, NordicTrack, Bladez, SOLE, Wahoo, ProForm, Bowflex, SoulCycle, Concept 2, Schwinn, and more. You can also do this on compatible indoor cycling bikes, ellipticals, climbers, or other pieces of smart workout equipment.
Your treadmill or other device has to be set up and paired with your iPhone already. This also means you will already need to have an account or membership set up, for example, iFit if you have the NordicTrack Elite 1000.
How to Pair My Apple Watch with NordicTrack Elite 1000
While the ECHO Watch Heart Rate Monitor app works with all kinds of smart exercise equipment, including iFit-compatible devices, I will be using my NordicTrack Elite 1000 as an example in this article! For more Apple Watch tips, don't forget to sign up for our free Tip of the Day newsletter. If you have a different compatible treadmill or machine, you can follow these same steps to improve your Apple Watch treadmill workout experience majorly:

Discover your iPhone's hidden features
Get a daily tip (with screenshots and clear instructions) so you can master your iPhone in just one minute a day.
Download the ECHO Watch Heart Rate Monitor (free with upgrade options) app and open it.


Tap Tap to Set Up.



Select the brand of your equipment. If you are setting up a NordicTrack treadmill with iFit, select NordicTrack here.


Tap Turn on HR Zones if you wish to see your heart rate zones, or tap No thanks to skip this feature and go to step 7.



If you selected Turn on HR Zones, you will have to fill out your age, enter your age and tap Submit.


Here you can Enable saving to Health, which I recommend because the Health app is a great way to keep track of your overall health and even share your data with a doctor. If you don't wish to do this, tap Disable saving to Health.



If you Enable saving to Health in the previous step, you'll be able to select what Health app data the ECHO app will be able to read. I like to tap Turn On All, but you can also toggle on the specific information you wish to allow and leave anything you want to omit gray.


Once you are satisfied with your selection, tap Allow.



Tap Tap to Enable Bluetooth.


Tap OK. If you tap Don't Allow, you won't be able to use this app.



That's it! Before you can tap Tap to start, you'll have to begin the workout on your treadmill. Some treadmills will require you to turn on Bluetooth manually, but if you are using the NordicTrack Elite 1000, then it will happen automatically.


If it isn't working, double-check your settings by tapping the gear icon.



If you selected iFit by accident, like I did the first time, next to Workout Gear, tap iFit App, then select the NordicTrack (or the correct option for your treadmill/workout equipment).


Once you tap Tap to start, it should connect almost immediately. If you see Waiting to connect for a long time, make sure you started your workout, and if that still doesn't work, tap Need help connecting? Tap here! to get help from the app itself.



Once you are connected, you will see your heart rate (and heart zone if you allowed it in step 5) on your iPhone.


You will also be able to see it on your Apple Watch!



If you are using the free version, you will see a Time remaining countdown. For some reason, it was blank for me. 


Once you run out, your app will try to sell you the unlimited version of the app, which costs a one-time fee of $19.99. If you wish to do so, tap Upgrade.



Tap UPGRADE FOR $19.99. If you have already bought this app in the past, you can tap Restore in the top right corner to restore your purchase.


Follow the on-screen direction to complete the purchase through the App Store.



Tap OK.


You'll get a Thanks for upgrading! Enjoy ECHO Pro! message. If you end up doing this mid-workout like I did, then tap it to make it go away so you can return to the app and tap Tap to start to continue your workout!



Once you end your workout, you will be able to find it in your Fitness app, as long as you enabled saving to the Health app in step 7.


As you can see, the steps above show you how to use your Apple Watch as a heart rate monitor and how to track a treadmill workout on your Apple Watch. Using this app to track your treadmill on your Apple Watch also improves accuracy.
Now you know how to use your Apple Watch as a treadmill heart rate monitor, so you don't need to purchase a third-party or extra NordicTrack heart rate monitor and can work with what you already have. We hope this treadmill Apple Watch workaround helps you stay motivated and reach your fitness goals! Next, learn about
Apple Fitness Plus
, which also offers a series of treadmill workouts for Apple Watch model 3 or newer.