By

Olena Kagui
Wed, 10/25/2023
What to Know:
There are several reasons why your iPhone Lock Screen changes without you realizing it, including accidental swipes and scheduled Focus Lock Screens.
I'll teach you how to change your Lock Screen intentionally and keep it from changing accidentally.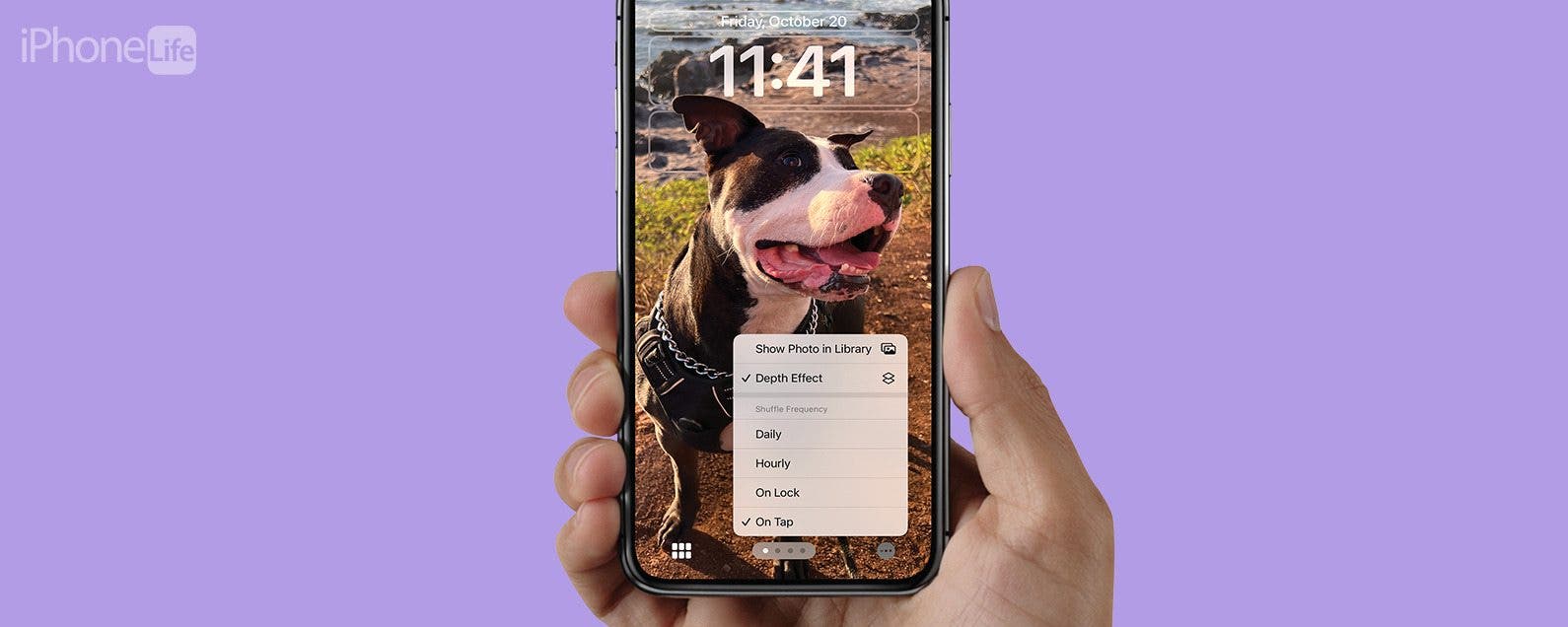 Some Lock Screens are designed to change throughout the day, showing you something different every time you look at your iPhone. It is also possible to set up your Lock Screen to change with Focus modes or accidentally swipe to a new Lock Screen while your phone is in your pocket.
Jump To:
Why Does My Lock Screen Keep Changing Randomly?
If you're wondering where your Lock Screen went, you are not alone! Many iPhone users experience their Lock Screen changing seemingly randomly. While it is possible that a technical glitch is causing your Lock Screen to change, there are several other possibilities for why this happens.
If you have multiple Lock Screens, it is just as easy to accidentally switch it as it is to pocket dial a contact. The only surefire way to avoid this is to only have one Lock Screen, which is not always practical or fun.
Photo album Lock Screens can be set to change daily, hourly, or even with every screen tap. These are designed to show you a different Lock Screen every time, but you can turn this off and pick a singular photo for you Lock Screen.
Some Lock Screens are dynamic and will change on their own throughout the day and week, like the Weather Lock Screen.
You can set particular Lock Screens for Focus modes so that your iPhone looks more professional and less distracting at work, for example. Focus modes can also be set to turn on automatically based on app use, time of day, and location. This means that your Lock Screen might change automatically when you arrive at a certain location due to the customized Focus Mode.
Pro Tip
If you see a black Lock Screen or wallpaper, this could be caused by a software issue, low battery charge, or physical damage to your phone. For more Lock Screen and wallpaper tips, check out our free Tip of the Day newsletter.
How to Change Lock Screen on iPhone & Adjust Lock Screen Settings
I've reviewed the many reasons why your Lock Screen might be changing. I'll teach you how to change your Lock Screen and adjust your settings to keep your Lock Screen static.

Discover your iPhone's hidden features
Get a daily tip (with screenshots and clear instructions) so you can master your iPhone in just one minute a day.
Frequently Asked Questions About iPhone Lock Screen Changes
How to Delete Wallpaper from iPhone? Lock your phone, then long-press your Lock Screen. Swipe left or right until you see the Lock Screen you wish to delete, then swipe up and tap the trash icon. You'll have to confirm that you want to delete the Lock Screen.
How to have multiple Lock Screens on iPhone? If you are running iOS 15 or later software, you can have lots of Lock Screens. Just create as many as you want and switch between Lock Screens in your Wallpaper settings.
Why is my Lock Screen black? If your Lock Screen is suddenly black, there could be a technical glitch. Make sure your iPhone is running the latest software, and if it is, try doing a quick iPhone reboot to see if that helps.