By

Anonymous
Wed, 04/02/2014
While AT&T currently has the fastest wireless data speeds in Maine, and possibly the country, there are some serious limitations.  Most significant for me is the coverage which quickly drops from 4G to EDGE to nothing once you leave Southern Maine.  T-Mobile on the other hand has great coverage, even well off the beaten path, but as we all know currently has spotty data coverage.  This brought me to consider that, T-Mobile is building out its Long Term Evolution LTE services and even Maine is primed to be getting in on LTE speed, soon, possibly in the next couple of months. So I decided to prepare for T-Mobile's coming LTE and in the process give at least fellow rural iPhone Life Magazine readers some ideas if they're feeling constrained by AT&T's cost and coverage.
Well, after reading though T-Mobile's ingeniously complicated website I realized the best deal for me was actually their monthly no contract 100 minutes of talk and unlimited data with the first 5GB at up to 4G speeds. I know what you're thinking, why would you get "voice" since the iPad can't utilize it?  It's just for the cheapest 4G data, that simple. The plan I currently use with AT&T is limited to 3GB at up to 4G speeds for $30 which is still pretty good, but what if T-Mobile delivers come this winter, don't I want to get in on faster unlimited data?  I reckoned why not.
So I ordered up a micro SIM card from T-Mobile for .99 cents.  I got that in about three days.
The next obstical was of course that the iPad Mini takes the new nano SIM card, but a good pair of sissors took care of that. (Neither I or iPhone Life Magazine accept any liability if you attempt to cut your own card.) then it was just a matter of putting the T-Mobile card into the SIM tray.  No problem.
Then I signed up on line for my 100 minutes of talk and unlimited data plan with T-Mobile, payed my $30 and Voila!, T-Mobile with EDGE on my iPad Mini!  Now, EDGE is not really fast enough to do much more than check e-mail or browse Craigslist but that wasn't the point of this experiement. I wanted to see how well T-Mobile data service would work in rural Maine, and it does without so much as a hiccup. 
So you know, I'm using my AT&T service in the Southern part of the state where AT&T has 4G, then I'm swaping in my T-Mobile card for every where else since T-Mobile does a better job of covering Maine.  Now comes a waiting game of sorts whether T-Mobile will deliver LTE in Maine.  Keep reading iPhone Life to find out.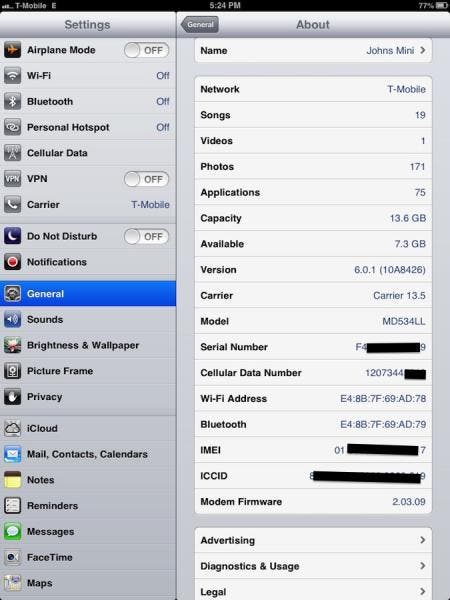 Just to illustrate my iPad Mini pulling my iMac along on the internet, here's a screen shot of them tethered through USB/lightning cable.