By

Becca Ludlum
Updated 06/25/2015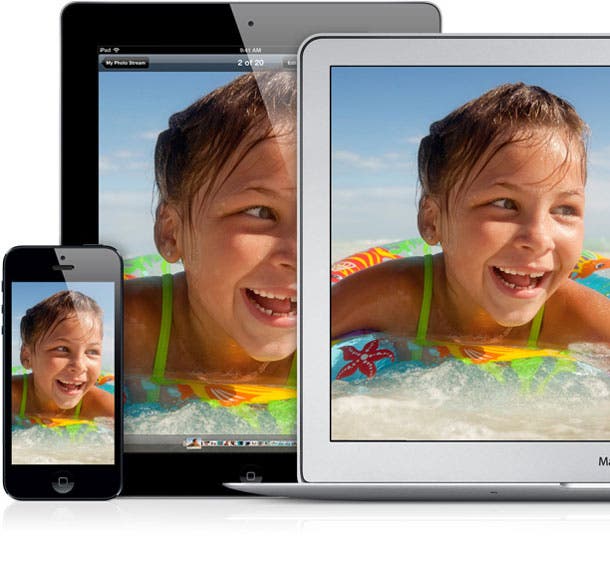 In this age of multi-device households, sharing accounts with family members can be a little stressful. Add a tween or teenage into the mix, and it might be enough to push you over the edge. If you've ever had your phone ring with a FaceTime call from your 12 year-old's best friend or received the "iCloud is full" error message after adding a new device to your household, this article is for you.
First, it's important to know a little bit about your Apple ID and iCloud. Your Apple ID is what gives you access to iCloud, FaceTime, iMessage, iTunes, the App Store, and Game Center, among other services. Since these are the most-used services in my house, they are the ones I'm going to talk about here. Some families choose to share an Apple ID for some services and use separate Apple IDs for others. There is no "one size fits all" cure for family device management—it all depends on your family's preferences. If you forgot your Apple ID, here's how to reset your password.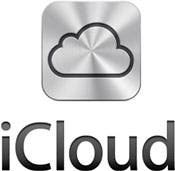 Your iCloud account is a virtual storage space for your iDevice information, similar to Dropbox or Amazon cloud, but definitely more limited than the two. Since your iDevice is technically a mini-computer, it needs a place to back up to in case of malfunction. Another benefit of iCloud is sharing. You can add an appointment to your calendar on your iPhone and see the appointment pop up on your iPad without manually adding it. You also can do this with apps, photos, music, and contacts. Some people love this, and some people don't—again, it depends on your family.
Here is a guide to help you decide what iCloud and Apple ID settings are most appropriate for you.
To Share or Not to Share 
You'll want to share an Apple ID if you're part of a family that wants to share songs, apps, movies, and books. These are purchased using an Apple ID, and they are forever connected to that particular Apple ID account.
You'll want to create a separate Apple ID if your child uses FaceTime, iMessage or Game Center. You can create a separate Apple ID for each child to log in with. This ensures you won't receive each other's iMessages, FaceTime calls, and their Game Center activity will not affect your Game Center account. Note: You can have more than one active Apple ID on your iDevice. For example, you can have one Apple ID for your iTunes account and a different one for iMessage and Facetime. Learn how to configure multiple Apple IDs in this Macstories tutorial.
Here, you'll also find a helpful template, which you can download to help you chart your family accounts.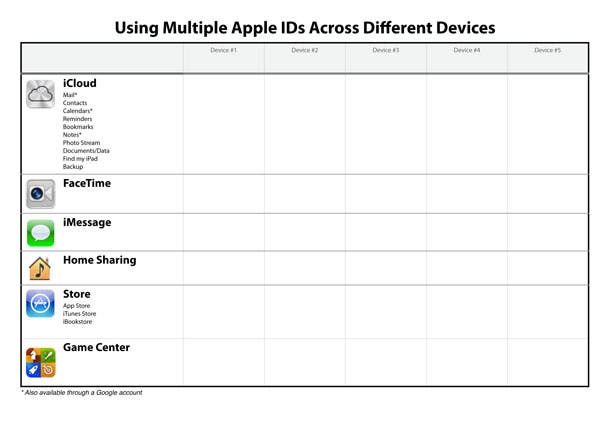 Share an iCloud account for backing up contacts, sharing photo streams, syncing family calendars, or accessing music in your iTunes library without having it all downloaded on your device.
Create a separate iCloud account for using the app Find My iPhone, which tracks and disables your phone (if you tell it to) if it is lost or stolen: something I feel is more likely to happen when your child is using an iPhone. You also want separate iCloud accounts if you want to backup several devices without paying for storage, as each new iCloud account receives 5GB of free storage.
Here are some further considerations to help you tailor your iCloud account to your family.
1. I want to keep close track of apps and music my child has downloaded.
You're looking to share an Apple ID and enable Automatic Downloads of apps and music (Settings > iTunes & App Stores > Automatic Downloads). When anyone using your Apple ID downloads apps or music, they will be downloaded on all connected devices. Keep in mind that if you delete any of the apps or music from your phone, iTunes and the App Store will automatically add them back on once it recognizes the inconsistent libraries. To stop the apps and music from being re-added, turn off Automatic Downloads.
2. I do not want to receive my child's FaceTime calls or iMessages on my device.
Since FaceTime calls and iMessages are sent to Apple IDs and not individual phones or phone numbers, they'll need to create their own Apple ID. Their FaceTime calls and iMessages will then go to only the devices that are logged in with their Apple ID.
3. My iCloud always seems to be full.
If you want to use iCloud but feel that your available space is limiting you, purchase more space or reduce the amount of storage you use with iCloud. If you feel iCloud isn't for you, enabling your device to sync over Wi-Fi (plug in your phone > iPhone > Summary > Options > Sync This iPhone Over Wi-Fi) might be your answer. You don't have to plug your iPhone in to sync, but your backup is stored on your computer instead of in the cloud.
4. I don't want my family's contacts on my phone!
Syncing multiple contact lists within the same iCloud account can be wonderful and awful at the same time. To make sure only your contacts are showing on your phone, head to Contacts > Groups > iCloud > your contact list.