By

Dig Om
Updated 10/26/2012
Halloween is upon us, and so is the start of the holiday buying season. So what better time to look at the top games in one of my favorite, and most popular scary genres: Zombie Horror!!!

Discover your iPhone's hidden features
Get a daily tip (with screenshots and clear instructions) so you can master your iPhone in just one minute a day.
---
Dead Trigger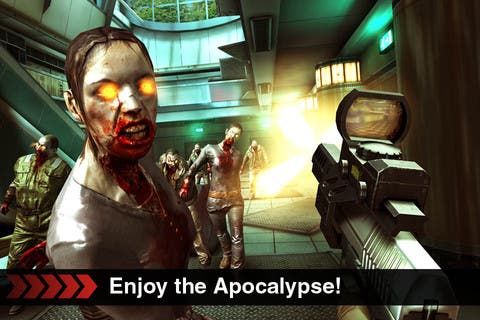 This first person shooter will have you jumping out of your skin with fright as your fingers frantically tap your touchscreen for dear life. Perhaps one of my favorite shooters, Dead Trigger is a visually stunning and terrifyingly graphic trip through a simulation of a full scale Zombie apocalypse. I'm glad that's it's just a video game because any future that has this kind of Zombie infestation in it is a future I am not eager to behold.
As one of a small group of survivors, your job varies from securing precious food supplies, collecting weapons, protecting barricades and in general, defending your life from an ever increasing and relentlessly aggressive Zombie horde. The control dynamics of this great game are pretty straightforward, controlling your camera angle and shooting on the right side of the screen, moving around with your virtual joystick on the left side.
Be warned thrill seekers, this is not a game for the faint of heart, it's a bloody gore fest, and the action is fast and furious. You'll have to be quick on your virtual feet and precise with your shot if you want to progress. Of course, in-app purchases can help you get farther faster, but that seems to be the case more and more often these days anyway. That said, nothing beats good old-fashioned practice! With lots of options for upgrading your character's lethality you'll have plenty of inspiration to keep trying, striving to collect your virtual coin so you can get a better and deadlier arsenal.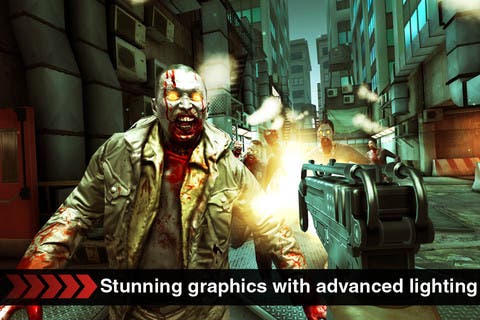 In the post-apocalyptic urban battlefields of Dead Trigger, the walking corpses shuffle and sprint from every dark corner and dead-end alley. Keep your wits about you if you want to survive this nightmarish scenario.
Dead Trigger is a free download available in the App Store.
---
Apocalypse Max: Better Dead Than Undead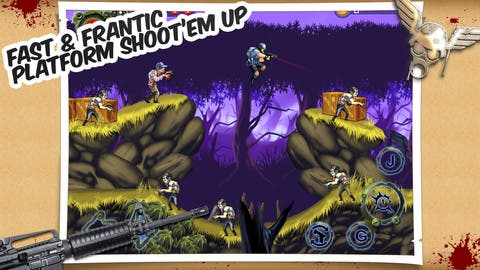 Apocalypse Max has a very retroesque feel to it without all that large-pixelated nonsense that has become all the rage in "retro" games lately, but which has failed to impress me thus far. It's 2013 folks; those old pixelated games weren't that cool when they were new, they were just all we had. Now that we have HD and Retina display the fascination with big pixel "retro" games eludes me, but then again, maybe I'm just getting old.
Anyway, Apocalypse Max is a top-quality, side-scrolling shooter, where you play as Max, a military/mercenary type who has to battle his way through everything from swamps, to sewers to graveyards to subways as he struggles to survive wave after wave after wave of cartoonish, yet creepy, shambling dead things.
To make things more interesting, you'll encounter Zombies with all sorts of different threat levels and hazardous skills, including spitting police Zombies, meat cleaver-throwing Zombies and Zombie soldiers equipped with guns. As if that weren't enough, Apocalypse Max has a great gameplay element that incorporates challenges where timed jumps are critical as you launch yourself precariously over Zombies hordes, from moving objects as you attempt to land on other moving objects.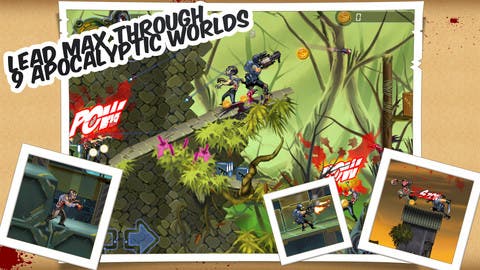 In terms of gore, Apocalypse Max is light on the graphic bloodletting, but it is a Zombie game after all, so it's not suited for most little kids. That said, the fear factor and gore levels of this game are relatively mild and cartoonish, compared to other games of this genre so it probably won't give you the same freakish nightmares that say, Dead Trigger, or Walking Dead might induce.
Apocalypse Max is a universal app and available in the App Store for $2.99.
---
The Walking Dead
Speaking of Walking Dead, call me a fan. And not just of the game, I love the TV series, the comic book series and now that I've just finished reading the iBook Walking Dead novel, that too. The Walking Dead game for iOS harkens back to the old "Choose your own adventure" books, where at certain junctures you are faced with various choices, some seemingly big ones, some seemingly insignificant, but all of your decisions will play a factor in how the game progresses. Each decision you make is remembered and all of the characters you come across will keep in mind how you have acted and how you have responded and they will act accordingly towards you, depending on their temperaments.
Walking Dead is a beautifully rendered, RPG/simulation-style game, with plenty of intellectual horror to keep you on the edge of your seat. This game really excels at making you feel as if you're actually in the horrifying circumstances of the character you are portraying.
Set in the days and weeks after the Zombie plague that we are all so familiar with broke out, you play as Lee, one of the few straggling survivors left after the world went to hell and was overrun by the Walking Undead. This game has a great storyline and plot, which only thickens and grows more intricate as you play on, making quick decisions of life and death, and making friends and/or enemies as you go.
If you like the franchise of Walking Dead already, then be sure to check out The Walking Dead game. It's not the fastest paced game, but then again, neither is life in the world filled with Zombies. It is however, one of the best Zombie games out there, and it will genuinely have you wondering, "What would I do in this situation".
The Walking Dead game is being released as a series of 5 separate episodes. You can either buy one at a time (right now the series has reached the third episode) for $4.99 each, or you can pre-pay for all 5 episodes at a 25% discounted price of $14.99.
---
Zombie Highway
This classic endless runner still has some of the highest ratings in the App Store, which is a testimony to why I call it a classic. Zombie Highway first hit the App Store years ago, but its huge fan base and addictive gameplay are testimony to the game's replay value and intriguing challenge dynamic.
In Zombie Highway, you are behind the wheel of your vehicle in a world lousy with the Undead. Your task is simple: stay alive. Keep the car on the road and on all 4 wheels. Wouldn't be so hard if Zombies didn't keep leaping onto your vehicle, attempting to shake and rock your car into a roll. Once your car flips, that's it, game over, you're toast. But until then, you can use two assets to knock those darn Zombies off of your speeding vehicle. You can either knock them off, by steering close enough to obstacles on the road and they get beat up and torn off, just be careful not to crash into the obstacles you are trying to scrape past, otherwise, again, you're toast. Your other option for dealing with the Zombie joy riders is to blast the living daylights out of them, with your choice of weapons from your ever-expanding arsenal of artillery.
The graphics in Zombie Highway are great, the gore factor is low on the scale for a Zombie game, and the sound effects are right on, providing sickening crunches as you shoot, crash and crunch the Zombies trying hang on to your vehicle and cause you to flip over.
Zombie Highway is available for $.99 in the App Store.
---
Contract Killer: Zombies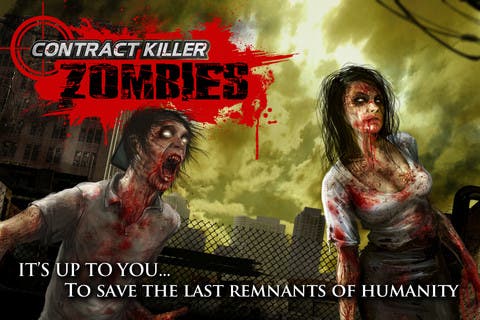 In this Zombiefied edition of Contract Killers: Zombies, you play as a wheelchair-bound character charged with being the sharp shooter, providing cover and taking out the marauding Zombie masses, as the few surviving humans in your group try to accomplish their tasks safely. Sometimes the people you are providing cover for are scurrying around trying to collect supplies, sometimes they are racing to make it to a safe zone, but whatever the scenario, your job is the same; take out as many Zombies as you can while keeping the humans safe!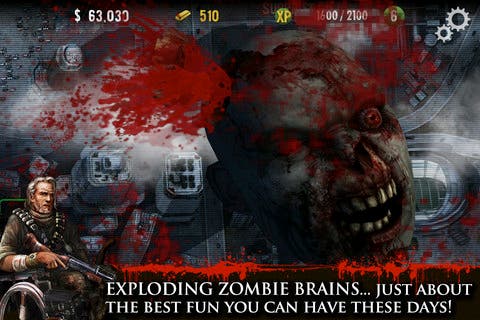 Of course, your job gets progressively harder and harder as you move on, and Contract Killers is a free game that really pushes the in-app purchases as a way to advance faster. Some might find these kinds of games a bit more challenging than other traditional game models, especially if you aren't the type to want to spend a bunch of money on in-app purchases. Nonetheless with practice and perseverance I can testify that you can make progress in this stationary shooter without spending a dime, it will just take longer, since you will need to upgrade your weapons to keep up with the challenges successfully. But isn't that the way of things these days, with the freemium game model becoming so all pervasive?
Contract Killer: Zombies is a great game of timing, marksmanship and strategy, and it rounds out my top 5 Zombie-themed games for this year's Halloween season!
---
As always, thank you for reading, and Happy Halloween!!!