The iPad's floating keyboard is a handy feature that enables a better view and slide-to-type, but it can be confusing to figure out how to turn it off.
By

Tamlin Day
Updated 06/14/2021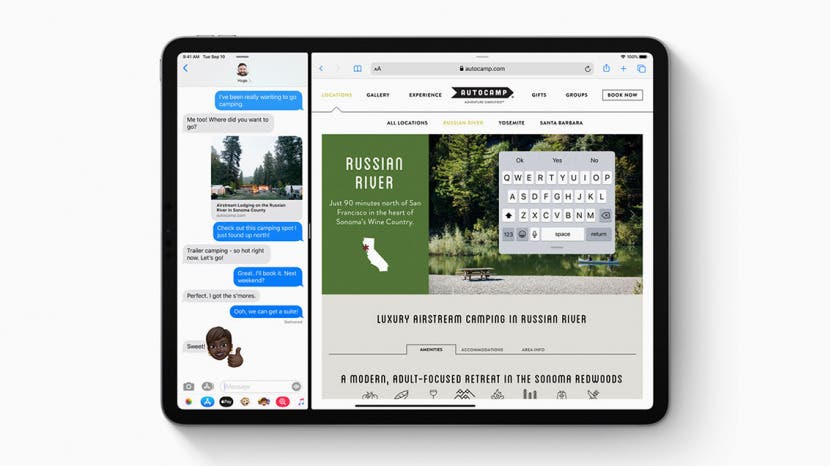 The iPad floating keyboard can be handy when you want to see more of the screen or use slide-to-type. However, it can be annoying when the floating keyboard pops out accidentally, especially if you don't know how to return it to the bottom of the screen. Here's how to turn the floating keyboard off on an iPad, or on if you want to use it for the time being!
Related: How to Get Rid of Split Screen on Your iPad & iPhone
How to Turn On the Floating Keyboard on iPad
The iPad floating keyboard can come in handy for quick typing and better viewing on your screen, so it's nice to know how to turn it on when you want it.
Open any app that uses the keyboard.
With your thumb and forefinger on any two opposing sides, pinch the keyboard.


 
Long-press and drag from the bottom bar on the floating keyboard to place it where you want it on the screen.


How to Fix Keyboard on iPad: Undo Floating Keyboard 
If you know how to enable the floating keyboard, it'll take no time to learn how to change the keyboard on iPad back to normal. Even if you accidentally turned on the floating keyboard, this quick trick will turn your iPad's small keyboard back to the full-size version! Here's how to change an iPad keyboard back to normal from the floating keyboard:
Perform a reversed pinch gesture from the center of the iPad floating keyboard.
Your fingers should start close together and then spread farther apart, maintaining contact with the iPad screen the whole time.


Voilà! Your keyboard is back to normal. Now you can enable or disable the iPad floating keyboard according to what's most convenient at the time. Happy typing!