By

Amy Spitzfaden Both
Updated 02/08/2023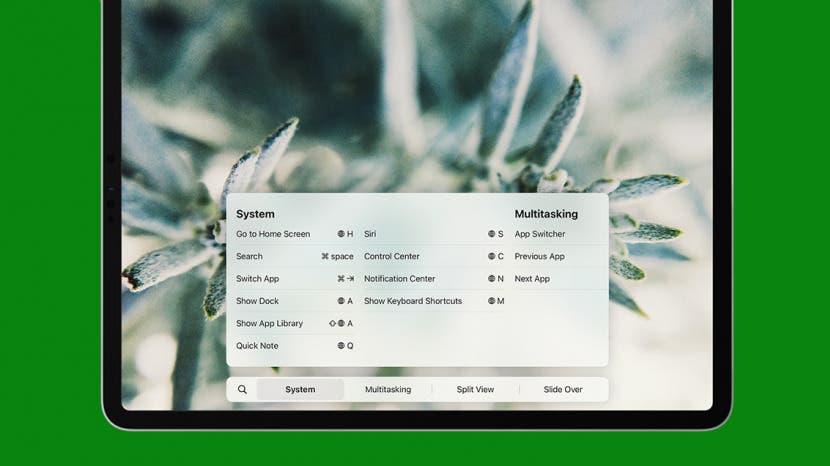 This article will show you how to use iPad keyboard shortcuts on an external keyboard, which are great for completing common tasks in a second. Here, I'll share some useful keyboard shortcuts to learn for your external keyboard that will help you make even more efficient use of your device.
Jump To:
What Are iPad Keyboard Shortcuts?
A keyboard shortcut is a combination of keys on a keyboard that launch a quick action. These shortcuts are specifically for an iPad external keyboard, not the on-screen keyboard that shows up when you have the option to enter text.
How to View All Shortcuts in an App
Depending on what app you're using, your keyboard shortcuts will be different. An easy way to find out what they are is to hold down the Command button. You'll see a list of commands for the current app you're using. In iPadOS 15, you can not only view the command list, but also select any of the shortcuts to execute them.



Discover your iPhone's hidden features
Get one daily tip each day (with screenshots and clear instructions) so you can master your iPhone in just one minute a day.
How to View Universal Shortcuts
On your keyboard you'll see a key labeled with the picture of a globe. While it was initially intended for supporting multiple languages, in iPadOS 15 the Globe key has become a symbol for global keyboard shortcuts. Pressing the Globe key will allow you to view universal keyboard shortcuts, which are split into four main categories: System, Multitasking, Split View, and Slide Over. If you have iPadOS 15, you can also select a command from the menu to execute the shortcut. 
If you have a non-Apple keyboard, you may not have a Globe key to make use of the latest iPad 15 universal shortcuts. In this case, you can assign a key in Settings to take the place of the Globe key. Ensure your keyboard is turned on and connected to your iPad, then follow the steps below. 
Open the Settings app. 
Tap General.

Select Keyboard.
Tap Hardware Keyboard.



Tap Modifier Keys.


Select a key to act as the Globe key. In this case, I'll choose to select the Option key.



Tap Globe.


Now when I want to execute a universal command, this key will take the place of the Globe key. For example, if I want to return to the Home screen (normally Globe + H) I will instead type Option + H.
iPad External Keyboard Shortcuts
Here are some commands that I find especially useful:
General Shortcuts
These global shortcuts work regardless of which application is open. 
Command-Space: Quickly access the Search function.
Command-H or Globe + H: Return to your Home screen from any app.
Command-Tab: Switch between open apps.
Command-Shift-3: Take a screenshot of everything displayed on your screen.
Globe + C: Open the Control Center.
Globe + N: Open the Notification Center.
Globe + S: Activate Siri.
Command + Tab: Press and hold to view open apps. Use the arrow keys to select and open an app. 
Globe + Left Arrow: Switch to the next app.
Globe + Right Arrow: Switch to the previous app.
Globe + Down Arrow: Show all windows.
Globe + A: Show Dock.
Shift + Globe + A: Show App Library.
Globe + Q: Open a Quick Note. 
iPad Multitasking Shortcuts
These Apple keyboard shortcuts were added with iPadOS 15, so if you have an earlier software, you will need to update to iPadOS 15 before making use of these commands. 
Globe + Up Arrow: Open the App Switcher.
Control + Globe + Left Arrow: Tile window left in Split View.
Control + Globe + Right Arrow: Tile window right in Split View.
Globe + Backslash: Show Slide Over.
Option + Globe + Left Arrow: Move to the left in Slide Over.
Option + Globe + Right Arrow: Move to the right in Slide Over.
Text Shortcuts
These Apple keyboard shortcuts work when you're in a text entry field, whether a word processor, your Notes app, or a Search bar.
Shift-Left/Right: This will highlight text one character at a time, in the direction you press the arrow key.
Shift-Command-Left/Right: Highlight an entire row of text.
Safari Shortcuts
These Apple iPad keyboard shortcuts will help you to mroe efficiently browse online.
Space: Pressing the space bar will scroll you down the page.
Control-Tab: Switch tabs. Note that it is Control, not Command, as most of the shortcuts above have been.
Command-F: Search for a specific word or phrase.
Command-L: Jump to the input text/URL field.
For more app-specific shortcuts for easier iPad navigation, read this!