Move between keyboards on your iPad; switch from an external keyboard to the on-screen keyboard and back!
By

Leanne Hays
Updated 11/21/2022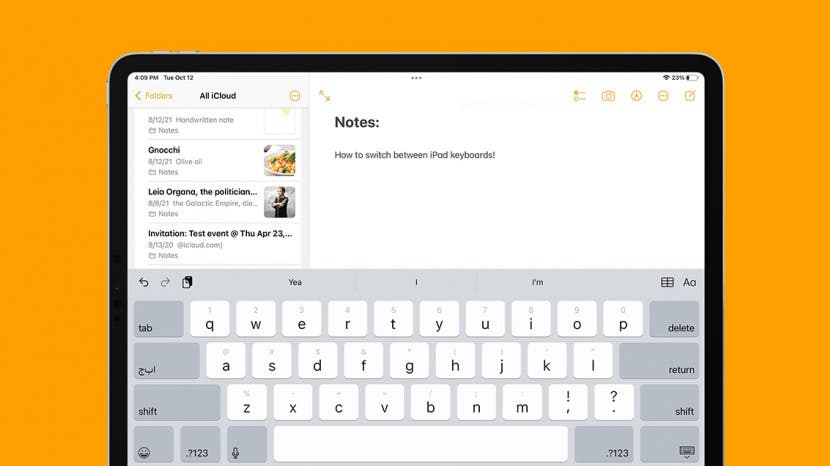 * This post is part of iPhone Life's Tip of the Day newsletter. Sign Up. *
Bluetooth keyboards and iPad keyboard cases are super convenient, but you'll want to change from the external keyboard back to your Apple iPad on-screen keyboard from time to time. Here's how to switch keyboards from the touchscreen to the external keyboard and back on your iPad. 
Related: iPad Multitasking: The Complete Guide to Split Screen, Slide Over & Picture in Picture
Why You'll Love This Tip
Switch from touchscreen to keyboard on your iPad in a few easy steps.
Hide the on-screen keyboard on your iPad when using your Bluetooth or other external keyboards. 
Before you use this tip, you'll need to know how to connect a keyboard to your iPad, including the new Magic Keyboard for the iPad Pro and iPad, so that you can switch between your connected keyboard and the on-screen keyboard. For more tutorials on how to navigate your iPad, check out our free Tip of the Day. 
How to Switch between Your iPad On-Screen Keyboard & External Keyboard
Let's go over how to hide the on-screen keyboard on an iPad when using a Bluetooth or other external keyboard. We'll also cover how to switch from the external keyboard back to the on-screen one! First, make sure your external keyboard is turned on, then follow the steps below.
Select the text field in any app where you use your iPad's keyboard and begin typing on-screen as usual. 
Tap the Keyboard icon to hide your on-screen keyboard and begin typing on your external keyboard.


To get back to your on-screen keyboard, tap the Keyboard icon once again.


Select Show Keyboard, and your on-screen keyboard will appear.


That's all there is to it! Now you'll be able to easily move between your iPad software keyboard and your external keyboard as needed. If you enjoyed this tip, you might also want to learn how to turn the floating iPad keyboard off and on.