Learn iPad swipe keyboard tricks to type faster on your iPad than ever before, using quick gestures instead of tapping on every individual letter.
By

Cullen Thomas
Updated 11/22/2022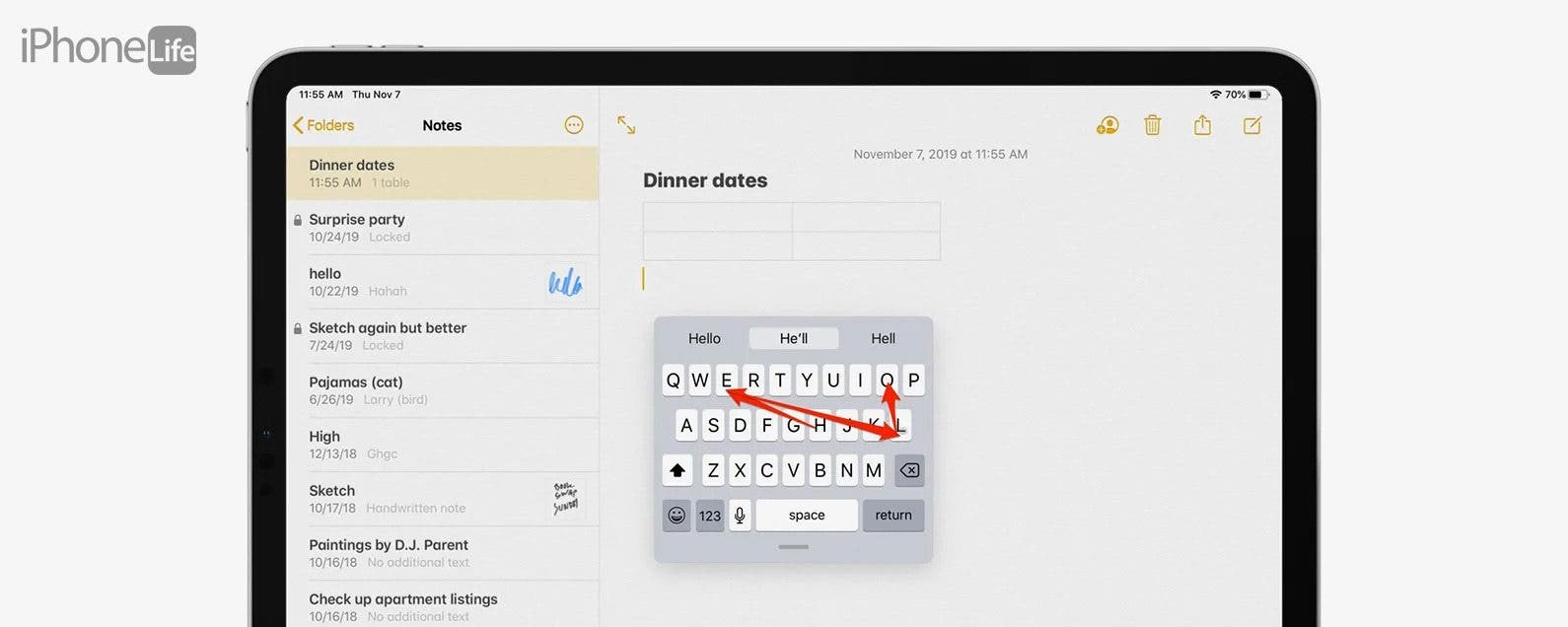 * This post is part of iPhone Life's Tip of the Day newsletter. Sign Up. *
Using the iPad floating keyboard, you can drag your finger from one letter to the next without lifting it, spelling out entire words in one quick motion. To get Slide to Type working on your iPad, you'll need to use the floating keyboard. Here's how to use QuickPath and the floating keyboard on your iPad.
Why You'll Love This Tip
Use a smaller keyboard and Slide to Type for faster typing on your iPad.
Move your keyboard to a more convenient location on your display. 
Related: How to Swipe Text on the iPhone
How To Swipe Text on the iPad with the Floating Keyboard
The iPad Swipe Keyboard, often called Swipe Text, Swype Keyboard, Slide to Type, or sometimes QuickPath, is available on iPadOS 13 or later. However, to use the swipe typing feature, you'll need to switch from the regular on-screen keyboard to the smaller floating keyboard. For more iPad tips, don't forget to check out our free Tip of the Day. 
Open any app that requires typing. For this example, I'll open the Notes app.


Open a note or create a new note.


Tap anywhere in the note to begin typing. The keyboard will fill the bottom of your screen.


Tap and hold the keyboard icon in the bottom right corner of the keyboard.


A menu will pop up. Unlike many menus in iPadOS, this menu requires that you keep holding your finger on the screen and drag your finger to the menu option you want. Select Floating from the keyboard menu.


The keyboard will disappear, to be replaced with the floating keyboard. You can move the floating keyboard around the screen by touching and dragging the grab bar at the bottom.


You can compose text with QuickPath, AKA Slide to Type, by touching the first letter of a word, and then dragging your finger to the rest of the letters in turn.


You can also tap the 123 key for punctuation marks and numbers.


You can tap the #+= key for symbols (such as % and *).


To switch back to the regular keyboard, grab the bar at the bottom of the floating keyboard and drag it to the center-bottom of your screen.


Now you can go crazy with the swipe texting feature on your iPad! Next, read about the newest iPad announced by Apple.