By

Abbey Dufoe
Updated 11/18/2019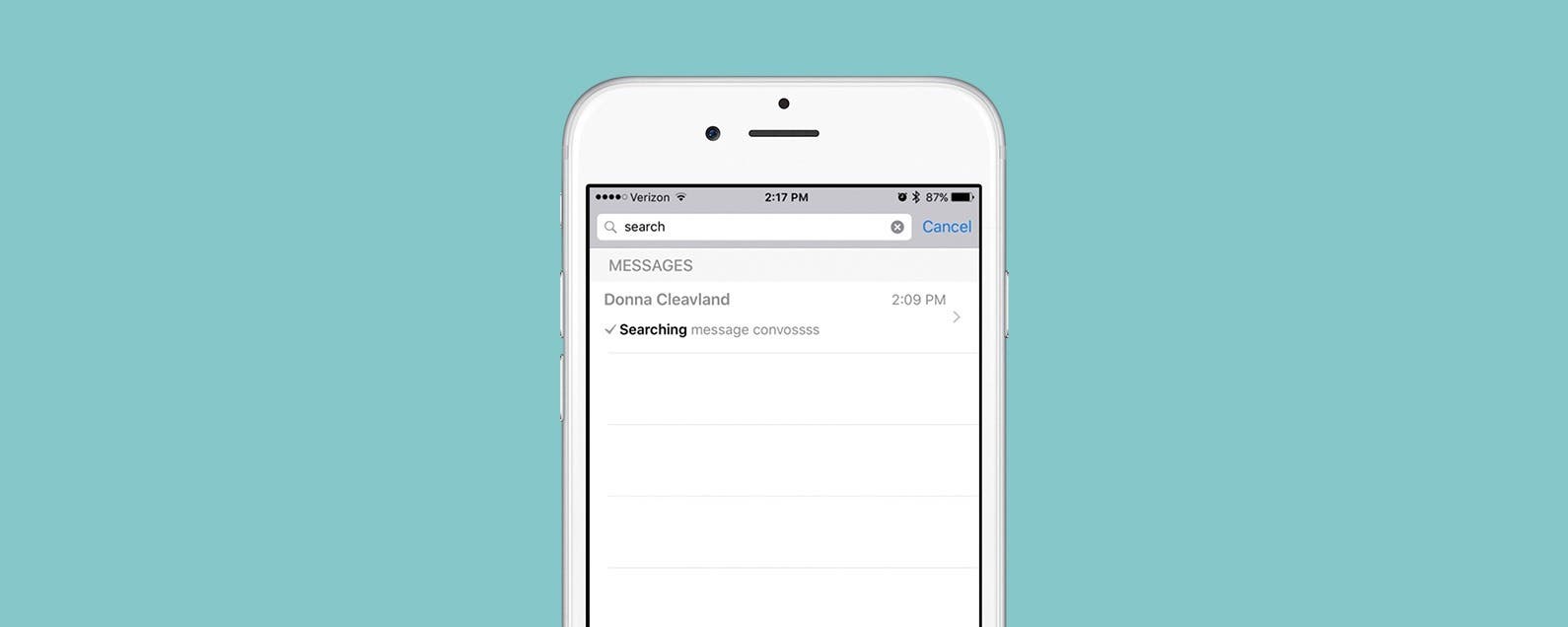 No one wants to search through dozens (if not hundreds) of messages looking for a specific conversation on their Apple device. Fortunately, most messaging apps make your text conversations searchable. We'll go over how to search through your messages on the iPhone and iPad using iMessage, how to search Facebook messages, and also how to search WhatsApp chat. You can search through your iPad and iPhone text message history so long as you haven't deleted the conversation thread, so be sure not to swipe left on any iMessages that could be important later! 
* This post is part of iPhone Life's Tip of the Day newsletter. Sign Up. *
Related: How to Find & Send GIFs from the Message App on iPhone: Updated for 2018
There are three major apps people use to communicate with messages on iPhone. The obvious standout is iMessage, but unlike Facebook Messenger and WhatsApp, the Messages app doesn't allow you to archive iMessages. This means if you want to clear out old messages, you have to delete them, and once an iMessage is deleted, it can't be searched. For this reason, it's important not to delete any text message threads you think you might need to come back to in the future. The same can be said of Facebook Messenger and WhatsApp, but you have the option to archive messages so they'll always be searchable. I'm going to break down how to search for messages in each of the three apps below. 
Related: How to Sync Messages from iPhone to Mac & iPad
How to Search Your iMessage History on Your iPhone
How to Search Your Facebook Messenger Conversations on Your iPhone
How to Search WhatsApp Chat Messages on Your iPhone
Bonus: How to Check New Messages with Siri on Your iPhone
How to Search Your iMessages (Text) History on Your iPhone
In iOS 13, Apple replaced the old, inadequate search function with a more useful one that lets you search multiple relevant conversations. You can also search the Messages app without ever opening the app itself, by using your iPhone's search function. You can only look through present messages, which means if you've deleted a message it will not show up when you search. A nice feature of iMessages search is the ability to go directly to the phrase you're looking for within the conversation. 
How to Search Messages on Your iPhone:
Open the Today View on your iPhone by swiping to the right from your first Home screen.
At the very top is the Search bar; if you scroll down, it will disappear. Just scroll back to the top and you'll see it. 
Tap the Search bar and type either the person or phrase that you're looking for.


 
Swipe up to show the Messages section.
Tap one of the Message results if it's the text you were looking for. Tap Search in App in the Messages section if you don't see the iMessage you were looking for.


 
If you tapped Search in App you'll be taken to your Messages app, where you can type your search term into the search bar at the top of the page.
Tap See All to see more results.
If you tapped on one of the Message options in the Messages section, you'll be brought to your search term within that message. The iMessage you located will appear slightly darker gray at first to make it easy to find. 


 
How to Search Facebook Messenger Conversations on Your iPhone
To search Facebook Messenger conversations, open the Facebook Messenger app and tap the Search field at the top of your display.
Type in your search term and choose whether you'd like to search All of your messages, just within messages to individuals (People), within group messages (Groups), or find business and company pages that contain your search term (Discover).


 
If there are any results, Facebook Messenger will list them; choose the result that best fits your query and tap to open.
You'll now be able to open the messages from the person, group, or business you tapped; if these aren't the messages you were looking for, tap the back arrow and choose another result.


 
Just like with iMessage, if you click on a result, it will take you directly into that part of the message. Facebook Messenger search does a great job of looking through message threads from all time, including individual and group conversations and messages that were archived.
How to Find Specific Threads on WhatsApp on Your iPhone
WhatsApp is one of the most popular messaging apps on the iPhone. It's completely free and allows you to send and receive messages, calls, photos, videos, and Voice Messages on your iPhone; you can also view your WhatsApp messages from your computer's browser. WhatsApp is generally considered to have the best search on the iPhone by reviewers, and like Facebook, it highlights the term you're looking for, so it's easy to find in the thread. As with the other two messaging apps, if you've deleted the message, it won't be available for search. However, if you archived the message, search will work.
How to search WhatsApp messages:
Open WhatsApp and log in.
Navigate to Chats on the menu bar at the bottom of the screen.
Pull down on the screen to reveal the Search bar at the top.
Begin typing the phrase, words, event, or person you're searching for.


Messages that match will appear with the search terms highlighted in bold. If you click on a result, it will take you to that message within the thread. The search term will still be highlighted, making it easy to locate.
How to Check New Messages with Siri on Your iPhone
I was hoping I could use Siri to easily search through all of my iMessages, but I suppose that's a request for a later update. What you can do, however, is ask Siri to check for new messages. This is a nice hands-free feature, especially if you get a text while driving that you need to read.
How to Check New Messages with Siri:
Summon Siri in the usual way. If you have an iPhone with a Home button, hold it down and Siri will activate. If your iPhone doesn't have a Home button, hold down the Side button, or use Hey Siri, if you've set up that feature. 
Say, "Check new messages," or something along those lines.


 
If you don't have any new messages, Siri will let you know.
If you do, Siri will begin to read your new messages, starting with the name or phone number of the sender. Siri will then ask if you'd like to Reply.
You can say Read Again if you didn't catch what the AI said the first time or say Reply and voice your message.
Personally, I think this feature is used best to check new messages hands-free but not so great for replying, since Siri doesn't always understand what I'm saying. For example, gumdrop became dumb job when I tested the feature.