Stop someone from reading a text you regret or sent accidentally with this new iOS 16 feature that lets you Undo Send for up to 15 minutes.
By

Olena Kagui
Updated 10/25/2022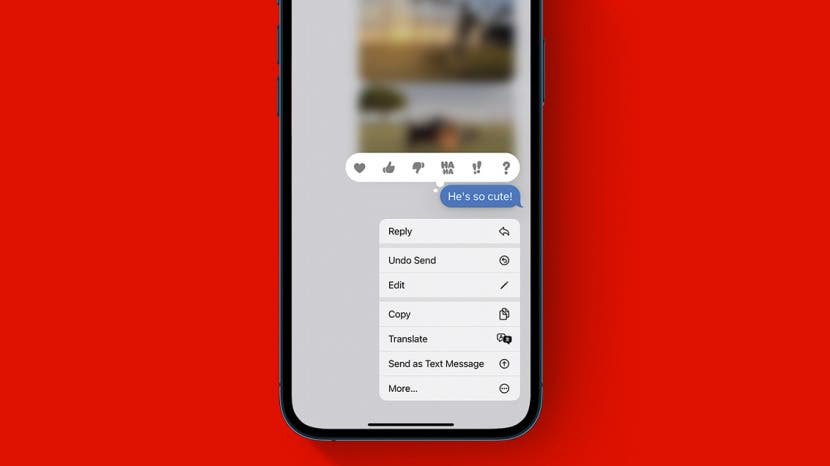 * This post is part of iPhone Life's Tip of the Day newsletter. Sign Up. *
We have all been in a situation where we sent a text and instantly regretted it or made an embarrassing typo that our friends still laugh about. With iOS 16, this uncomfortable situation can become a thing of the past! As long as you realize your mistake within two minutes of sending a text, I'll teach you how to take it back.
Related: How to Hide Text Messages on iPhone
Why You'll Love This Tip
Learn how to take back a text you wish you hadn't sent.
Avoid conflict, confusion, or embarrassment by unsending iMessages.
How to Undo Send on a Message You Already Sent
If you ever find yourself thinking, "Whoops," after sending a text, iOS 16 has your back. For more tips like this, sign up for our free Tip of the Day!
Before you can unsend an iMessage, make sure you have updated your iPhone to iOS 16. Your texting partner will also need to have an iPhone running iOS 16 for these steps to work. If you wish to unsend a text message that you sent as an iMessages less than two minutes ago:
Open Messages.


Locate the conversation thread.


Tap and hold the text message you wish to delete.


Tap Undo Send.


Please keep in mind that this only works if the recipient has an iPhone running iOS 16 or later. It won't work with Android phones or iPhones running an older software version. The same software update lets you unsend emails from the Mail app as well.
Voila! Your text message has been unsent! But you may be wondering if there is any way for the recipient to still read it. Unfortunately, there is. This article answers all your burning questions, such as, "Can they still see the unsent message?"