By

Becca Ludlum
Updated 10/12/2023
What to Know
The easiest way to hide text messages is to turn off Message Preview on your iPhone.
You can download apps that can help you learn how to hide text messages on iPhone from unwanted viewers. 
Can you hide messages on your iPhone? If you need to know how to hide text messages on your iPhone in Messages or a secret messaging app, we can help. You can lock or hide messages, and hide alerts for the Messages app, so your personal information stays private. There are even some secret text messaging apps for iPhones.
If you are trying to figure out how to hide contacts, or how to hide iMessage conversations, this article will cover that. We'll also discuss how to lock iPhone messages and how to find hidden text messages, and we'll even go over how to hide your Messages app itself. For more ways to keep your information private and secure, check out our Tip of the Day.
Jump To:
If you need to figure out how to hide a message on your iPhone, this post will show you your options. It's not always easy to hide text messages and it can be equally hard to find hidden text messages so let's dive in and see how it's done! It's easier than you might think to keep a text message secret with these apps. This is also the best answer to the question of how to lock messages on an iPhone. These apps can lock your text messages under an extra layer of security.

Discover your iPhone's hidden features
Get a daily tip (with screenshots and clear instructions) so you can master your iPhone in just one minute a day.
Keep in mind that many scammers also prefer encrypted messaging services, so make sure you don't send any personal information to anyone you don't know and trust using these apps.
This is a great option if you are looking for a way to hide messages on your iPhone or lock messages from being seen. It is encrypted from end to end, so only you and the receiver can see the messages and communications that you are sending.
Wire is great because it offers you the ability to do more than just hide text messages on your iPhone. You can also send and receive files, FaceTime, call, and chat. It's a more sophisticated secret texting app than some of the other options available.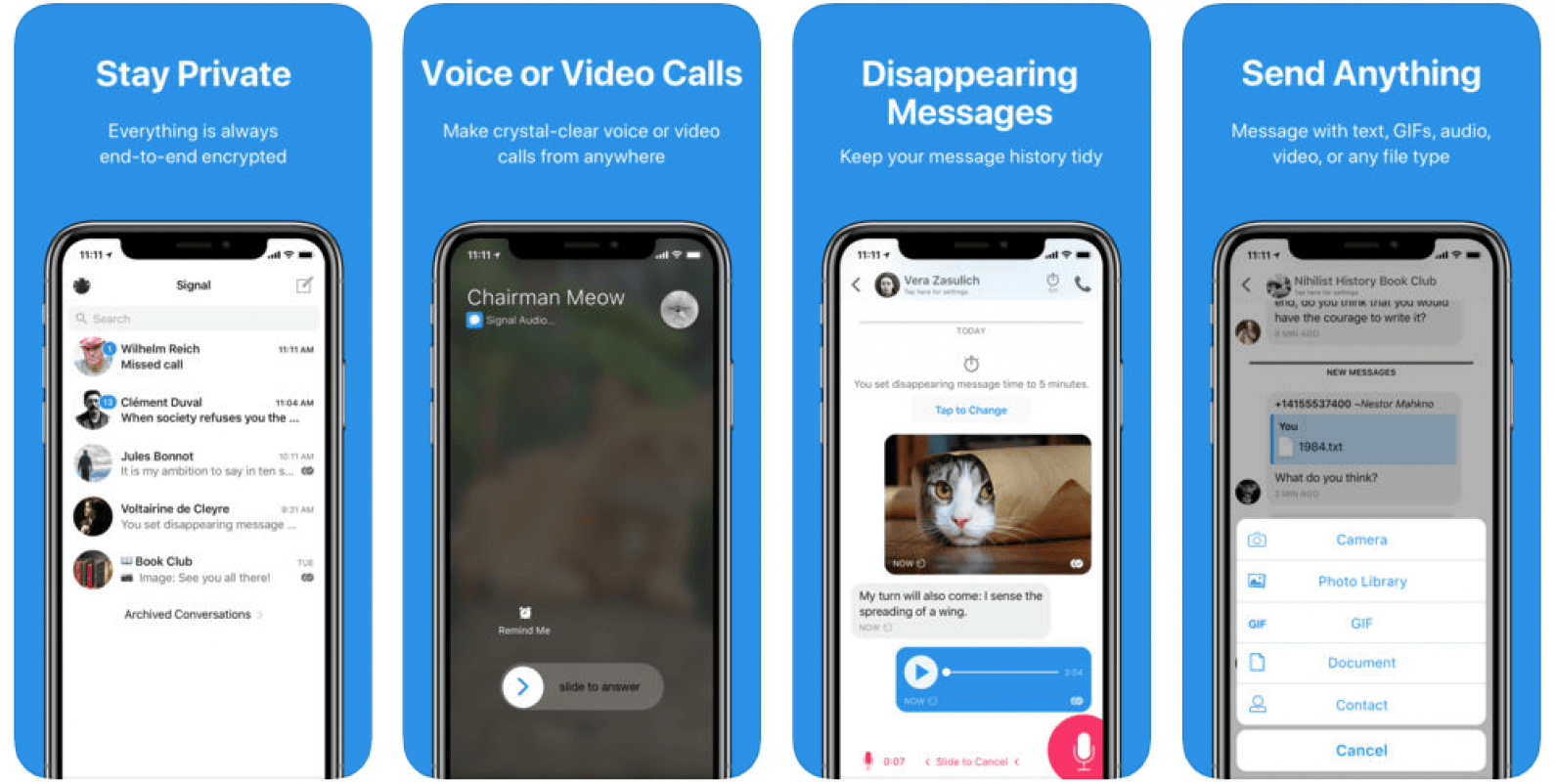 Signal is an awesome option for iPhone, and you can get the app on your iPad as well by following this tip. You can use Signal for private one-on-one or group chats, and everything is end-to-end encrypted. Voice or video calls are also offered, and you can even share media and files.
If you find yourself using one or multiple secret texting apps on your iPhone to hide iPhone messages or lock your messages, you should consider learning how to hide apps on your iPhone. It's a great way to hide secret texting apps for iPhones or to simply declutter your iPhone Home screen.
One of the easiest ways to hide text messages on the iPhone is to turn off the message preview that appears on the Lock Screen. This does not hide messages or lock messages in your Messages app, but it will keep a preview of the content of the message from popping up on your screen. This way, you don't have to worry about leaving your phone lying around. No one will be able to see your iPhone message preview if you turn this feature off in Settings!
How to Hide iMessages by Turning Off Message Preview:
Open the Settings app.


Tap on Notifications.



Scroll down and select Messages.


Under Lock Screen Appearance, tap Show Previews.



Now, tap Never.


If you don't want anyone to even know you got a message, you can return to Messages in the Notifications settings and first tap on Sounds.



Next, tap on Vibration.


Choose None.



Return to the Sounds page one more time and select None under Alert Tones.


Finally, return to the Messages Notifications settings and tap to turn off the Lock Screen, Notification Center, and Banner alerts. The bubbles underneath these will be empty when turned off.



The final option is to toggle Allow Notifications off. The toggle will be gray when disabled. You will need to remember to open your Messages app regularly to see if you have received any new messages because your phone will no longer alert you in any way.


If you want to hide your messages on your iPhone or save them without actually having them on your phone, you do have another option. You can save the text conversation to your computer and then delete it from your device. Another way you can save a text conversation but not see it anymore is to take screenshots of the conversation and save those to your computer, a disc, or a thumb drive, and then delete the conversation.
These options are helpful if you want to hide text messages or keep them private without having to use an app or a different service.
Related: How to Recover Permanently Deleted Text Messages on iPhone (iOS 17)
Another way to learn how to hide text messages on iPhone without deleting them is by turning off Text Message Forwarding. Text Message Forwarding is a feature that forwards your messages from your iPhone to other Apple devices such as your iPad or Mac. Therefore, this feature ensures that you don't miss important text messages when using a device other than your iPhone. However, if you share devices with your children or spouse, they can easily view your text messages that you don't want them to see. Thankfully, the text forwarding feature can be turned off so that no one will be able to view your text messages on other devices. 
Open Settings.


Tap Messages.



Tap Text Message Forwarding.


Turn off the devices that you don't want text messages to be forwarded to.


As a result, future text messages from your iPhone won't pop up on your iPad or Mac.
How Do I See Hidden Text Messages?
Unfortunately, there's not a one-size-fits-all answer to this question, and that's simply because there are so many ways to hide messages.
If it's just that the message preview is hidden but the message wasn't deleted, the message will still appear in the Messages app and can be searched for even if it's not readily visible. If the message was hidden via a third-party app, the access method will vary depending on the app and the user's settings. If a user deleted the message or conversation, unfortunately, it won't be accessible on the device anymore but may be recoverable if messages are being synced to iCloud. Next, learn how to find hidden or missing apps on your iPhone.