By admin updated on 11/06/2019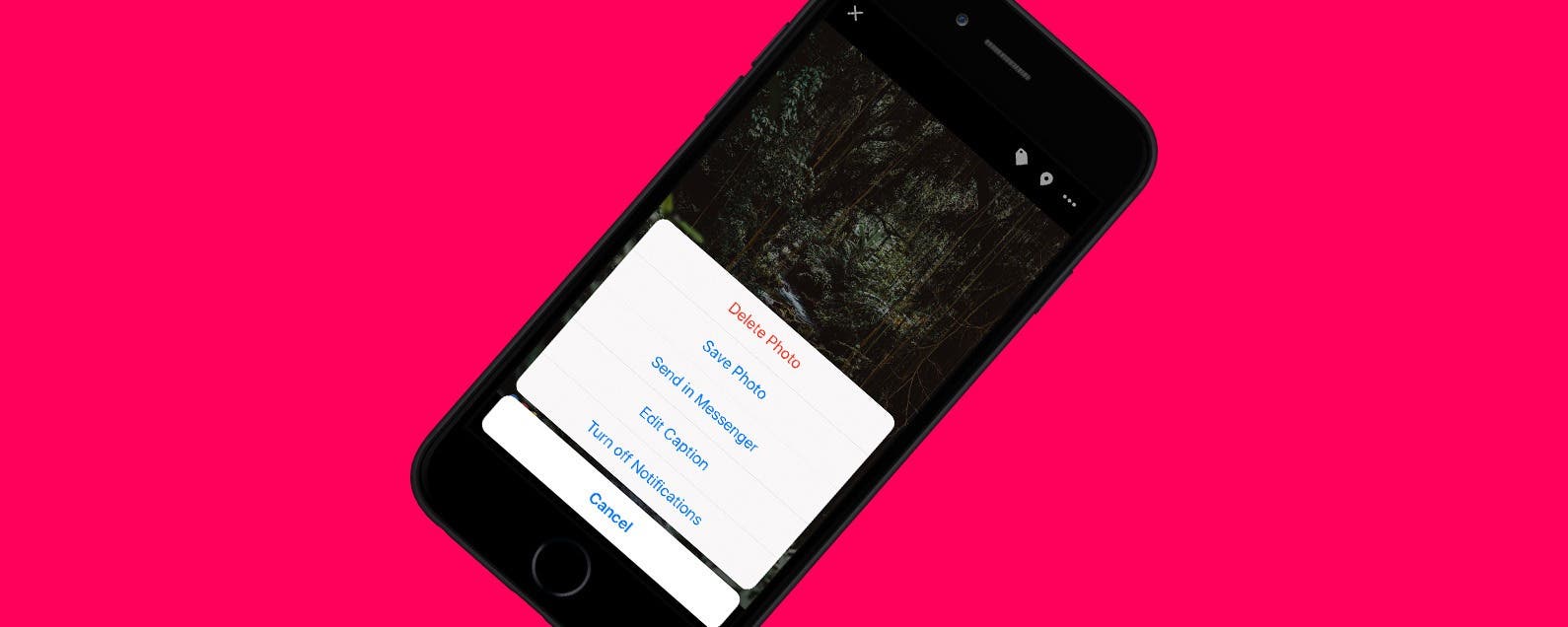 * This post is part of
iPhone Life
's Tip of the Day newsletter.
Sign Up
. *
Images you receive on your iPhone don't automatically save to your Photos app. The good news is that you can easily save pictures from iMessages to your iPhone, and you can even bulk save all the photos from a Messages conversation! iPhone users have also asked how to download Facebook photos, how they can bulk save all their Facebook pictures, and how to save images from Facebook Messenger. We'll cover all of these subjects with step-by-step instructions. Let's get started learning how to save pictures to your iPhone from text messages, Facebook, and Facebook Messenger.
Related: How to Transfer Photos from Your iPhone to Your Computer
Master your iPhone in one minute a day:
Sign up to iPhone Life's Tip of the Day Newsletter and we'll send you a tip each day to save time and get the most out of your iPhone or iPad.
How to Save (All) Pictures from Messages & Facebook on Your iPhone
Newer versions of iOS make it particularly easy to save a photo from your text message history. You can touch and hold (long press) on the picture and reveal a menu of options, including saving and sharing. When it comes to Facebook, you can save individual images with the Facebook app on your iPhone, but if you need to keep all of your Facebook pictures, you'll have to download a zipped archive and open it in the Files app to transfer the contents to your photo roll. We'll start with saving one or all photos from text messages, then move on to saving photos from Facebook. Finally, we'll show you how to save pictures from your Facebook Messenger app.
Table of Contents
1. How to Save Photos from Text Messages on Your iPhone
Open the Messages app and navigate to the conversation with images you want to save.
Locate the image you want to save.
Press and hold the image until options appear.
Tap Save. Your image will save to your gallery.


If you have an iPhone 6s or earlier you'll need to:
Tap the photo.
Tap the Share icon at the lower left of your display, which looks like a box with an up arrow out of it.
Choose Save Image to save your photo to your iPhone.


2. How to Mass Save Images from Messages on Your iPhone
You can download all the images you've ever exchanged with a single contact. Neat, don't you think?
Open the text message conversation with the images you want to save.
Tap the person's name at the top of the text thread.
Tap the info icon on the right.


 
You'll see a contact information card. Scroll to the very bottom and you'll find a set of recent images. Tap See All Photos.
Tap Select, in the top right corner of the page.


 
Now you can select as many of the images as you'd like. Tap each image you want to save. After tapping, there will be a blue circle with a check mark in the corner to indicate an image is selected.
At the bottom left of the screen, tap Save.


 
This will save the photos to your iPhone.
3. How to Save Photos from Facebook to Your iPhone
From the Facebook app, locate the photo you'd like to save.
Tap on the photo.
Tap the three dots in the upper right corner (the more icon).
Select Save Photo.


 
The photo will appear in your Photos app.
​4. How to Download All Your Photos from Facebook
Facebook gives you the option to download all your data, and this includes your photos. Images retrieved this way won't be as high quality as those you shoot with your iPhone, because Facebook doesn't store them with all the detail of an original image. Still, it's an excellent way to recover pictures you might not have anywhere else. You'll be downloading a compressed archive of all your photos, which will save in the Files app. We'll then go over how to move the images from your Files app to your Photos app. To do this:
Open the Facebook app.
Open your Facebook menu tab by tapping the "collapsed menu" icon at the bottom right of the screen. This looks like three stacked horizontal bars.
Scroll down to tap Settings & Privacy to expand that section of the menu.


Tap Settings.
Scroll down to find the section called Your Facebook Information and tap Access Your Information.


A block of text explains some of Facebook's privacy policy. Tap the blue link which reads: "...download your information...."
Now you'll have a choice of which data you'd like to archive. Make sure to select only Photos and Videos, or else you'll have a hard time navigating all that data!


 
Now choose the date range, the format, and the quality for your photos file (I recommend setting media quality to High).
Tap Create File.


 
Next, Facebook will inform you it will take them some time to archive all your photos and make them available for download.
Eventually you'll get a Facebook notification informing you that your download is ready. Tap the notification and it will navigate you back to the same Download Your Information page.


 
Tap Download next to the copy of your information you've just created.


You'll be transferred into your default web browser to complete the download, and may have to log in to Facebook.
When the download is complete, open the Files app. 
Browse to your downloaded archive file. The default location will be in iCloud Drive > Downloads.
The archive will be named facebook-[Your Name].zip. Tap the archive file to unpack it. This will create a folder with the same name, containing all your information.


 
Each folder will be a different photo album from your Facebook account. Tap the folder containing photos you want to save to your iPhone. If you want to save multiple folders, you'll need to do this multiple times.
Then tap Select in the top right corner of the screen.


 
Tap Select All in the top right corner of the screen.
Tap the share menu icon, a box with an up arrow, in the bottom left corner of the screen.


 
Scroll down to tap Save [number] Images. Those images will be visible and editable in your Photos app.


 
Whew! You've done it! Facebook may not make it easy to download all your photos at once, but now you know how!
5. How to Save Photos from Facebook Messenger on Your iPhone
Open Facebook Messenger and find the conversation containing images you want to save.
You can tap an image and then skip to step four, but if you don't want to scroll all the way through your whole message history looking for images, then tap the name of your contact at the top of the screen.
You'll be presented with a contact information card, scroll to the bottom to see all the images you've exchanged with that contact. 
Tap an image.


 
Tap the More icon, which looks like a U with an up arrow out of it, in the bottom-left corner of the screen.
Tap Save Photo.


 
Unfortunately, you cannot select and save more than one photo at a time. Hopefully Facebook will add this feature in the future! Until they do, you can at least see all your photos in the same place with this tip.