By

Olena Kagui
Tue, 04/20/2021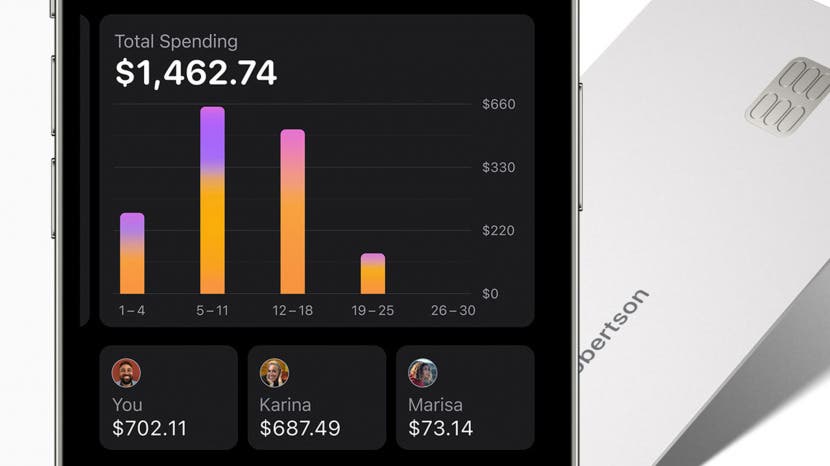 Apple's Spring 2021 event kicked off with the announcement of the addition of Family Sharing features to the Apple Card. Starting in May, families in the U.S. can apply to co-own an Apple credit card thanks to the Apple Card Family program. Up to six people can share the account and build a credit history together, unlike most credit cards where the primary cardholder is the main beneficiary of any credit building. Children ages 13 and up can also have accounts with optional spending limits, while those 18 and up also have the opportunity to build credit history as a participant or co-owner on an Apple Card account.
Related: How to Set Up Apple Pay on Your iPhone
How Does Apple Card Family Work?
Apple Card Family lets a Family Sharing group use the same Apple Card account. The card owners can set specific spending limits and other controls over non-owner participants within the Wallet app. The Apple Card is designed to be used with Apple Pay on your iPhone, Apple Watch, iPad, and Mac. Although the card can be exclusively digital and part of your Apple Wallet, you can also request a physical titanium card for free. It can be used anywhere that accepts MasterCard. It still isn't clear if all six Family Sharing members, including children ages 13 to 17, can have their own physical cards. However, all participants can use the digital card to some extent.

Discover your iPhone's hidden features
Get one daily tip each day (with screenshots and clear instructions) so you can master your iPhone in just one minute a day.
There are several ways that the new features could change how families manage their finances. First, if you and your partner currently own separate Apple Cards, they can now be merged and you will be afforded a higher combined credit limit, credit permitting. In order to add other members, they will need to be part of your Family Sharing group. 
Up to five additional users can be added to share the account with the original cardholder as either participants or co-owners, but only two users at most can be co-owners. Users over 18 years old can be co-owners or participants, while children over 13 can be participants. For full transparency, the owner and co-owner can see all purchases made by all users.
What sets Apple Card Family apart from others is the unique opportunity for everyone who owns the card to build their credit equally. This means that anyone who is listed for credit reporting on the card will be able to improve their credit through timely payments and sensible use of the card. At the same time, if there are any late payments or other issues, all co-owners may see their credit scores suffer.
To use the Apple Card to its full extent, users need to add it to their Wallet on an iPhone or iPad running on iOS or iPadOS 13.2 or later. We assume that these changes to the Family Card will come with the iOS 14.5 update, since Apple confirmed that they would be available in May.
Spending Limits & Controls for Children
Apple markets Apple Card Family as a valuable educational tool for children 13 and up, and claims that its credit card sets users up for financial success rather than failure. Optional spending limits and other controls can be set on the card to help parents protect and educate their children while allowing them to experience the ownership of a credit card. It's an innovative extension of Apple Pay's Family Sharing features that so many households already enjoy.
Good credit is essential for succeeding in life, and it can be tough to navigate the adult world without a credit score. Apple Card Family allows children and other Family Sharing group members who are 18 and older to get a head start in building their scores as they are eligible for credit reporting as either participants or co-owners of the card. Children 13 and up can have their own accounts with optional spending limits to help them learn to budget. Plus, younger cardholders can be limited from sending Apple Cash to unknown or specific contacts.
The Apple Card & Gender Inequality in Accessing Credit
Today, Tim Cook called the launch of the Apple Card in 2019 the most successful credit card launch ever. But in reality, it did not come without challenges. In particular, there were accusations that the Apple Card program was practicing gender discrimination and offering husbands significantly higher credit limits than their wives. Although the New York State Department of Financial Services released a report a month ago that cleared the Apple Card credit card program of gender discrimination, we can assume that the Apple Card part of today's Apple announcement specifically focused on the equal opportunities of building credit in response to this investigation.
We hope that this upgraded Apple Card, issued by Goldman Sachs, will make much-needed strides toward gender equality. The possibility of adding credit reporting for children who are 18 and up has the further potential to end discriminatory acts based on age and other criteria as well, setting newcomers to the world of credit scores up for a higher standard of success. It seems like social justice is a way for Apple to stand out as it continues to build its presence in the financial services sector. However, we will know more when we see it in practice.
Should You Try Apple Card Family?
The Apple Card comes with no annual fees, foreign transaction fees, or late fees. Late or missed payments result in additional interest accumulating toward your balance. As of April 1, 2021, rates range from 10.99 percent to 21.99 percent based on your creditworthiness. Applying for a card is subject to credit check and approval, which can impact your score.
The additional aspect of promised financial literacy education and practice for children as young as 13 makes this a credit card worth considering. However, we suggest that you consult a financial advisor and look into how uncredited individuals may affect your interest rates before taking the plunge by adding new users to your credit line.