By

Dig Om
Thu, 05/03/2012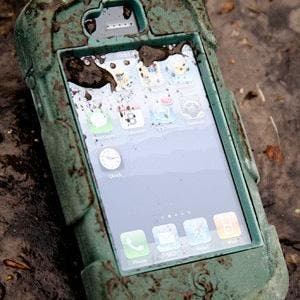 5 Of The Top, Rugged iPhone Cases In Review: Welcome to a review of heavy-duty cases by someone who really puts his iPhone's case through some vigorous testing! My iPhone accompanies me on many an outdoor adventure, and like me, has had its fair share of spills and thrills. So I have a good idea of what makes a "good rugged case", a good rugged case. And of course, what better time for a hard-core case round up, than with summer fun in the air and all kinds of outdoor adventures and activities to be had with family and friends! Indeed, plenty of opportunities to abuse an unprotected iPhone!
Pre-requisites for being mentioned in this elite class include:
The cases featured here need to be well prepared to handle exposure to a wide variety of stresses and environments, these tough cases have to be able to shrug off romping and rough-housing and hazardous and gnarly situations without failing. "Failing" would be defined as allowing its precious cargo within, to be damaged from moderate abuse.
These cases do not have to be certified waterproof, nor do the cases I'm reviewing need to be overly easy to get on and off; due to the nature of the conditions they may face, we can expect them to be a little more labor to assemble than a silicone sleeve or a slip on shell.
Having some degree of a raised, bevel edge around the touch screen, protecting it from inadvertent bumps and scrapes, is also a good quality that I look for when evaluating tough, protective cases. I also take into consideration how effectively a case incorporates shock-absorbing protection into its design. Last but not least these cases must allow ready access to all ports, and clear audio transmission from the speakers, and to the microphones.
Lifeproof
Price: $80.00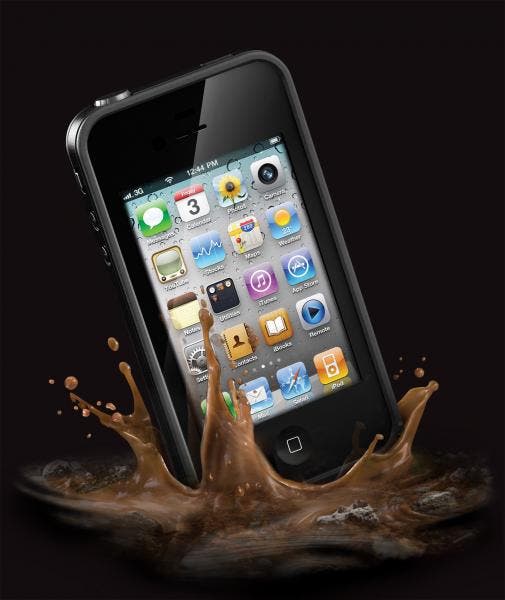 The Lifeproof case is a case you will be hearing a lot more about in the coming months I have a feeling. Not only is it the best tough-case out there, adding a minimum of bulk with a maximum of fortification (rated able to withstand 6.6 foot drops!) this case has the added bonus of being waterproof (IP-68), able to be submerged underwater to a depth of 6.6 feet! This case is an awesome development and could win "Best-Of" within several categories: "Best Slim Line Case That Offers Rugged Protection". "Best Rugged Case In A Slim Form-Factor", as well as "Most Practical Case Overall". Generally speaking you can think of Lifeproof as a deceptively protective enhancement to the iPhone, an accentuation, creating the "iPhone 4LP", if you will. It is definitely the most versatile, multi-purpose case out there!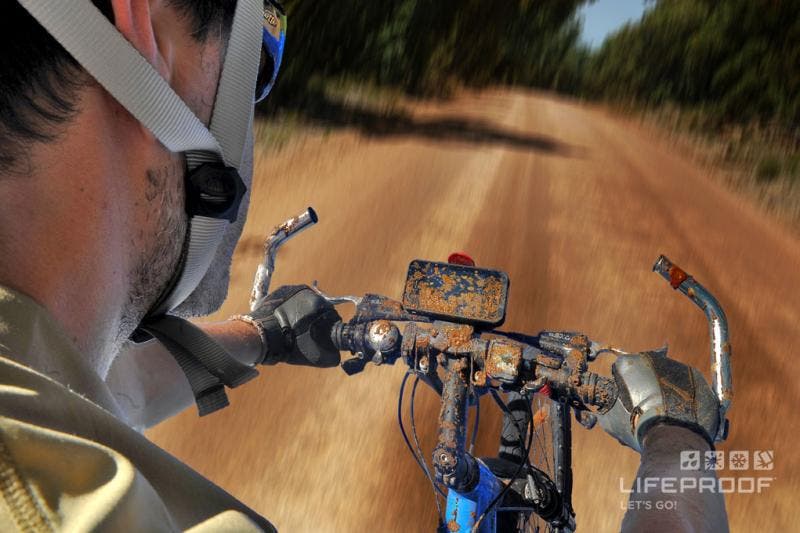 If you want maximum protection in a design that allows you to use your iPhone as if it were unencumbered by such a sturdy shield, you should check out Lifeproof! This case is my top choice for an "everyday, everywhere, everything" type case. The Lifeproof case is well-eqipped to deal with most any situation and circumstance life may dish out, and with several colorful case options, will fit just about anyone's fashion and design sensibilities.
Griffin Survivor
Price: $50.00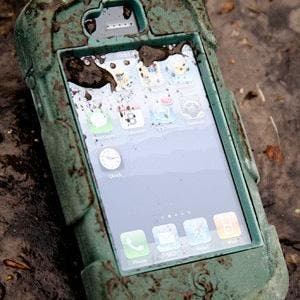 The Survivor is one of the top armored cases out there, with an impressive list of military-standard tests that this case has passed. All one has to do is visit their website to view the specs and watch the trial videos of this Hummer of iPhone cases and they'll be impressed too!
Offering some of the most well-thought out and comprehensive protective coverage of the cases reviewed, the Survivor is a case you can count on for just about any situation you might encounter in daily life. This case (crafted from hardened polycarbonate and clad in a dense, sculpted, firm silicone) is built tough and with few exceptions, will handle anything you can throw at it, within reason. Its reliability and efficient design are truly awesome. Boasting full protection of the screen and front face of the iPhone, and securely sealed ports, this case rightfully earns the name "Survivor".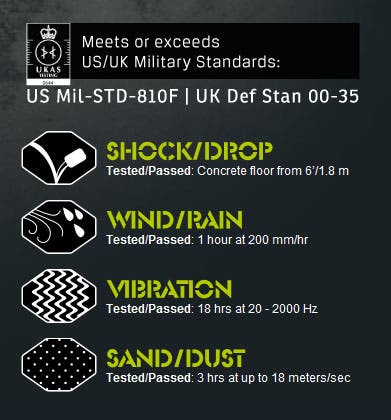 On all fronts this case offers wonderful protection and comes highly recommended for the layperson, the parents of toddlers, extreme athletes and construction workers alike. With a belt clip holster that doubles as a viewing stand and available in a variety of color combos, this case is a great option if a secure housing with full coverage for your iPhone is what you are after.
Keystone ECO NautiCase
Price: $50.00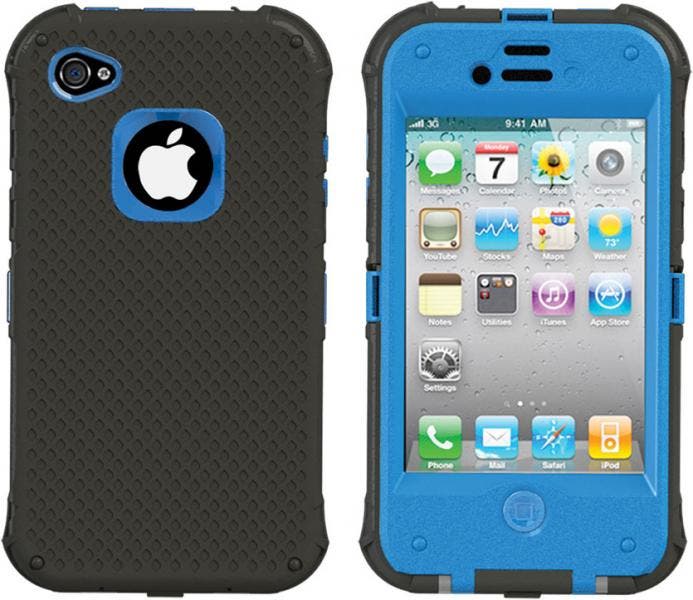 The NautiCase is a great case designed to withstand its fair share of hardships! This case sports a clever single piece design that opens on a hinge, and fuses a tough polycarbonate frame together with a shock-absorbing, non-slip, silicone outer skin. This case comes with a built in screen protector and also includes a belt clip holster that can double as a viewing stand.
With ports that seal snugly shut, this case actually gets a certified IP-54 "splash-proof" rating and will keep dust and debris, and even light exposure to water, away from your device. Unfortunately, some of the silicone that is incorporated into this case is thin and flimsy in spots (notably by the hinge as well as by the headphone access port and mute switch) and looks as if it may not last as long as at other areas of this hardy case. This case fits your iPhone nicely, without making it too much bulkier and is available in an assortment of colors to fit your tastes.
Trident's Kraken AMS
Price: $50.00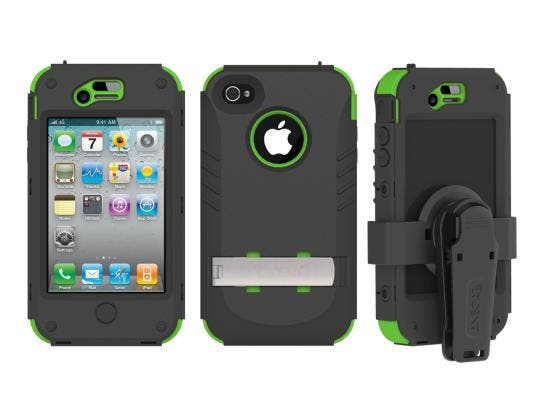 The Kraken AMS is two cases in one. Consisting of a cushioning silicone layer that can be used alone for casual protection and a rigid plastic exoskeleton that snaps in place over the silicone for intensified protection. The silicone by itself can only go so far to protect your iPhone from extremes in environment, but the added hard shell layer makes this one of the better options when it comes to hard-use cases. The ports to access the iPhone's plug-in jacks and mute button seal snugly yet open easily; in fact, this case is one of the easiest case to get off of and onto your iPhone. The included rotating belt clip is unobtrusive, in the event you want to carry it in a bag or in your pocket instead of clipped on a belt, and built directly into the case's back-side is a flip-out stand, conveniently allowing you to prop up your device in either landscape or portrait modes.
My observation: the Kraken is a good rugged case that would only be made better if Trident manufactured it with the same scratch-resistant plastic that is over the touch screen, also over the iPhone's front-facing camera/speaker/proximity sensor area, and the Apple logo on the rear. Right now those two minor weak points can potentially let a lot of debris or liquid slip past the case's otherwise staunch defenses to reach your iPhone.
Ballistic HC (Hard Core)
Price: $50.00
The Ballistic Hard Core iPhone case consists of a strong, polycarbonate inner shell with an optional silicone skin that slips over the rigid inner case to provide added shock absorption. While the rigid inner shell is sturdily constructed, the silicone skin that comes with this case, and is intended to provide it with increased shock protection and improved "grippiness", is unfortunately a loose fit over the shell. Additionally, the silicone skin has a few too many thin, tear-able sections for my liking.
Aside from the fact that it's silicone layer is a bit of a poor fit, the Ballistic Hard Core offers solid protection and cleverly, even has convenient, thin protective membranes over the speaker cut-aways, allowing for great audio quality while offering protection from dirt and debris reaching the iPhone via the speakers. If only the little cut-away over the ambient light/proximity sensor on the front screen's face (above the phone speaker) wasn't left exposed, but rather, also included the clear plastic like the rest of the case's front screen has, it would make this an even more secure option when it comes to insulating your iPhone from grit and even moisture. This case also comes with a belt holster, which holds this case securely in place, with or without its added silicone layer on.
*Stay tuned:
For an in-depth and comprehensive look at some of the best, fully waterproof cases available, keep your eyes open for the upcoming issue of iPhone Life Magazine for my review of the best IP Certified waterproof cases on the market.
As always, thanks for reading.