By

Jim Karpen
Thu, 04/19/2012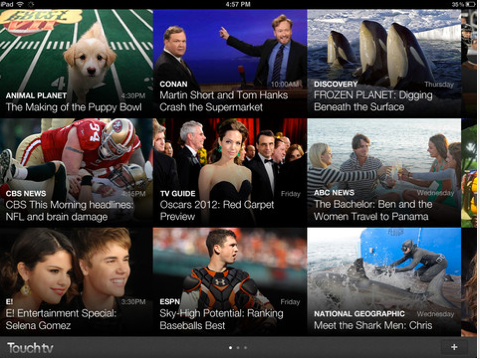 I have a second-generation Apple TV set-top box, and really enjoy using AirPlay to stream movies from my iPad to my 42-inch HDTV. It's fun how simple it is. If you have an iOS device and Apple TV on the same WiFi network, you simply start playing a video and tap a button that gives you the option of playing the movie on your TV instead of your iPad. If you need to go out and want to continue watching the movie, you simply toggle back to the iPad and continue watching. TechCrunch has posted a handy roundup article about the Best iOS apps to Watch on Apple TV — all of them free. The listing contains all the most popular streaming video apps, and is divided into categories: Video curation and search; From the broadcasters; Music appreciation; News and current events; and Special interests. The list doesn't include the obvious apps such as Netflix and Hulu, but focuses on apps that "showcase entertainment, news and social activity in ways not currently possible via cable, satellite or video streaming providers."
The list includes some of my favorites, such as Showyou and Touchtv. The former aggregates streaming video from your social networks and from many other sources. As with the other aggregator apps, you can customize it to reflect your particular interests. Touchtv offers selected content from 40 of the top cable TV channels, such as ESPN, CBS, NBC, ABC, National Geographic, CNN, and Comedy Central. Note, though, that what you get are segments — a daily taste of a wide range of content. It's sort of like the channel surfing you might do with your TV's remote.
One that I didn't know about and was really excited to see is Ted. You've probably heard of this forum, in which many of the world's greatest thinkers give short presentations. I'd been watching Ted presentations via the Boxee software on the laptop that's connected to my HDTV, but using the Ted app is much more convenient. 
One of my current favorites, Crackle, isn't on the list. It offers hundreds of free streaming movies from companies such as Columbia Pictures, Tri-Star, Screen Gems, and Sony Pictures Classics. Also, be sure to check out Frequency, another excllent video aggregator. The interface elegantly organizes a wide array of content — over 1,000 channels, on topics ranging from Arts, Business, and Celebrity, to TV, Video Games, and Viral Video. Popular channels include CBS, National Geographic, Gizmodo, Discovery Networks, Best of YouTube, BillBoard, and Hollywood Streams. 
Speaking of TVs being connected to the Internet, an interesting news item on Infoworld recently suggested that the increasingly common Internet-connected TVs could be as vulnerable to viruses and malware as are computers. A group of security specialists set up a test situation to see if they could hack into a popular set-top box and steal information as well as pirate services. They also set as their objective copying porn from the service — and seeing if they could replace the Disney Channel with streaming porn. They were able to get root control of the device and do all of this.