By

J.C. Lannister
Updated 01/12/2016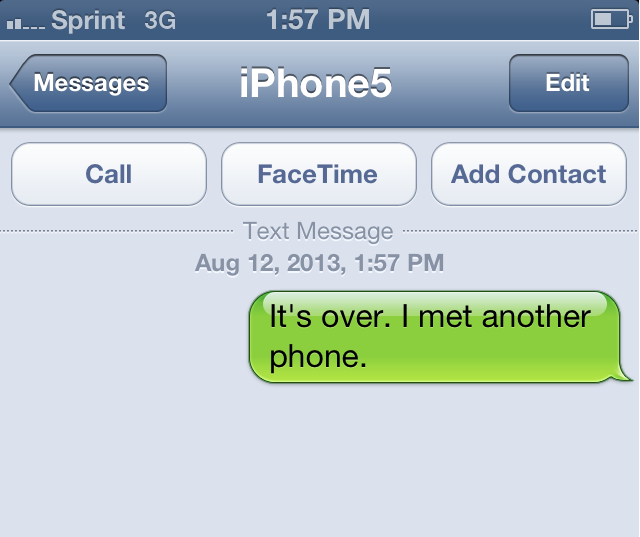 I have four regrets in my life:
1.  A tattoo of an arrow that starts under my right armpit and runs down my side, past my hip. It's big, bold, and will most certainly look like a crumbled, smeared watercolor painting when I'm 60;
 
2.  The tattoo I got one Saturday night in Soho during a two-week trip to London circa 2004. This tat-ta-roo on my ankle of a heart the size of a fist looks like it was drawn by a 4-year-old with a permanent marker and underdeveloped motor skills;
3.  Letting my parents develop the disposable cameras from that trip. (My mom still can't look me in the eye.);
 
4.  Dumping my iPhone 5 for the Galaxy 4. 
Of my four regrets, I consider the last to be the worst. So, why? Why, why, WHY would I end things with my sweet, simple, user-friendly iPhone 5?
Recently, I graduated from college, got dumped by a real live person, started a new career path, and moved home after 10 years of bouncing around the U.S. and Europe. With all of these new things happening, I thought, why not try a new type of cell phone? The grass is always greener, right?
Wrong. It's just different grass.
I do think there are a few redeeming qualities about the Galaxy 4—and by "a few," I mean two.
1.  The big screen. It's great for watching any movie starring George Clooney (old man hot), Channing Tatum (hot, forever hot), or Javier Bardem (foreign old man hot). The fellas look lifelike on the GS4 screen, so much so that I remember unconsciously reaching for Channing Tatum's bottom lip during (insert any Channing Tatum movie here). 
 
2.  The GS4's Air Gesture function. Finally, I can wave my hand over something and, in true Hermione fashion, shout "Alohomora!" Then the smartphone makes a magical noise and turns on. I can cross "casting an effective spell" off my bucket list.
But enough about the GS4, let's talk about my long, lost love—the iPhone 5.
Nothing can compare to its slender, lightweight build. I could hold it easily and text with either hand. I'd always wanted to be ambidextrous, and the 5 made it happen.
It didn't care how fast I texted. The keyboard was simple and effective; the screen small, yet mighty. I could type a sentence, a novel, or anything in between with ease, and the 5 always autocorrected my (millions of) spelling errors. The GS4 makes me work so hard to develop a sentence or phrase. I'm subjected to way more screen swiping, word selecting, and overall thinking than anyone of my generation should ever be.
The iPhone 5's apps were unbeatable. The apps available for the GS4 don't even compare. With the 5, all it took was an easy search and a single tap or swipe to download an updated version of Instagram, My Days, Facebook, Pinterest, or any other program I needed to enhance my social (media) life.
Finally, it had a team of technological geniuses to back up its every function. A strong support system breeds confidence, and confidence is sexy. In fact, I felt significantly more sexy when the iPhone 5 was just chillin' in my pocket, riding shotgun as we cruised around town, or hiding in my purse as I waited for my turn at the gyno. Just knowing it was near, ready to be used as a camera, notebook, calendar, alarm clock, or anything else I would ever need to distract myself from the present moment, was incredibly satisfying.
The iPhone 5 and I have been apart for less than 72 hours and it's killing me. I know it's not going to be easy getting it back, especially after signing a two-year contract with The-Provider-Who-Shall-Not-Be-Named, but maybe, just maybe, we'll be able to mend what was broken and start again. Le sigh…