By

Dig Om
Updated 11/08/2012
iPhone 5's have literally been flying off the shelves since their release a couple of months ago! Anyone who has a new iPhone 5 and is active, accident prone or outdoorsy; you should listen up.

Discover your iPhone's hidden features
Get a daily tip (with screenshots and clear instructions) so you can master your iPhone in just one minute a day.
And, with the Holiday season upon us, even if none of those traits apply to you, this is still good information to bookmark. After all, an iPhone 5 heavy-duty case can make a great Holiday gift for someone in your life who does happen to fall into the above-mentioned categories!
To that end, I have rounded up some of the best, rugged protection, heavy-duty iPhone 5 cases out there.  Featuring the Lifeproof frē, the Griffin Suvivor, the Otterbox Defender, Ballistic's Hard Core, Trident's Kraken, and Seidio's Convert. Read on after the break for full review details!
---
For all around extreme protection (from practically everything ) in a case design that adds minimum bulk and is so low-profile and streamlined that it functions as a discreet enhancement to the iPhone as opposed to an encumbrance, you have to consider the Lifeproof frē case. The Lifeproof frē is, in general, one of the best cases on the market.
Even if you feel you don't need the extreme protection the Lifeproof affords, Lifeproof is still one of the best iPhone cases you will find! It is unobtrusive, and something that can be used everyday, all the time. And since it is available in both black and white, matching the iPhone colors, that only adds to its consistency of design.
The Lifeproof frē comes with some impressive specs for a case so compact and streamlined. First of all in my opinion, is that it protects the iPhone 5 from its greatest nemesis: WATER!
The iPhone 5 is very well built device, we all know that. Especially now with the new and improved Gorilla Glass 2 screen. It is already designed to sustain a moderate whooping and stay in good condition. So that is a good thing that a good case will only improve upon. But one thing that remains the iPhone 5's Achilles Heel, is the fact that it's not waterproof, in fact, it's barely even water-resistant! Until now...
The Lifeproof frē, believe it or not, considering its low-profile design, is completely waterproof (IP-68), rated waterproof down to 6 feet and for up to a half an hour at that depth. That's impressive! Again, especially considering how svelte the case is. Based on other waterproof cases the market has to offer the Lifeproof frē is not only the most unobtrusive, it is also the most functional! While there are other waterproof cases, no other waterproof case on the market at this time offers waterproofness while also letting you charge your iDevice while it remains in its case. In fact in every way, the Lifeproof frē allows full functionality and interaction with your iPhone 5.
Weighing in at a just over an ounce, the Lifeproof frē also comes with double AR-coated optical glass lenses over the rear camera for crystal-clear photo and video quality. Additionally, the frē even improves the iPhone 5's sound quality by utilizing the specialized sound channels and the back of the case to create a much richer and fuller speaker response. The Lifeproof frē is an ingenious design and in my eyes, it represents the pinnacle of what an excellent, top of the line iPhone case can be!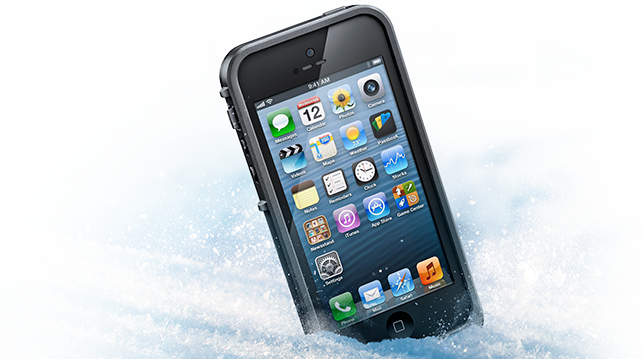 The Lifeproof frē meets up to all the required specs for Military Standards of certification, including being extensively tested for shock, drop, vibration and compression resistance. This is a superior case and the fact that it's a few dollars more that some of the competition is only because it is a premium product. Such a premium product in fact, that I would say it is actually a great value at its $80.00 price.
---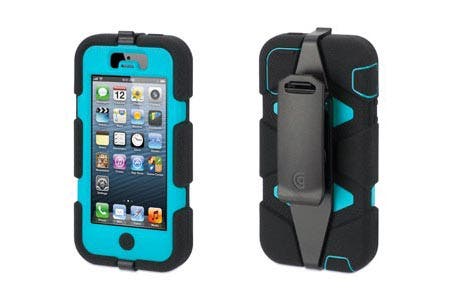 The Survivor is another contender for one of the best-designed heavy-duty iPhone 5 cases. I have been a fan of the Survivor line of protective cases for years and I have continued to be impressed with its impressive construction. With the iPhone 5 edition we see significant improvements made to an already fantastic and functionally superior iPhone case.
The Survivor provides excellent protection for your iPhone 5. It follows a familiar form factor in that it has a shatter-resistant inner shell overlaid with thick shock-absorbent rubber skin. The outer shell is textured and deeply contoured (reminds me of a knobby tire on my off-road motorcycle) for extra grip and has extra thick corners for protection from those hard falls every iPhone will inevitably experience.
I can't help but speak very highly of the Survivor case, and it deserves every ounce of praise it garners. If you are looking for a rugged iPhone 5 case at an unbeatable price ($50.00), this could be the one. One the Survivors greatest claims to fame is the unrivaled iPhone 5 protection. Whereas many heavy-duty cases may provide great shock, drop and compression protection, the Survivor takes it a step further and actually allows the case to be fully sealed from external debris getting in. No  it's not waterproof, but it will survive a dunking or rain shower better than just about any other iPhone 5 ruggedized case on the market, other than the above-mentioned, completely waterproof Lifeproof.
The Survivor has a silicone flap to cover every port as well as a flap for the rear-facing camera. Along with the ability to seal all ports and the camera, the Survivor also incorporates an ultra-thin, water-resistant fabric shield over the speaker and microphone openings. That's very significant, for as I always say, for even the most ruggedly designed cases, water entry tends to be the case's Achilles heel and this thin fabric screen keeps water and other matter away from your iPhone. With this inclusion of a fabric cover over the speakers and mic the Survivor offers what I would consider, some of the top iPhone 5 protection of any iPhone 5 case.


Griffin's Survivor has been heavily tested and meets Military standards of field-readiness, meaning that it's passed rigorous testing procedures and is fit for active duty in the theater of war, much less the average civilian's day to day exploits and extreme adventures. The ONLY drawback to the Survivor isn't even really about the Survivor case itself, but rather the Survivor's belt clip/mini-stand, which I found to be both a bit delicate relative to the sturdy case, hard to get on and off, and really difficult to open the actual clip mechanism when it's in a snapped open or closed position, especially if trying to do so one handed.
The Survivor comes in a huge variety of color combinations and ranks top in my list of best iPhone 5 extreme duty cases.
---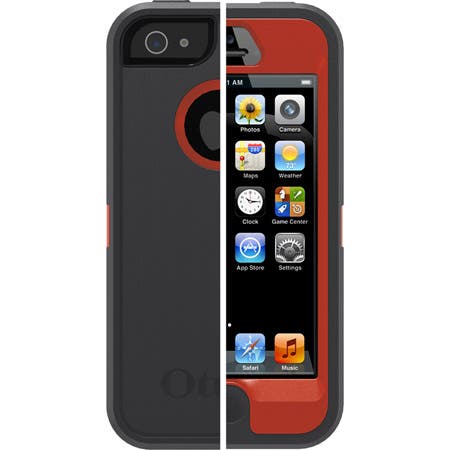 There is a very good reason the Otterbox Defender is one of the best selling iPhone cases in America! Otterbox has been designing some of the best and most durable rugged cases for the iPhone since its inception in 2007. They set a high standard in heavy-duty iPhone cases many years ago and their productive cases have only gotten better over the years. The latest iteration of the Otterbox Defender for the iPhone 5 is by far, their best version and comes with a notable improvement over the iPhone 4 Defender.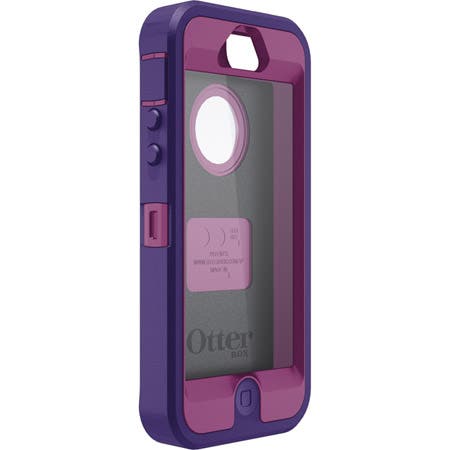 With the iPhone 5 Otterbox Defender we see a marked improvement in the integrity and toughness of the external silicone skin that covers the internal shatter-resistant polycarbonate skeleton. Why this makes such a difference is that one of the main gripes I  have had with the Defender lately has been the somewhat flimsy silicone skin. Not that it didn't work or offer significant shock absorbency.
I will be the first to attest to the fact that the old Defender design has saved many a dropped iPhone 4! I kid you not, and if you've ever used one you likely already know what I mean! There are so many instances that I have both seen first-hand and heard of where the Defender saved an iPhone from certain doom. I even saw my wife accidentally drop the Defender encased iPhone down a steep, rocky, mountain slope! As time slowed down as it sometimes does in instances like this, we all watched slack-jawed and the Defender bounced its way down the mountainside farther and farther away. Eventually it came to a stop and I scrambled down the boulders to retrieve it, not knowing what to expect. The happy ending to the story was that her iPhone suffered no damage despite its unusually aggressive drop test!
So obviously the old silicone skin managed to provide a great deal of protection! The issue with the old iPhone 4's silicone skin on the Defender was that it tended to tear and get worn out where its port covers were. The former design was just a bit too thin and lacking in structural integrity, so that after repeated opening and closing of the headphone or docking ports the cover's silicone hinges had a tendency to begin to rip. However, with the latest Defender we find a much more structurally sound, dense and sturdy rubber skin. While I am sure the new skin improves the shock-absorbent resiliency of the iPhone 5 case it also ensures that the flaps won't tear off, leaving the delicate innards of the iPhone 5 exposed to debris. So that's a big upgrade in my book, making what was already a great case even more exemplary.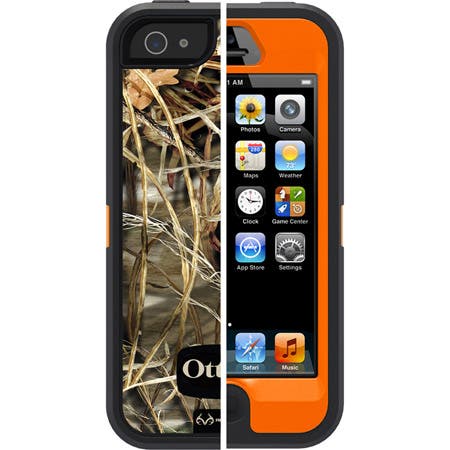 The Otterbox Defender isn't waterproof, but short of inadvertent exposure to liquids, the Defender is one of the best all-around iPhone 5 cases that will protect your iPhone 5 from so many of the hazards of a day to day, active lifestyle. The Defender also comes with a sturdy belt clip and can be yours for a cost of $50.00 available HERE!
---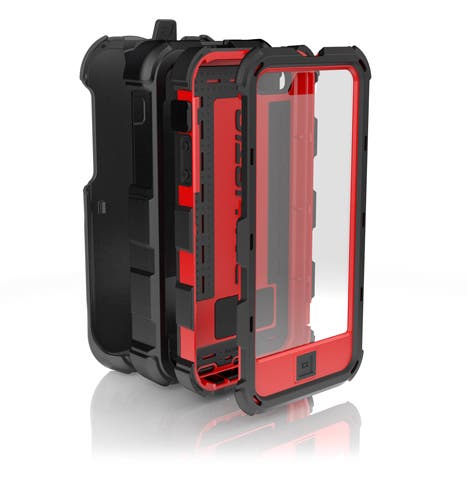 The Ballistic Hard Core brings to the table, one of the most fortified iPhone 5 cases you will find, hands down. I love this case and I've gotten consistently great feedback from folks who I have turned on to this case. The Hard Core is available in a wife pallet of color choices so there is something to fit everyone's style. My personal favorite is the all black model.
The Hard Core is just that, Hard Core! This case earns its name and shines for having both a unique 5-layer design as well as for offering one of the most versatile protective solutions for the iPhone 5 that you will find. The Hard Core delivers its unique style of iPhone protection with two layers of buttressing: an inner polycarbonate skeleton, with accents of silicone over the flaps and thin, water-resistant, polymer membranes over the speakers and mics, and with an outer slip on layer of silicone to bring great impact resistance to the equation. The Hard Core is actually designed to be used either as a standalone hard shell case or in conjunction with the external silicone bumper.
I really, really like the Hard Core case! It does the job it claims to do and it does it well. With its entirely sealable, innermost shatterproof shell the Hard Core is an impressive rugged case on its own, even without the external silicon skin included. The silicon skin adds a minimum of extra bulk, and a maximum of crash safety. The Hard Core even comes with a pop out arm that allows you to prop up your iPhone 5 in landscape mode for those leisurely, more stable moments.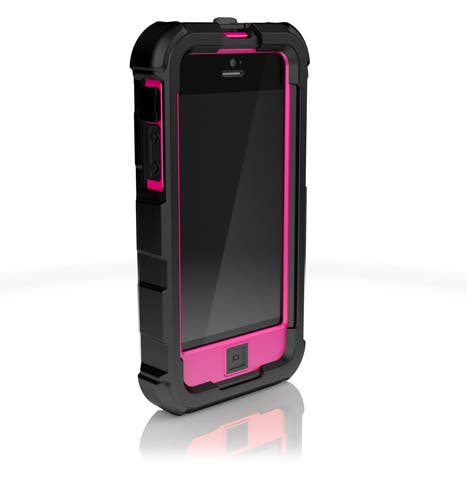 The Hard Core is a case that can take some abuse, while keeping your iPhone safe and secure. Whatever you do, whether you spend your time in a wood-shop or a fire station, in the great outdoors, a hospital, a classroom or anywhere your iPhone might need some extra special protection, the Ballistic Hard Core is designed to handle challenging situations with grace and ease.
The Hard Core is a superior iPhone 5 rugged protective case and one that I can highly recommend for those of you interested in a heavy-duty case that doesn't just say it's tough, but actually delivers on its promises! The Hard Core is available for $60.00 HERE.
---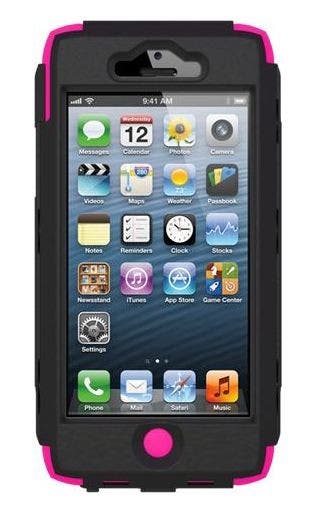 The Kraken A.M.S. for the iPhone 5 features a sturdy, shatter-resistant exoskeleton covering a silicone inner skin. The inner silicone skin provides for the Kraken's shock absorbency and also includes flap covers for the port openings. The external shell is lightly textured to allow for grippiness, but not too textured that it makes it difficult to remove from one's pocket. At the iPhone's corners, the inner silicone pokes through the outer hard shell to give the iPhone even greater protection from drops with its padded corner bumpers. On the rear of the hard shell is a fold out stand that will allow you to prop your iPhone up in landscape mode.
The A.M.S. in the Kraken's name refers to their Adaptive Modular System. A very cool feature whereby you can connect everything from bike and car window mounts, to clamps, clips and tripods (all sold seperately) made specifiaclly to connect with the rear mounting point.
A lot of iPhone 5 cases claim to be rugged protection cases, but of the ones that make that claim, the Kraken is certainly one of the better and more reliable options! When it comes to being able to protect the iPhone from bumps, drops, shock and compression, the Trident Kraken  offers excellent protection and sits at the top of my short list of the best rugged cases for your iPhone 5, and if it's the one you choose, I reckon you will be very happy with your choice, having used one myself and put it through my own rigorous testing in the field! While I would like to see future designs of the Kraken seal up better, with coverage over the back and front cameras for instance, and elimintaing the gaping hole where the Adaptive Modular System connects, I do appreciate the thin membrane of sound-permeable material covering the delicacies of the microphone and speakers. I know some folks don't want their cameras covered with plactic screen protectors, but that measure sure goes a long way towards ensuring debris of all types don't get at your iPhone, and I think doing so would add a lot of protective value to this already great rugged case.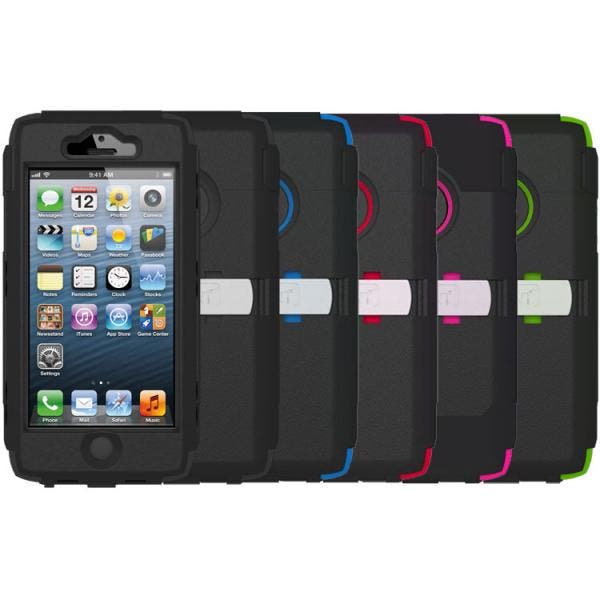 The Trident Kraken A.M.S. comes in a several different color choices and is available HERE for the price of $50.00.
---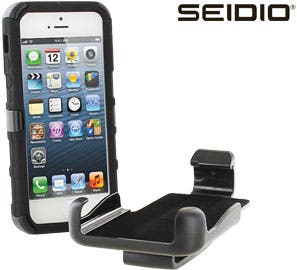 The Seidio Convert (priced at $50.00, which you can find HERE) is actually two very cool iPhone cases in one. The first layer of protection the case offers is in the form of a 2-part "slider" case. This inner case consists of two sections that slide and snap together onto the iPhone making for a sleek and trim first layer of basic protection. By itself the slider portion of the convert will keep your iPhone safe during the day-to-day activities in which you might feel like a bulkier, more durable and rugged iPhone case isn't called for. Perfect for days at the office or about the house (though some of the gnarliest iPhone calamities I have heard of happen close to home, when one least expects it!) the svelte shell will protect your iPhone from small falls, drops and other minor accidents.
With the addition of its extra layers, which consist of an interlocking silicon skin which sandwiches between the innermost slider and a thin external frame-like outermost shell, the Seidio Convert transforms into an entirely new and ruggedized version of its former self. When the Convert's outer layers are included in the equation, the Convert goes from taking a super-thin, minimalistic approach, to becoming a strong fortress of protection around your iPhone.
The soft, shock-dampening silicone also incorporates flaps that conveniently cover your ports when called for and folding back easily to allow for easy access to the dock, headphones and camera. Interestingly, the Seidio is the only case included here in this round up of the top rugged iPhone 5 cases that does not have an incorporated screen protector built into the front of the case. Taking into consideration the great strength of the Gorilla Glass 2, that's used for the iPhone 5's front screen, combined with the fact  that the Seidio comes with an optional stick-on, plastic screen shield, the Seidio still allows you to customize your level of iPhone protection to suit your needs perfectly. And after all, not everyone wants a case that even has a screen protector, preferring to interact with the iPhone as much a possible with it's pristine, durable and responsive glass screen exposed.
The Seidio Convert includes a great belt clip accessory that gets a thumb's up for being so sturdy and also so easy to use, even one-handed! With a locking mechanism that works like a switch clip to free up or clip in your iPhone, the belt clip is a nice design and a secure way to keep your iPhone handy, accessible and safe.
The Convert rounds out (*) this important summary of the best options you have for real, rugged protection cases for the iPhone 5. Not just cases that look good (and they do) but cases that really do, truly offer some of the best heavy-duty protection for your iPhone that you will likely he able to find anywhere. We hope you found this helpful and  informative! I'll be back with more great updates and reviews as the Holiday gifting season continues here at iPhone Life. I'll also be rounding up some of the best rugged-optimized iPad mini cases soon too, so stay tuned!
---
*Honorable mention: The Mophie Juice Pack Pro.
Even though Mophie has reported that the launch of their iPhone 5 Juice Pack Pro is overdue (and being actively worked on) I felt it deserved honorable mention (even though I can't say when it we be available yet) because of any external battery case that I have come across, the version that Mophie created for the iPhone 4/4S was awesome, and amazingly designed. This Hummer of a case was a fine piece of craftsmanship and one of the best rugged iPhone 4 cases period, much less a rugged case that extended your battery life by 150% with a 2,500 mAh battery securely attached.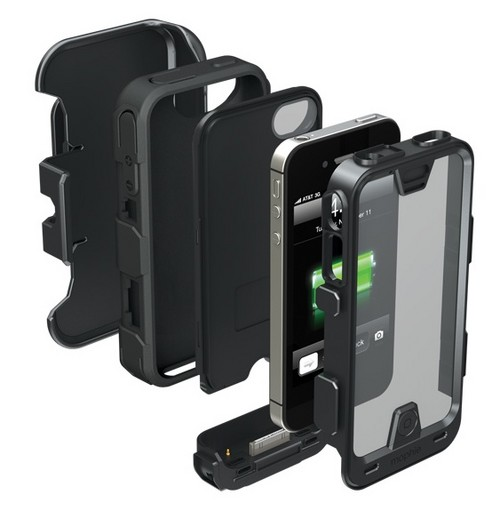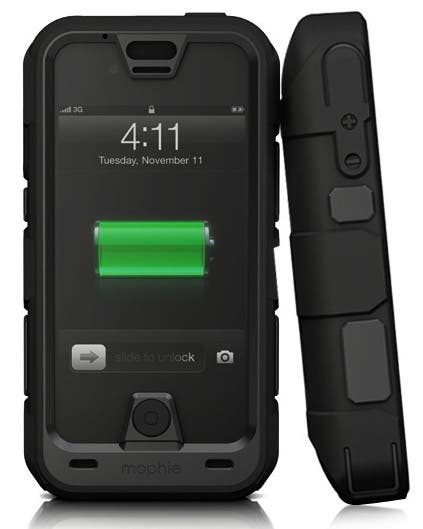 I expect they will have their Juice Pack Pro ready before long, though perhaps not in time for this year's Holiday season. There are new challenges with the new iPhone's design and if I know Mophie, they are working hard on this one and want to get it just right! Keep an eye open for the Mophie Juice Pack Pro, if you or anyone you know happens to be a battery hog in search of a heavy-duty, take-anywhere iPhone 5 case!