By

Daniel Rasmus
Mon, 10/08/2012
The $39.99 Goal Zero Rock Out Portable Speaker does rock out, but they needs a few adjustments before I can recommend them for a hall of fame.
The Good
The heavy-duty case and wooden frame make for a substantial device. In other words, it doesn't feel delicate, which is good in a portable product. For a small portable device, the sound is adequate. Not good separation, but you can't expect that in a single-box device.  The hanging cord is a good idea and came in handy when visiting Yosemite recently where my Apple iPhone played away while the speaker hung on a door handle.

Discover your iPhone's hidden features
Get a daily tip (with screenshots and clear instructions) so you can master your iPhone in just one minute a day.
Unlike similar units I have seen before (I have very similar Zune portable speaker from several years ago) this one doesn't require battery replacement. It charges from a USB port or from any portable USB charger in about 2 hours. I have tested it with mobile and wall chargers and all seem to charge it just fine.
Unique in the portable speaker world, at least in the ones I've reviewed, is the ability to daisy chain speakers. If you are in a large group, that could come in handy if you are using smaller devices for music.
Battery life is rated at up to 20 hours. I've played it for over five and didn't feel it blink.
What Needs Improvement
As expected, this speaker box isn't going to replace your surround sound system. In a quiet room you can easily hear the tininess of the speakers, supported underneath by resonance from the wooden frame. But outside, everything but the loudest and most immersive systems get washed out. The Rock Out works just fine. There is no portable speaker system for which I wouldn't request higher quality speakers, so that is a give-me at this level. What's important, as noted above, is they sound OK outside and will keep the beat moving for small groups.
On the downer side, the mesh interior is a little snug for an iPhone or even the smaller Windows or Android phone. Large phones simply won't fit. My Galaxy Note is a good half-inch wider than the case. And yes, I could place it on a table top with the phone exposed, but that defeats the weather resistance and protective features of a self-contained device—and this from a company that appears to be all about rugged portability.  For larger devices, Goal Zero should consider a larger case, or moving away from wires to Bluetooth. That way, the device could stay in a backpack or other case and still play to the weather-protected Rock Out.
The other problem with the design relates to the snug insertion of the device, which is hard to control without removing it from the mesh. They might want to think about some of the new clear micro-meshes used on items like the Scott eVest, that permit visibility and control through the enclosure.
Since Goal Zero did go with a speaker wire, I would suggest a longer one so the speaker can more easily reach external devices. The existing cord is adequate, but another few inches would allow for more configurations between device and speaker.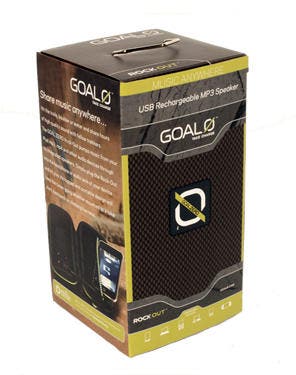 Final Word
If you have a small MP3 player (no size issues for the Apple Nano, Classic or Shuffle, for instance) or a phone no bigger than an iPhone 4s, the Goal Zero Rock Out Portable Speaker would make a great companion for camping trips, soccer practice or family picnics. If you have a larger device, the speaker will work, but it loses its self-contained characteristics, making it just another external speaker.
As phones and MP3 devices get bigger, portable accessories like the Rock Out are going to have to grow with them.
In the meantime, the Rock Out will be rocking out on my more rugged trips where water or grime might make a quick mess of portable speakers designed more for hotel rooms than camp sites -- and least until I upgrade to an iPhone 5, then we'll have to see how it all fits together.
Goal Zero
Rock Out Portable Speaker
$39.99
http://www.goalzero.com/shop/p/24/Rock-Out-Portable-Speaker