By

Anonymous
Tue, 12/22/2009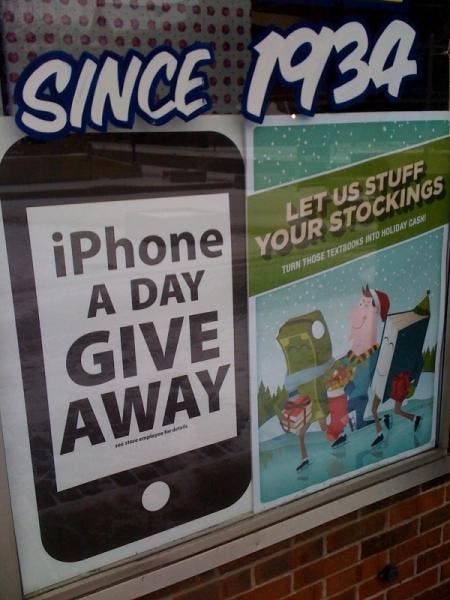 At a college bookstore in Ann Arbor, Michigan, students can enter to win a free iPhone every day, simply by reselling their textbooks. Staff members said that they have been noticeably busier this sell-back season, though they can't credit the iPhone giveaway completely.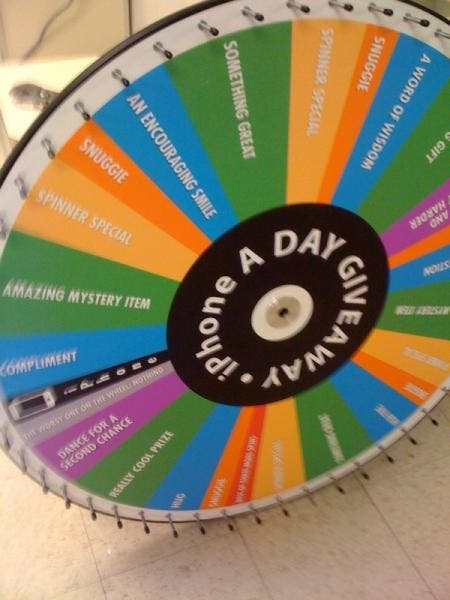 Students who sell their books get to spin the big iPhone-A-Day Giveaway wheel. There are prizes on nearly every slot - though some are freebies such as "An Encouraging Smile" and "A Word of Wisdom." The grand prize is awarded  when the wheel lands on a small slice of black with the image of an iPhone.

If the student's spin ends up stopping at the spot next to the iPhone winning area, bad news. That's the only place on the board that doesn't result in a prize of any kind. Nada.

But just think of the excitement as a student spins the big wheel and it finally stops directly on the iPhone space. Pandemonium, right? Joy?

Not for one student. He told store employees that he already had an iPhone, and asked if he could get a Snuggie instead. Staffers convinced him that an iPhone was worth a lot more than a $20 blankie.

And this guy went to my university?? Standards sure have fallen...