By

Anonymous (not verified)
Updated 05/27/2021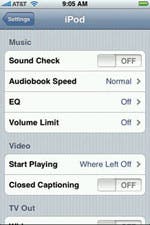 You have a number of options in configuring the sound of your music, which can greatly enhance your listening enjoyment. Go to Settings >Music and tap on one of these three options:
Sound Check: This feature works as a kind of volume compensator to smooth out the differences between tracks, since tracks from different albums are often recorded at different volume levels. Tap the On/Off button to use it.
EQ: This list of sound frequency presets (or equalization settings) is similar to those provided by many of today's music players. It has a total of 22 different presets, from Rock, Hip Hop, and Classical to Bass Booster and Spoken Word. Each setting boosts or reigns back different frequencies to highlight and emphasize sounds appropriate to each genre or sound effect. Note that you can use only one setting at a time.
Volume Limit: This option allows you to set a volume limit so that you can protect your own (or your child's) hearing. Tap Volume Limit and then tap and drag the slider bar to the point where you want the highest level of sound to be. Then tap Lock Volume Limit and enter in a 4-digit passcode, and type it again to confirm it. Note that you do not have to type a passcode in for the Volume Limit to work, only to lock it.
The Music settings screen also allows you to set the speed
at which you want audiobooks to be played. Tap Audiobook
Speed and choose from Slower, Normal, or Faster.