By

Nate Adcock
Thu, 10/30/2008

So, my 3rd Apple iPod, the Touch, which I've had for about a month now is quite living up to the hype so far. It is operating in a most excellent manner, and monopolizing all my free time. I get the feeling that my other gadgets are starting to get p**sed. Recently, I made a big mistake and bought a game from the app store called Spore Origins. If you value your time, you will not get this game!! That's right..nice and slowww...just walk away! No, don't look back!
Uh, ohh. My little guy is about to get poked!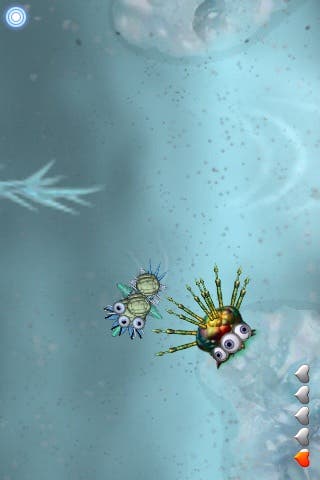 Master your iPhone in one minute a day:
Sign up to iPhone Life's Tip of the Day Newsletter and we'll send you a tip each day to save time and get the most out of your iPhone or iPad.
Spore is a game about evolution, so if you don't believe in it, you might want to look for the "creation" version, which isn't out yet (just kidding). But seriously, a creation version would not be as much fun, because the point is to slowly build your little multi-celled zygote blob of a creature up into a truly savage killing machine by adding teeth, shields, fins, eyes, even a zapper! As you progress through the primordial levels--by eating those less advanced, and trying not to let others take a bite outta you--you gain points and evolutionary experience which unlocks physical upgrades. It's fun, and you start to really get engrossed after about level 10. So, if you got some time to kill and lot's of it, go checkout this game in the app store. The iPhone/Touch version is like $7.99 and the iPod is $4.99 (non-Touch version). I know because like a dummy, I bought the wrong version first, so you might want to take care that you're getting the correct version before checking out (Tip, turn on the Shopping Cart feature instead of "1-Click" in iTunes under Preferences).
Tweaking my creature..Ain't he cute!!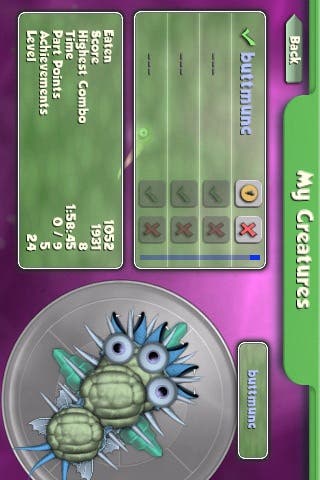 SPore specifics from EA...
Eat-or-be-Eaten in SPORE™ Origins! Put your iPhone's motion-sensing accelerometer to the test by tilting, turning and twisting your creature through the primordial ooze. Feast on the weak and flee from the strong to survive 2 exciting modes and 35 challenging levels. Evolve from a single-cell weakling into a ruthless predator with the Creature Editor. Customize your texture, shape and body parts to improve your offense, defense, perception and movement. Rule the tidal pool with SPORE™ Origins

 
Tilt, turn and twist your way through the primordial ooze with your iPhone's motion-sensing accelerometer.
Pinch, pull, and poke your creation in the Creature Editor, customizing the texture, shape and body parts to fit the way you play.
Experience 2 exciting game modes: Evolution and Survival.
Survive 35 challenging levels teaming with bizarre creatures.
Navigate treacherous caverns to explore various strange worlds.
Enjoy vivid graphics, dynamic animations and atmospheric music on your evolutionary journey.