By

Jim Karpen
Updated 04/18/2013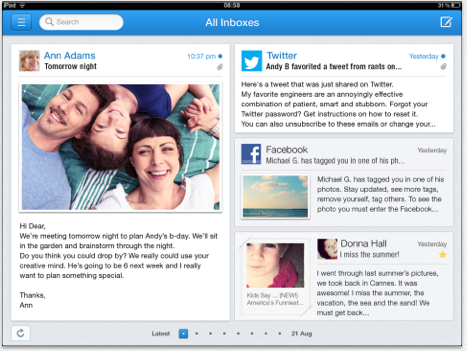 New apps offering a different approach to email is an exciting trend in iOS. And the apps are free! I've recently reviewed the revolutionary Mailbox (for iPhone) and Cloze (iPhone and iPad app), and now comes Incredimail, an email app for the iPad that takes a stunning new approach to visual presentation.
Think of it as Flipboard for Email.
The interface is absolutely gorgeous, like nothing I've seen before in an email app. It presents your email messages in an attractive visual grid. Again, think of how Flipboard changed the Facebook timeline from a list to more of a magazine-like display. Incredimail does something similar. Messages are nicely laid out in a grid, and as with Flipboard, you swipe to move from one page to the next. But the innovation doesn't stop there. As with Flipboard, you can quickly expand any individual item to full screen and then snap back to the grid view. You can also read individual emails within the grid view just by scrolling them. And here's a feature I really like: if an email has a link, tapping that link brings up a preview of the web page within Incredimail. Tapping Close brings you right back to your email message.
Beyond Visual Presentation.
Incredimail's innovation goes far beyond its visual appeal. You can link the app to your Facebook account such that every email you receive from a Facebook friend automatically shows his or her photo. There's also a separate Photo Inbox that just includes photos your friends have posted to Facebook. Unfortunately, I kept getting an error message when I tried to connect Incredimail with my Facebook account, so I could see this feature.
The app has an intuitive and efficient interface for managing email. I especially like that I can tap the Edit button and quickly mark multiple messages for deletion. I also like that when I tap the icon in the upper left corner, my list of mailboxes slides into view from the left, while still leaving my Inbox messages on the screen.
Extra Features and Effects.
The visual touches also include delightful effects when you transition among functions, such as going from looking at your Inbox to creating a new outgoing message. And the app even offers a half dozen different stationery designs for your outgoing emails. They're presented in the right margin next to your blank email, and you simply tap the one you want to use.
Interestingly, the app only works in landscape mode, the obvious reason being that the visual presentation is much more effective that way.
Incredimail has a unified Inbox, and supports iCloud, Gmail, Yahoo, AOL, and any other IMAP account.
It's amazing how email is being re-envisioned lately, and Incredimail really is an impressive new approach to visual presentation. The comments in the App Store are generally positive, but with some complaints about the sort of glitches an early-stage app has, like my inability to connect to my Facebook account.