By

Jim Karpen
Wed, 01/11/2012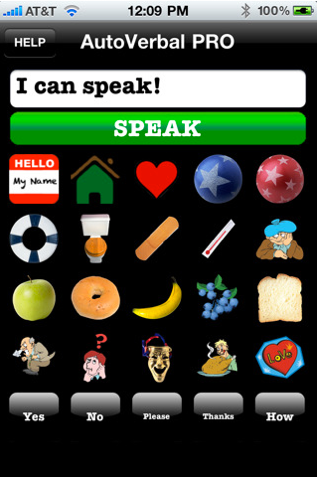 It's nice to see an app by fellow blogger Todd Bernhard, president of No Tie software, win an award at CES. Getting recognition was AutoVerbal Pro Talking Soundboard, a $9.99 app that allows people to communicate who are unable to speak due to conditions such as stroke, surgery, cerebral palsy, and autism. The app has hundreds of photo buttons representing common words or phrases. Users can also program a variety of buttons to speak custom messages. In addition, users can type anything and it will be spoken using text-to-speech. The app won the prestigious Sterling Award in Relationship/Family Caregiving category. Winners were announced at 4th Annual Silvers Summit, sponsored by AARP, at this week's Consumer Electronics Show in Las Vegas. The awards represent best-in-class products and technologies for Americans aged 50 and older.
This is yet another example of how the iPhone, iPad, and iPod touch are being used for a wide range of purposes that Apple and Steve Jobs must never have imagined. In the past, patients had to use expensive, bulky devices costing $3,000 to $6,000. AutoVerbal is a universal app, meaning that it runs on the iPhone, iPod touch, and iPad with a screen-specific interface for each.
"No Tie is honored to have been singled out for their contributions to the non-verbal community," said Todd. "Many of us take something as simple as talking for granted, but it can be a struggle for so many, whether they are children or seniors. Our goal with AutoVerbal was to create an elegant yet affordable app that people of any age could use and not feel stigmatized. When AutoVerbal became the #1 iPad medical app and #2 iPhone medical app, we were thrilled, but it's the ongoing appreciation from our users that is really satisfying."
Award winners were chosen by the expert panel of judges from Aging in Place Technology Watch, AARP, Carnegie Mellon University, Care2, Compelling Telling, Continua Health Alliance, Mary Furlong & Associates, National Alliance for Caregiving, NPR Labs, PBS Kids Interactive, SmartSilvers Alliance, Vibrant Nation.
"We congratulate No Tie and all of our Sterling Award winners who offer unique ways to enrich the lives of the 100 million boomers and silvers in our society today," said Sherri Snelling, co-producer, Silvers Summit. "We hope the Sterling Awards become an annual showcase that illustrates the new and improved ways that technology can help us stay healthy, happy, connected to family and friends, living in our homes longer, and making a difference in the world as we age."
AutoVerbal builds upon the success No Tie Software has had with the AutoRingtone family of text-to-speech talking ringtone apps. AutoRingtone assists both the visually impaired community as well as mobile professionals who would prefer to hear who is calling rather than take their eyes of the road.
On a personal note, I not only appreciate Todd's software but also his contributions to our blog and our magazine. Plus, he often represents the magazine at trade shows. He's a real iOS enthusiast who loves the platform, loves exploring its potential in the form of useful apps, and enjoys sharing his knowledge with others. He, like most of our contributors, gives his time freely. This extraodinary support from the community of iOS users is one of the major reasons for the success of iPhone Life magazine.