By

Anonymous
Updated 08/31/2017
1700.  Wow! That is a pretty big number.  Thanks to the brand new (and much desired) Purchased tab in the iTunes App Store on my iPad, I can now tell you that is the total number of apps which have graced the screen on my iPad or iPod Touch.   As you might imagine, those apps are not nearly all created equally.  There have been quite a few duds, many of which barely lasted a few minutes before they were subjected to near instant deletion.  On the other end of the spectrum are those apps which I could not live without.  Apps which I use nearly everyday.  Those are the apps which we are here to discuss today.  This was a hard list to compile, because there are many fantastic apps.  But if you were a brand new iOS user, and you asked me which apps you should grab right away, these are the ones I would most likely recommend (presented in alphabetical order). Here are some apps that'll have you wondering, "where have these apps been hiding all my life?"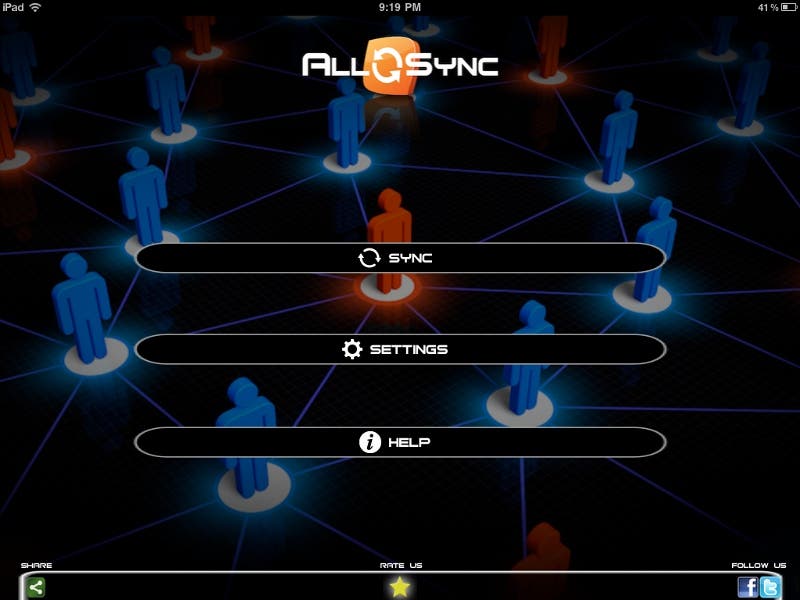 AllSync: Like many of you, I use Google Contacts to track and maintain my contacts.  Given my reliance on Google's other web apps (calendar, Gmail, etc…) it only makes sense to do so.  Unfortunately, while iOS syncs almost flawlessly with Gmail and Google Calendar, there is not an easy and native way to sync your contacts from your Google account to your iPad, iPod Touch, or iPhone.  This is where AllSync comes into play.  It quickly and easily syncs your Google contacts straight to your iPad, eliminating the need for external sync services.  Not only that, but AllSync offers quite a bit more than just syncing your Google contacts (though that was the most important service to me.).  In addition, AllSync will connect with your Plaxo Account, Linkedin, Facebook, Twitter, Yahoo, Netlog, Orkut, and even MySpace. I will say, however, that while many services are included in this app, there were some notable omissions, such as Microsoft's Hotmail/Live Mail service, as well as AOL/AIM.  Hopefully, more services will be coming soon.  It was also a bit disappointing to find that some services severely restricted the information which could be synced via AllSync.  Facebook, for example, cannot sync phone numbers, emails, and addresses.  These limitations were due to restrictions from the service itself, not from the AllSync app.  Most mobile operating systems (including Windows Phone, Android, and WebOS) natively allow you to sync your contacts from multiple sources and combine them into a universal contact list on your phone, so I was perplexed by iOS' inability to do so as well. AllSync fills this whole left by Apple's developers.
AllSync is a universal app, and is available for all iOS devices in the iTunes App Store from Riccardo Pietrucci for $1.99.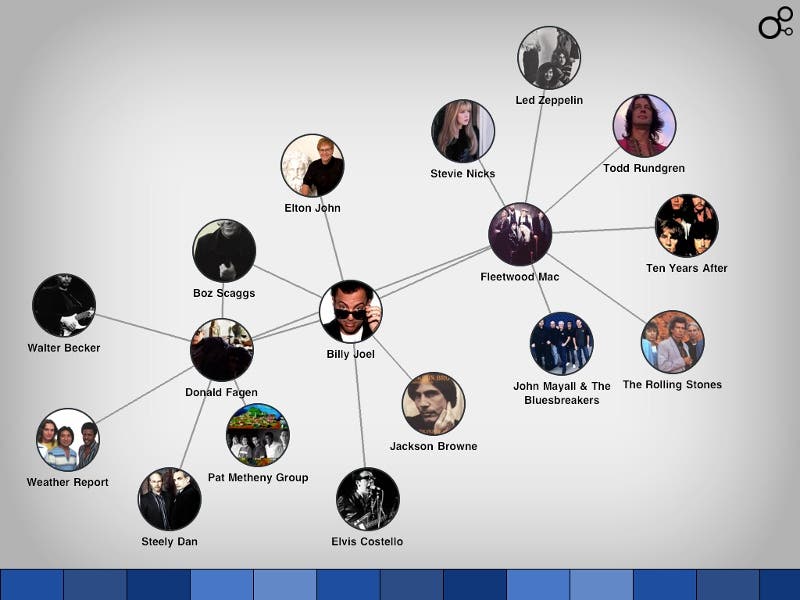 Discovr Music: I love music.  What's more, I love discovering new music.  Which is exactly what Discovr Music is all about.  Just type in any musician or band.  Discovr Music will create a chart showing other bands which are connected, related, or just similar.  Tap any of the related bands to find a whole host of new connections branching off of that hub.  It is like a massive family tree for music.  The best part is that since the bands in the branches are related to bands you already like, you are much more likely to enjoy the musical suggestions.   Double tap any musician to open up a complete listing with a biography, song list (which you can sample), blogs, images, reviews, and links.   This is an absolutely fantastic way to discover incredible new music.
Discovr Music is a universal app available from Jammbox for $1.99 in the iTues App Store.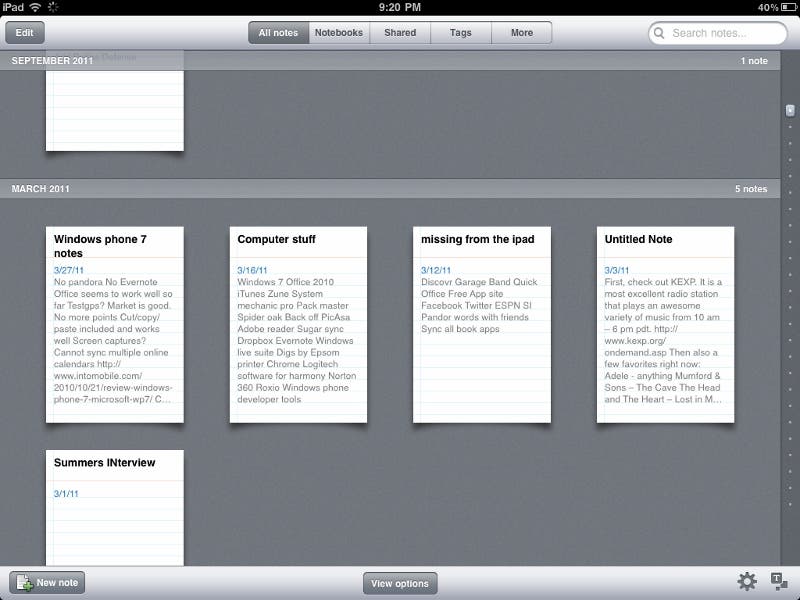 Evernote: There are a lot of note taking apps available for the iPad…a lot of note taking apps.  For the most part, they all offer similar, though slightly different user experiences for the same functionality.   Evernote stood out in this otherwise crowded field for two reasons.  First, you can turn virtually anything into a note.   Note only can you type, write, or draw a new note; you can also upload documents, photos, pdfs, or just about anything else that can be viewed or read on a notepad.  More importantly, Evernote is a truly universal app.  While Apple uses the term universal to define an app which can be used on any iOS device, users of other systems will tell you that is a pretty small universe.  Evernote is available on every platforms out there, and since your notes are all stored online, you can access any note from any device, edit and then sync so your changes are always available from anywhere.  In addition to the iOS version, there are also apps for Windows, Mac, Android, Blackberry, Windows Phone 7, and even WebOS.  This ability to write a note from one location and then call it up anywhere else is what really makes Evernote indispensible for me.
Evernote is available for all devices absolutely free from the Evernote web site.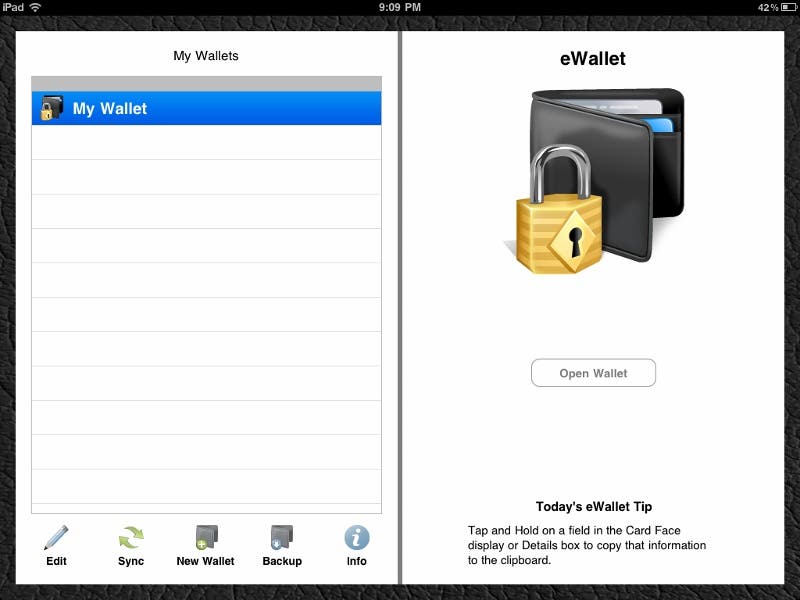 eWallet: I don't know about you.  At my job, I have to change my computer password every 90 days.  And that is just one of many passwords I have online.  Toss in some credit cards, pin numbers, and other accounts and let's just say i can barely remember my birthday amongs all of those digits, letters, and at least one special characters.  Enter eWallet.  I have been using eWallet on pretty much every device I ever owned since way back in my Windows Mobile days with the Dell Axim.  It brings instant and secure organization to even the deepest, most cluttered pile of paper scraps.  If you are like me and have ever sat staring at the screen trying to remember how to get past the password prompt on that account you almost never use...then this is going to be a must have app on every device.
eWallet is a universal app available for iPad from Ilium Software for $9.99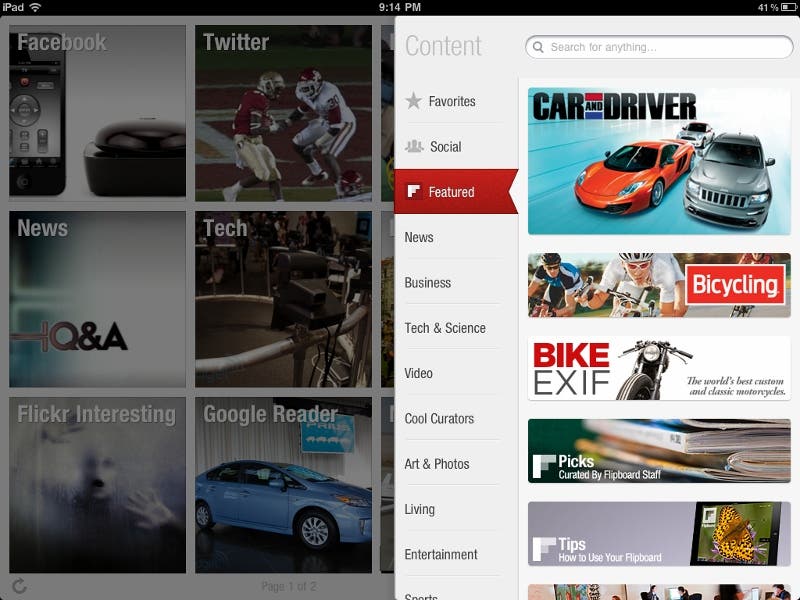 FlipBoard: If you are reading this, then you know how to use a computer.  If you know how to use a computer, then you can probably connect to the Internet.  These days, if you connect to the Internet, then you are involved in some form of social networking.  Whether that is Google Reader and sharing RSS feeds, Facebook, Twitter, or just checking out your favorite sites, Flipboard is the app which puts it all together for you.  Flipboard takes all of the updates, photos, articles and more frm your favorite social networking sites, news sites, and other Flipboard sources, and puts it all together in one convenient magazine style format.  No longer will you need to jump from one site to another checking all of your feeds.  It would be nice if additional options were included, such as Google+, Linkedin, Microsoft Live, and others, but I am sure those options and others could be coming soon in this frequently updated app.  There are dozens of options available on your iPad to check all of your social media and networks, but none make it as easy or attractive as FlipBoard.
Flipboard is available for Free from Flipboard, Inc. at the iTunes App Store for iPad.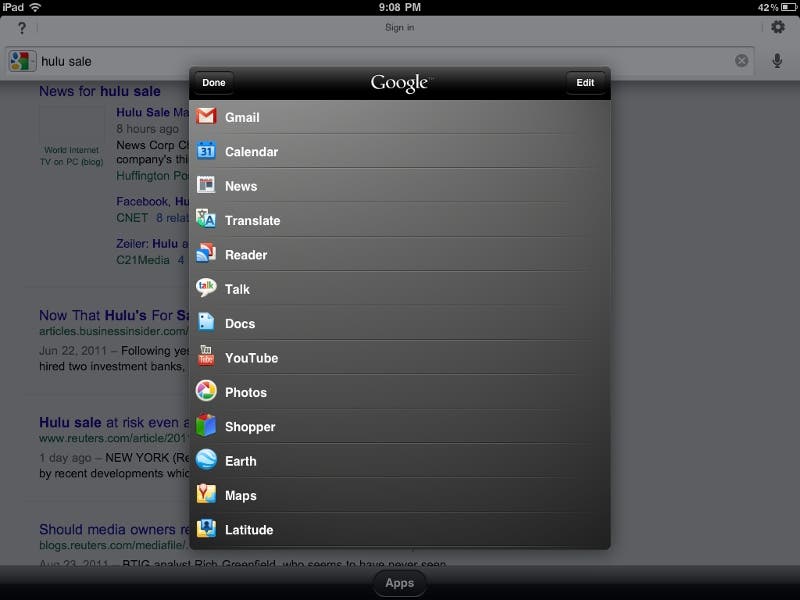 Google Search: I am a huge Google user.  Most of the people I know are huge Google users.  Heck, you are more than likely a huge Google user too.  Frankly, I cannot imagine an Internet without Google these days.  [Bing!] While they have branched out into a number of different areas (smartphones, TV consoles, web apps, etc…) the foundation of the company that is Google still lies in the bed of Internet search, and that is the beauty of the Google app.  Like Google's infamous homescreen, the app is simplicity itself.  Just type your search terms into the navigation bar and watch the results appear.  Clean, simple, and easy.  Though if you have a need for more, just tap the apps button to access Google's entire suite of web apps.
Google Search is a free and universal app available from Google in the iTunes App Store.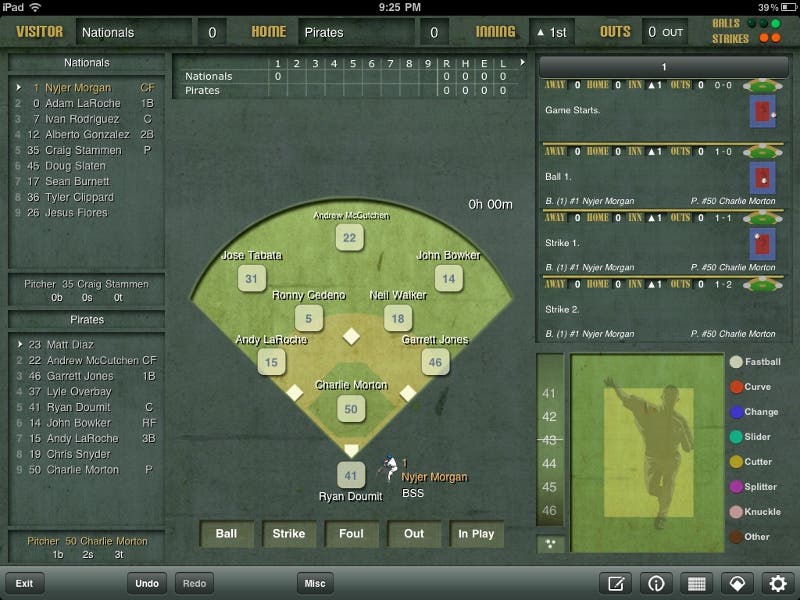 iScore Baseball Scorekeeper: I have written about this fantastic app on numerous occasions in the past.   The bottom line is this.  If you are a baseball fan at any level from the MLB all the way down to beginner T-ball, then you will need this app.  This is far more than just a baseball game scoring app.  It is a scoring and full stat keeping app.  I love to use it when we attend major league games, but it is even more essential for all of you Little League coaches.  Use it to score the games.  Use it to keep stats of your players and team.  Heck, you can even use it to set up a website for your league and store all of your scores and stats online.  This is a must have app for every iPad wielding baseball fan.
ESPN iScore Baseball Scorekeeper is available from ESPN in the iTunes App Store for $9.99.  Some additional options require in-app purchases, which cost between $9.99 and $19.99.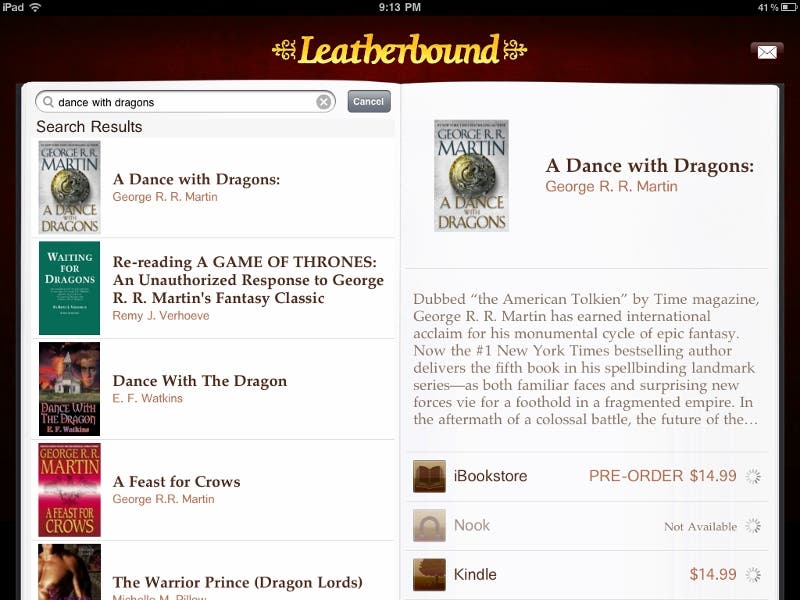 LeatherBound: When I originally bought the iPad, one of the primary uses I foresaw for it was reading ebooks.  In that respect, the iPad has more than paid off in spades.  Not only does it feature the iBooks app, but also Kindle, Barnes and Noble Nook, and plenty of other ereading apps.  The only problem here was that it can be a bit cumbersome trying to decide which ereader to use.  For me, they all work just fine, so the real decision is where can I get the best price for my book.  Leatherbound really helps with that decision.  Just type in the title or author of your book and it will do all of your comparative shopping for you.   It will immediately show you how much the book would cost from the iTunes Book Store, Amazon Kindle Store, and Barnes and Noble Nook Store.  What a great idea.  The only problem I had was that it only offers those three sources.  It would be nice if Google Books, Kobo, and Fictionwise (among others) would have been included as well.
Leatherbound is a free, universal app available from Leatherbound in the iTunes App Store.
The Kindle App is a free, universal app Available from Amazon in the iTunes App Store.
The Nook App is a free, universal app Available from Barnes and Noble in the iTunes App Store.
The iBooks App is a free, universal app Available from Apple in the iTunes App Store.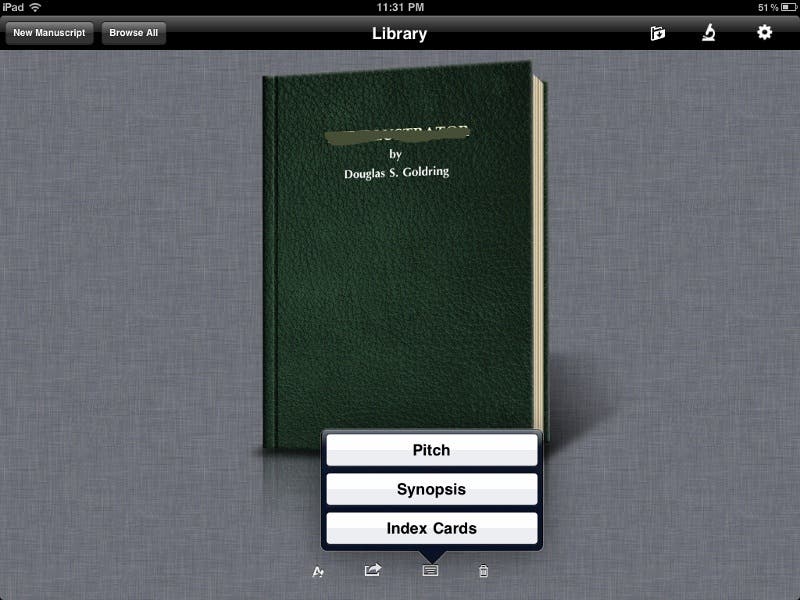 Manuscript: Anyone who writes a lot knows that there is a lot more to it than just throwing random words on paper.  This fantastic app gives you many of the tools you need to get started and keep on writing.  My favorite part of the app are the index cards, which allow you to plan out your characters, plot devices, and general ideas, shuffling them around as needed.  You can also outline your story and use the main section to write the body of your story.  I use this app every day in my writing.  It is attractive and extremely functional.  I do think it could add a few additional tools, such as a story outliner and character sketches.  I also wish there had been an easier way to export your finished work to a format which could be viewed in a more traditional format, such as MS Word.  Nonetheless, if you are a writer, or aspire to be, this is an absolutely essential app.
Manuscript is available from Black Mana Studios in the iTunes App store for $6.99 ($3.99 for iPhone).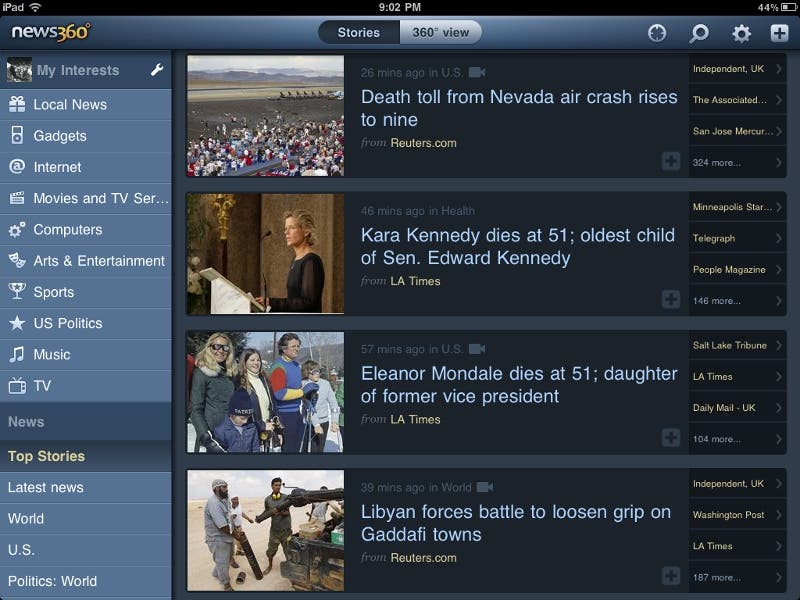 News 360: This is one of those apps which I have on pretty much every device.  I have used it on Android, Windows Phone, iPod Touch and, of course, the iPad.  I love it because it saves me the trouble of zipping around to various news sites checking the headlines and major stories.  News 360 scans all of the major news sites, combining them all into one single stream.  You can even connect it to your Facebook and Twitter feeds in order to stay up to date on the articles your friends are sharing as well.  Your items will be divided by topic, or you can tap 360 view to enter a panoramic stream of photos accompanying the day's top stories. 
News 360 is available for FREE from News260 in the iTunes App Store.
Pandora: This is probably the best way to discover new music.  Pandora puts the music genome project in your hands, allowing you to create your own personal radio stations.  Just tell the app what you like (it can be a band, song, artist, or composer).  Pandora will instantly create a station with the music you selected, as well as other similar bands or artists.  This is my absolute favorite means of discovering new music.  It takes a lot of the mystery out of exploring new music and expanding your musical tastes, by showing music which is just a few steps away from the music you already love.  Perfect.
Pandora is a free, ad-based app available in the iTunes App Store.  You can remove the ads and upgrade to Pandora One at Pandora's website for an annual subscription price of $36.
PhotoPal: One of my earliest reactions to the iPad was how wonderful it would be as a photo editing tool.  It is a lot like having your own portable light table, right in the palm of your hand.  Apparently, quite a few developers agreed with me because there are quite literally dozens of apps which will help you enhance, filter, modify, or alter your favorite photos.  I took the trouble to test them all out so you do not have to, and I can tell you that the best bang for your buck comes from our friends at MacPhun and their app, PhotoPal.   What I love about PhotoPal is not just that it gives you an incredible array of photo editing, effects, and color tools; but also the simple and easy to use interface.  Each tool is represented by a large button, making it the most user friendly photo editing app in the iTunes App Store.
PhotoPal is available from MacPhun in the iTunes App Store for $1.99.
PrinterPro: I am probably not alone when I say that one of my initial disappointments with the iPad was its inability to print.  Since that time, Apple added the iPrint feature, which is fantastic if you own one of the three printers which can connect to it.  For the rest of us, a real solution is required, and that solution comes from Readdle and PrinterPro.  Printer Pro offers a solution for all iPad users to print to any printer connected to their wireless network.  The only requirement is that your iPad and printer be connected to the same network.  Just open the document you wish to print in the Printer Pro app and voila, just hit print and wait for the papers to fly from your printer.   This is really one of those apps which makes the iPad a more perfect device.
Printer Pro is available from Readdle in the iTunes App store for $6.99.   You can try before you buy, however, with the free  Lite version of the app.
Quickoffice Pro HD: One of the promises of the iPad was that you would never need to lift your laptop again.  as time (and apps) go by, I find this claim moves closer and closer to the truth.  One of the biggest steps in that area for me was the addition of Quickoffice Pro.  This is the complete office suite for which you have been looking.  Quickoffice allows you to create, edit, and share Word documents, Power Point presentations, and Excel spreadsheets from your iPad.  My favorite part is the online sync, which allows you to save documents with SugarSync, Evernote, Dropbox, MobileMe and more.   If you plan to use your iPad as a business device, then this is an absolute must0have app on every device.
Quickoffice Pro HD is available from Quickoffice for $19.99 in the iTunes App Store.
Sports Tap:
Sports Tap is a free, universal app.
Sugarsync: Ever since Apple announced the upcoming iOS 5, the talk has all centered around iCloud, their new cloud sync capability, which allows you to grab your documents and files from any iOS device.  Well, before there was iCloud, there was Sugarsync.  With Sugarsync, just save your files to the specified folder or location, and they will automatically sync to the cloud, allowing you to view them from any device.  Unlike iCloud, when I say any device, I mean ANY device.  Sugarsync connects to every operating system I have used, which means you can begin drafting a document on your Windows computer, edit it on your iPad, and then finalize on your Droid.  Then, when you are ready to review it again, all of those changes will automatically sync to all of your devices.
SugarSync is available for free in the iTunes App Store, and includes 5 GB of online storage.  Additional storage is available for an annual subscription price at www.sugarsync.com.
ToDo for iPad: I think task managers may be the most oversaturated category in the iTunes App Store.  It seems like everyone makes one…some better than others.  For my money, however, none have been able to top Appigo and their ToDo for iPad.  Appigo adopts a splendidly drawn organizer, which provides the interface for your organization needs.  This standard organizer, however, can be spruced up considerably with in-app purchased themes (ranging from free to $1.99).  The best part for me, however, was the Toodledo integration, which ensured that all of my tasks were available, even if I was not able to grab my iPad. 
ToDo for iPad is available from Appigo in the iTunes App Store for $4.99. 
The Weather Channel Max: In my mind, there is no more authoritative source for weather forecasts in the United States than the Weather Channel.  Which explains why this is the only Weather app I ever use.  It includes everything I need in one package.  It gives you the full 10 day local forecast (including hour-by-hour predictions), severe weather alerts, and an animated weather map which shows both the last few hours and the upcoming hours, so you can see what is coming.   Most importantly, though, the app is incredibly accurate…as you might expect from the Weather Channel, and really, when you need to decide whether to wear a jacket or carry an umbrella, isn't that all that is really important?
The Weather Channel Max is a free app available in the iTunes App Store.