I've been hearing a good deal of positive feedback from my peers in the tech press about the Blue Microphones' Mo-Fi headphones ($349.98), so I was eager to spend some time sampling the audio performance and comfort that these oddly designed headphones offered. What I discovered was a pair of high-end, superior-quality headphones that manage to set themselves apart from a crowded field in a number of unique and distinguishing ways.
Game Centered features roundups and in-depth reviews of the best in iOS games and related gaming news. Among the App Store's myriad games, it's all too easy to overlook some of the greats. Each installment of Game Centered will take a close look at a select few worthy of special recognition, and we have a lot to cover in this, the first installment of Game Centered in 2015! After a brief period of relative quiet on the iOS game front, things are picking up, with 2015 widely expected to be the year that mobile games overtake console games for revenue generated, and many big name titles coming down the pipeline. Read on after the break for some of the latest and greatest iOS-related gaming news and info.
Earlier this year, when Apple's Eddy Cue said that "we've got the best product pipeline that I've seen in my 25 years at Apple," he apparently wasn't exaggerating. This year has been nothing short of spectacular for Apple, with the release of one innovative and impressive product after another. It would seem the creative spirit of Steve Jobs is alive and well in Cupertino California. As Tim Cook reiterated today, this is the "strongest lineup of products that Apple has ever had." Congratulations Mr. Cook, job well done. Now as Apple wraps up it's last major product announcement of 2014, let's take a quick look back at what a year it's been for this powerhouse company as it proves itself to be more cutting edge and more relevant than ever.
The following dozen games are either ports of popular console titles, or iOS games that shine in their own right as being console quality. To be included on this list, a game must either be a new release as of this year, or it must have been updated recently to support iOS 8 and Apple's advanced new programming interface known as Metal. With the introduction of iOS 8 and Metal, alongside the powerful A8 and A8X processors that are inside the latest iDevices, Apple has leveled the virtual playing field. It would be ignoring the facts for a core console gamer to say that iOS can't support video games that are on par with console or PC titles, especially if you indulge in iOS' streaming capabilities that allow us to play these great games on a large screened TV. With the graphic capabilities of iOS 8 and the exciting titles currently available for the platform, it's easy to see how Apple's iOS is leading the way in a mobile eSport industry that is on track to bring in a revenue of over 24 billion dollars this year, and set to overtake PC and console gaming's revenue in 2015. As the holidays are upon us again, don't forget that you can gift any of these apps to your favorite gamer via the App Store.
A Chinese-language publication in Taiwan with sources in Apple's supply chain has reported that Apple will up the amount of RAM in the next iPhone to 2 GB. But even more important, it will be next-generation LPDDR4-based RAM. According to an article on Forbes, this type of RAM is twice as fast as the RAM in the current iPhone.
Drones, drones and more drones. Pardon the pun, but drones were all the buzz at this year's CES. Along with the iPhone-Life-award-winning, high-end, HEXO + drone ($1,149.00), and the ultra portable and more affordable ZANO drone (approximately $200.00), which received honorable mention and which you can read more about here, CES also featured several other excellent entries in the iOS-controlled drone category. Even though CES has come and gone, the excitement over the plethora of drones exhibited on the CES show floor lingers on.
FaceTime is great, I love the app and use it often. However, as I've aged, and technology has advanced, I have noticed an interesting phenomenon whenever I FaceTime with anyone who is around my age or older. If you are over 30, read on after the break; this one's for you...
I remember interviewing Oculus co-founder and VP, Nate Mitchell at CES 2013, back when his company was barely more than a humble crowd-funded campaign demoing a chunky, duct-taped box that strapped precariously on to your head. We talked optimistically about the future of virtual reality (VR), agreeing that the potential was great, even though consumer interest in this fledgling platform hadn't had a chance to gather much steam. Fast forward three years and Oculus is now a division of the Facebook empire, and we have Facebook founder and CEO Mark Zuckerberg weighing in on the impact that this emerging technology will have on the world.
After scouring the sprawling sea of tech-gear that is CES, here's a compilation of the best of the adventure-proof, rugged gear that was on display. While not all of the items featured here are available for order quite yet, all of these products are expected to start shipping by Q2 this year, sometime around March most likely. Read on after the break to see what's coming in the world of heavy-duty gear for our iOS devices.
The best of the CES show is often not on the beaten path. One key vendor we make sure to lock in on every year is the Imagination Technologies meeting rooms in South Hall at CES 2015 (way back in the corner). These guys are one of a select number of innovators that design the low-power, system on chip (SoC) technology needed to run our smart homes, smart cars, and smart mobile devices.
The newest smart lens from Kodak, the PIXPRO SL5, debuted at CES this week. We got to sit down with the Kodak team and get the full scoop on this impressive iPhoneography accessory. After hearing all about what this little lens can do, and seeing it put through its paces, it was apparent that we were looking at a product that was well deserving of our iPhone Life Magazine Best of CES award.
The Philips Fidelio NC1L on-ear headphones with Active Noise Cancellation ($299.00) made waves at this year's CES, touting a direct digital connection to your iDevice via Apple's Lightning port. Even though Apple (quietly) announced support for this headphone feature earlier last year, few companies have taken advantage of this connective potential, not even Apple's own headphone company, Beats by Dre. The ability of the NC1L to establish a direct, 24-bit, Digital to Analog Conversion (DAC) is impressive enough. Couple that with the fact that the NC1L draw power for their Active Noise Cancellation from your iPhone or iPad and it's no wonder that these amazing sounding cans are the recipients of iPhone Life Magazine's Best of CES award.
You could do it the old way, of course. Water and monitor your garden and lawn health manually. You may also waste a lot of water, and potentially kill your newly planted hydrangeas in the process. GreenIQ ($249) purports to take some of the guesswork and dilemma out of the proper care and feeding of your outdoor environment by monitoring the weather and adjusting your irrigation to optimal levels while you get to sit back on the porch and enjoy your garden.
CloudOn was one of the early, free, mobile-editing solutions to come to iOS (see our previous review here). The software provided access to a virtualized office suite of editors, which meant that you had to be exclusively online to use it. In terms of document editing, however, it was full featured and could sync docs to several popular cloud services like Dropbox, OneDrive, and Google Drive. In October the app was updated markedly, adding the ability to locally edit documents. Kudos are in order— it's a big plus for iOS users, but the other editors still need a bit more work.
Videography and the iPad don't usually go together. And that's a shame because the large screen of the iPad and even the iPad mini make for a great video editing tool. Without a USB port or SD card slot, transferring video files to the iPad is a hassle, even with AirDrop. Ideally, you could easily record quality video on the iPad and edit it immediately using iMovie or third party apps.
As our kids get older, their wish lists seem to get smaller and more expensive. No more asking for Barbie dolls and Matchbox cars—we're on to iPads, iPhones, and Bluetooth accessories.
It's that time of year again. Right after a new iPhone comes out there is the inevitable deluge of great cases to protect your new investment. This happens with every iPhone release, but perhaps never more markedly than with the introduction of the completely new form factors of the iPhone 6 and 6 Plus. If ever an iPhone needed a case, it is these large and larger models, with their increased real estate, slick, rounded edges, and extra weight. Rather than clump a bunch of individual cases together I'll be focusing on one great case each  week over the course of the coming months. This week's featured case is the Powerful; a tremendously protective, extreme-duty iPhone case  of gargantuan proportions from Love Mei.
I've attended dozens of CES (and COMDEX) tradeshows and every time I return, people ask me "what was the big thing this year?" Usually it's something straightforward like larger televisions, 3DTV, Blu-Ray, tablets, or smartphones. But this year, the big thing was "THINGS" itself! The phrase "The Internet of Things" refers to the increasing connectivity and intelligence of ordinary tools and appliances. Thanks to technologies like Bluetooth Low Energy, ubiquitous Wi-Fi, and IPv6, we have reached a tipping point where everyday devices like light bulbs, door locks, and thermostats can be connected to each other and to the Internet.
I first witnessed the MyScipt Calculator at the Mobile App Showdown a couple of years ago at CES. Iwas frankly blown away by the fluid math solving prowess of this app, and it was not surprise when it won the top honors that year. MyScript did not stop there. They kept right on creating innovative extensions of this technology, particularly the hand-writing recognition now baked into a number of MyScript apps. I do not exaggerate when I say that MyScript Smart Note (free), is an amazing note-taking application for iPad See it in action in the embedded video following the break.
If you like and use the SoundHound music app (free), which can guess melodies like a musical savant, then you might want to add TouchTunes (free). SoundHound recently announced a team up with TouchTunes: an in-venue entertainment and music platform that provides service at over 60,000 locations. With SoundHound and TouchTunes together, you can now get your online music choices queued up when visiting any TouchTunes supported location!
Pages
Article Spotlight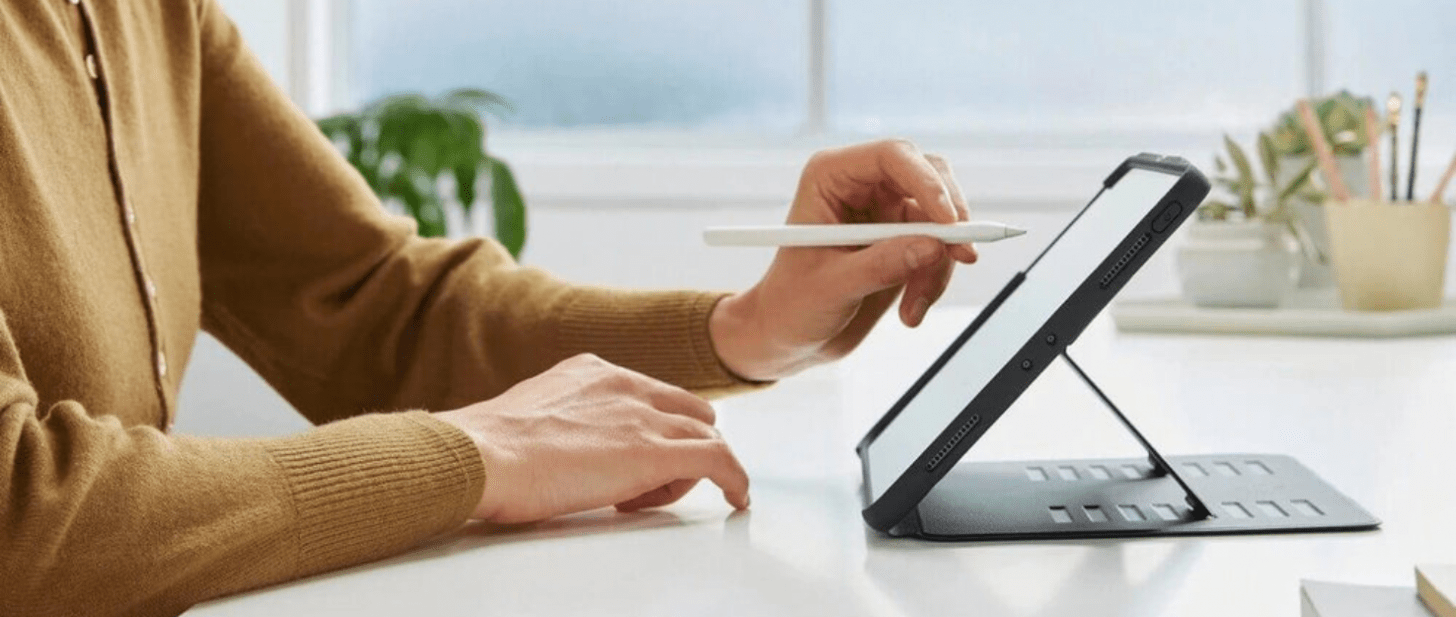 Zugu's iconic iPad case is sleek and modern while providing military-grade drop protection. As a result, Zugu has amassed an impressive following as Amazon's highest-rated iPad case. Just one of its 75,000+ five-star reviews calls it 'The absolute best…I actually feel safe around my kids with this case.' Far from an overnight success, Zugu has focused on making one product, and consistently improving. For over twelve years, Zugu engineers have toiled away in pursuit of the perfect iPad case. They've refined, tested, and refined again - and it shows.
Featured Products
Keeping your tech safe and organized while you are on the go can be tough, but CASEBUDi Electronics Organizer Case has your back! These nylon bags keeps your electronics from getting lost in large luggage and safely stored to prevent damage. Available in Midnight Black, Sunset Orange, Cool Grey Fog, and Bright Sky Blue, this compact bag is stylish and practical. This case is 9.5 inches long, 3 inches wide, and 3 inches tall, so it is small and size and lightweight, yet it fits cords, cables, charging blocks, and other small accessories with ease. Stop wasting time digging through your purse or bag once and for all!
Hearing well can transform the way we experience the world, and with Eargo 6, no compromises are necessary. These virtually invisible hearing aids are comfortable, water-resistant, easy to charge, and automatically optimize your experience for changing sound environments! The new Sound Adjust feature with Eargo 6 identifies background noise and automatically reduces it, which helps the wearer hear speech more clearly without extraneous noise. It also adapts to loud environments and lower-volume situations. Start listening to your full potential with Eargo 6 today!