By

Dig Om
Tue, 09/09/2014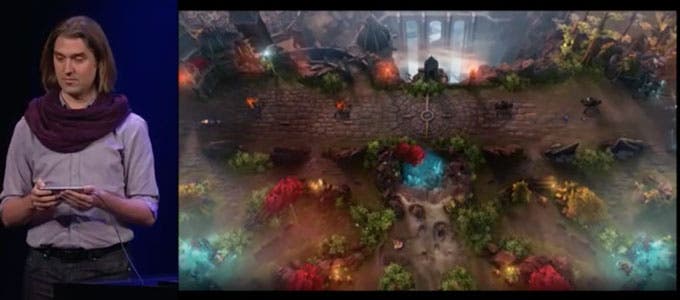 While the new iDevices stole the show at today's Apple event, it's safe to say that what comes under the hood with these new smartphones and tablets is equally as impressive as their meticulously designed exteriors. Case in point; with the introduction of iOS 8, Apple's new programming interface, called Metal, is now available to experience in all of its grandeur. In particular, iOS gamers are in for a treat with all of the improved graphics and snappy responsiveness that Metal delivers. Game developers have had their hands on Metal for awhile now, which means that right out of the gate we can enjoy the unparalleled console-caliber capabilities that Metal allows.

Back in June, when Apple first introduced iOS at their Yerba Buena media event, game developers Epic Games were once again on hand to help the Cupertino company show off the impressive graphic power of Metal. Their free-to-play Zen Garden app featured levels of shading and AI that rivaled even the best of the console and PC titles. Now with the release of iOS 8, Zen Garden is available to download from the App Store. It's a mind-blowing way to take the incredible new super powers of Metal for a test drive. While Zen Garden can certainly claim to be the first out of the gate as a Metal based app, it will definitely not be alone, as other developers of graphic intensive games have major releases just around the corner that have been tweaked to leverage the full potential of Metal.
Technically Speaking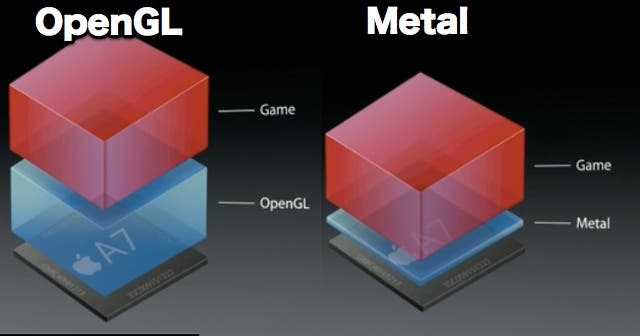 Metal does away with much of the deadwood that was part and parcel of designing AAA games for iOS. Previously, if developers of high end mobile games wished to communicate with the iDevices GPU they had to take into account the existing OpenGL ES framework. These OpenGL ES frameworks were inefficient and created excess overhead between the GPU and the software running on it. Think of it this way; if you speak only English and your new classmate speaks only French, then you need someone who speaks both languages to serve as a translator. This is a simplified way of looking at how the old-school OpenGL operated. It sat between the game and the core hardware and translated function calls into graphic commands which in turn get forwarded to the iDevice's hardware. You can see how it made for a lot of overhead that game developers had to deal with when building games for iOS, and Metal does away with much of it. Now with Apple's new graphics API, aka Metal, the process of communication between the game and the GPU has become more direct and therefore more efficient and speedy. Now, the need for go-between translation software has been diminished, as Metal and the iDevice's GPU are able to communicate with one another in a much more direct fashion.
As Epic Games' Tim Sweeney noted, Metal offers as much as a 10x improvement in rendering efficiency. According to Sweeney, "Metal is a low-level rendering API, which means it provides the absolute minimum layer of software needed to support multiple versions of different graphics chips. It shields developers from the very low-level implementation details. It replaces OpenGL ES, which is an ancient relic of the Silicon Graphics era." With Metal, Draw call rates, (which are utilized to render all objects within the scene of a 3D game) become as much as ten times faster, resulting in a more responsive gaming experience, with faster game load time and console-quality environments rendered with much greater detail and precision.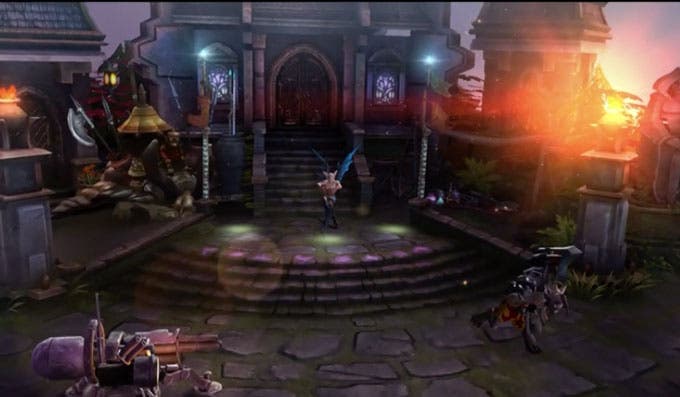 As the folks at ExtremeTech pointed out, "It's also possible that Apple built the API to address the complexity or computational cost of other, specific types of advanced graphics capabilities that are more expensive under OpenGL ES than under the new Metal API." What this means is that another benefit of Metal is that by giving developers greater and more direct access to the iDevice's GPU, the developers can then optimize their apps to take greater advantage of the iDevice's GPU leading to better performance across the board in photo, audio, and video apps.
This is all big news for gamers and any iOS power user, but it's also a shrewd move for Apple. Even though the iPhone (and subsequently the iPad) turned the world of eSports on its head, Steve Jobs didn't initially focus a great deal on iOS gaming, as the mobile gaming market didn't even explode until the iPhone was introduced. Not only has interest skyrocketed in the years since gamers took up their iPhones, the market for console caliber gaming on mobile devices has also been shattering all expectations. Clearly Tim Cook sees the writing on the wall as mobile gaming is set to generate over 21 billion dollars this year alone  He has successfully positioned his company at the forefront of the modern mobile gaming renaissance. With Metal Apple has raised the bar as to what gamers can expect to behold on their iDevices, further blurring the line between what console and mobile device.