By

Nate Adcock
Mon, 01/12/2015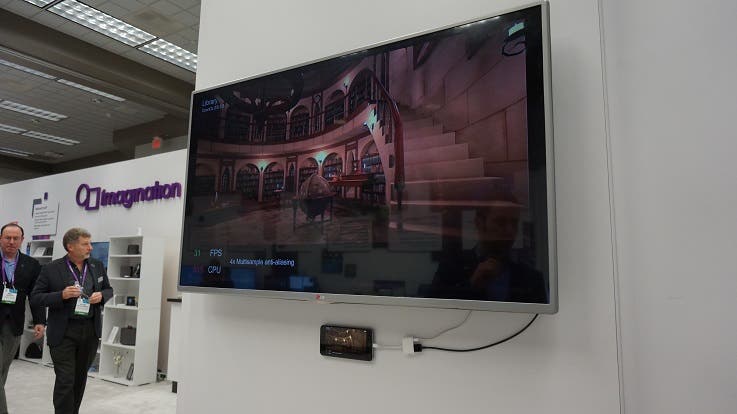 The best of the CES show is often not on the beaten path. One key vendor we make sure to lock in on every year is the Imagination Technologies meeting rooms in South Hall at CES 2015 (way back in the corner). These guys are one of a select number of innovators that design the low-power, system on chip (SoC) technology needed to run our smart homes, smart cars, and smart mobile devices.
Imagination Technologies Powered Wireless Audio!
At CES 2015, smart home products were everywhere, including speakers, lights, and other wireless home-automation tech. Imagination rep Alexandru Voica kicked off the company's demo by showing off the latest reference technology designed for high-quality wireless audio with a latency of <25us (that's microseconds). We were also able to preview the next generation of wireless speaker technology that will provide this extreme low-latency, such as the Pure (see our review here) and Meridian speaker products.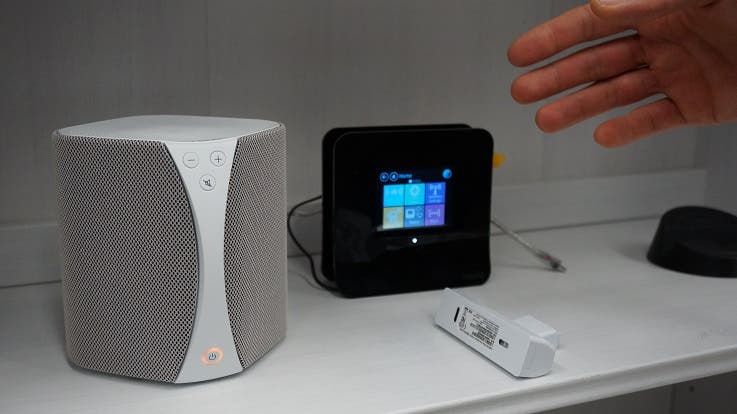 Dubbed Caskeid and FlowCloud, a collection of intellectual properties owned my Imagination Technologies, this combined capability can purportedly deliver a very high level of streaming audio performance—the nearest competitor is still looking at as much as 180us in tests conducted by Imagination Technologies. Several respected audio vendors have signed on as partners to potentially use this reference design for their own cloud-connected streaming audio solutions, including ONKYO, and TEAC. To understand the benefits of Caskeid, check out the embedded audio sample below (click here if not available). The second track is typical of a system that suffers from non-synchronous wireless playback (I recommend using stereo headphones to get the full effect), though to be completely unbiased, I would have to test and verify this independently against my Sonos and other wireless speaker systems.
PowerVR Graphics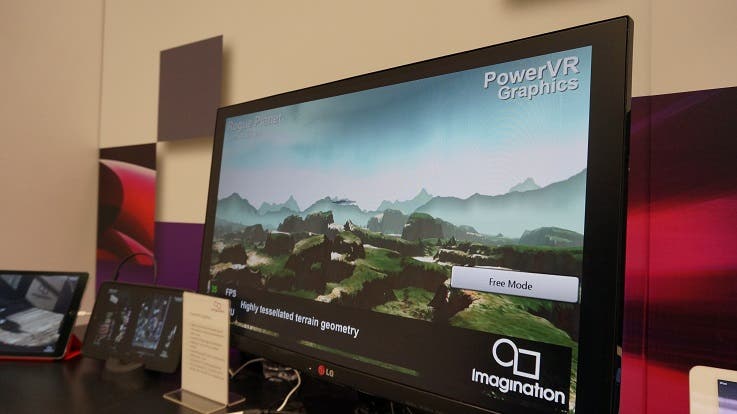 The PowerVR demo of a liquid smooth 4K video animation ran flawlessly—the video output coming from an iPhone 6 (with anti-aliased graphics and shader effects turned on), which one would expect. The second demo was a running simulation of "tessellation," a processing capability for rendering advanced terrain effects. In this case, a group of UFOs were depicted passing over highly detailed 3D terrain; and as the alien ships scanned the landscape, canyons resolved (or dissolved) in areas touched by the ray. Imagination doesn't advertise that PowerVR is the graphics processing behind the iPhone, since Apple is tight-lipped about their technology selections, but it is widely known. Apple cherry picks only the top technology vendors to create an excellent user experience, and PowerVR has proved to be an excellent choice.
Ray tracing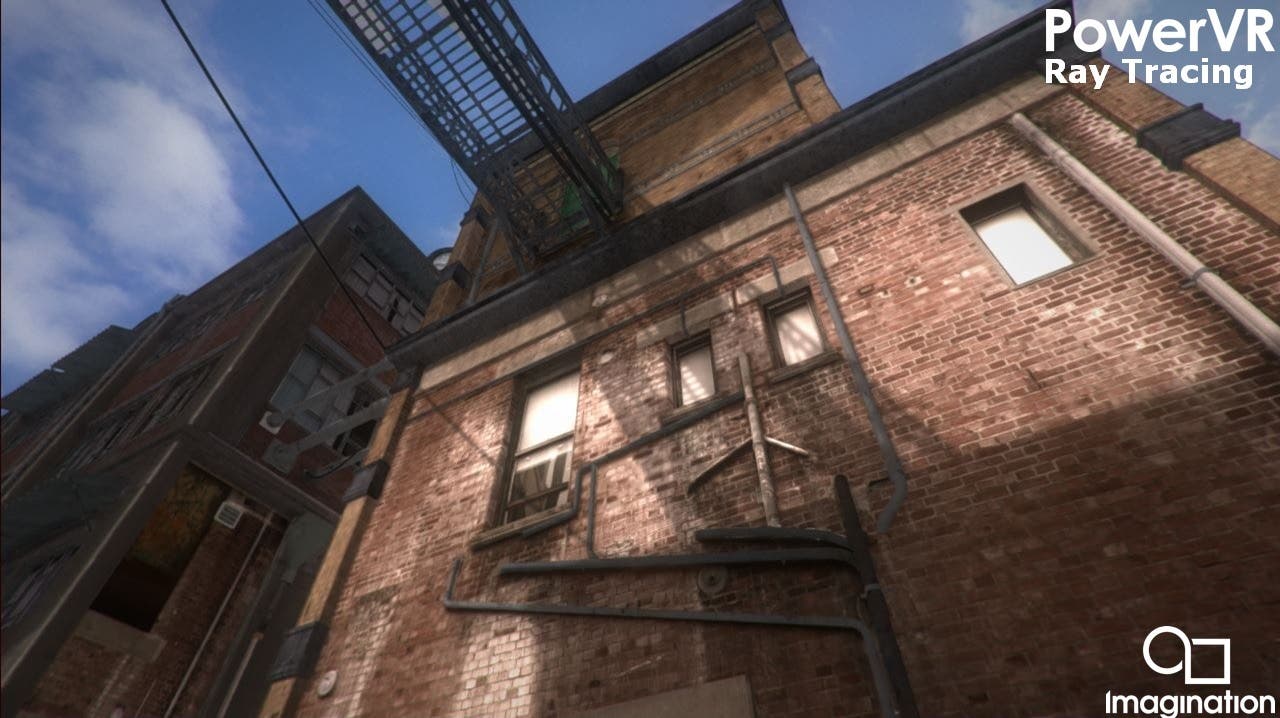 Another demo depicted a high-resolution rendering of a typical street scene and doesn't seem like much until one understands a bit about ray tracing: the ability to trace the path of light and simulate the effects within a 3D perspective on objects is a function of PowerVRs Ray Tracing engine. Using this tool, video game developers can rely on the engine to handle better tracing, which ensures a more realistic in-game experience.
GPU Compute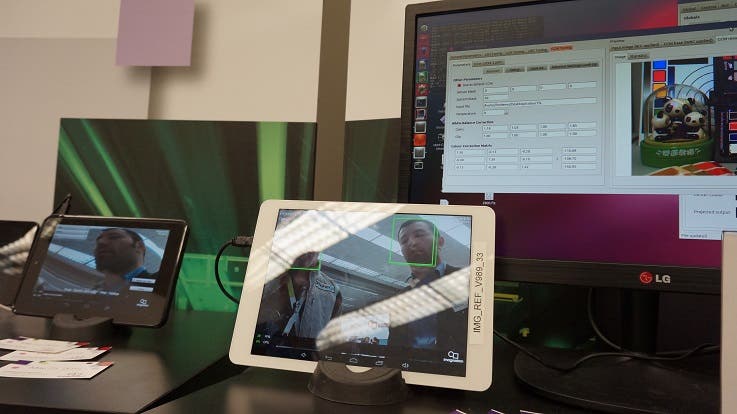 Many technology efforts are realizing the importance of offloading computations to a GPU, versus throwing everything at an already overworked CPU. Imagination was demoing more than one practical example applied to Android-based cameras and other CMOS image sensors. At one demo station, overhead and front-facing cameras were pushing synchronous video feeds to an application. The application was performing automated facial detection and tracking in real-time as we moved around in front and under the sensors (useful for market and security analysis). The other demo station featured a driving camera application that can detect lane changes in a moving vehicle, alerting the driver to obstacles or the following distance of objects in front of the car. Ford, Toyota, and GM will be using an implementation of this technology in their 2015 models.
MIPS Demos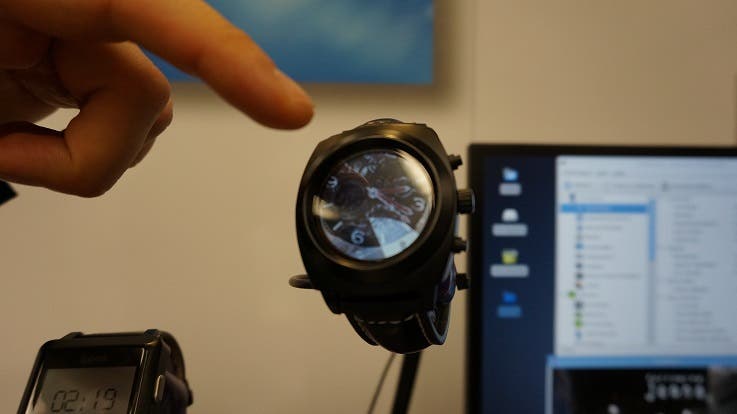 Imagination was showing off an Ingenic MIPS-based smart watch and other MIPS development boards (an M5150 demonstrating hardware virtualization). Both the watch and the boards were running examples of dual operating systems via the extremely low-power SoC design Imagination provides. The point is that one OS can run lower-powered functions (e.g. a simple E Ink watch display); while the other segmented OS can provide more high-end functions like storing secure data, and actively using features and user interface at lower than expected power requirements.
Creator CI20 ($65)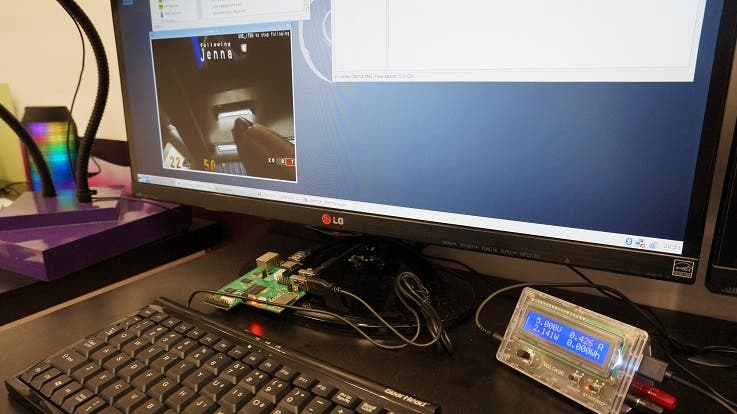 If you want to tinker with some of Imagination's tech (such as the PowerVR graphics, FlowCloud, and an Ingenic 1.2GHz MIPS dual-core processor) yourself, now you can! Imagination is offering a low-cost developer board that can be used for a variety of applications and enthusiast projects (like developing your own smart home). The show example featured a Linux distro on a 1080p display running Quake (at about 2 watts). Alex was bragging at that a bit (which is understandable), but I had him crank it up to full screen resolution and play a quick game. The chip still remained cool enough to touch and under 3 watts of load! I recently started my own project of building a classic arcade system, which should be child's play for something like the Creator. I can add this as a second channel to my arcade cabinet display and improve the overall gaming experience with freeDoom or Quake (or even run Android)! You can see the CI20 in action here.
Every year I am awed at CES by the innovation on display, and every year I am yet even more amazed after leaving the Imagination Tech demo itself. It is among the top attractions at the show in my opinion, and if you are interested in any of the technology aspects mentioned in our review, or want more information, check out the Imagination Technologies website here.